Integrate ChatGPT into Google Docs, Google Sheets
ChatGPT has brought automation to the mainstream and made it easier for users to perform many tasks. From generating ideas, summarizing, translating text, and synthesizing complex formulas, ChatGPT can do a lot to simplify your office tasks across different types of documents and spreadsheets. 
So if you are someone who spends a lot of time working on Google Docs and Sheets, then you can take advantage of ChatGPT and its power. In this article, Gimasys will discuss how ChatGPT integration Go to Google Docs and Google Sheets.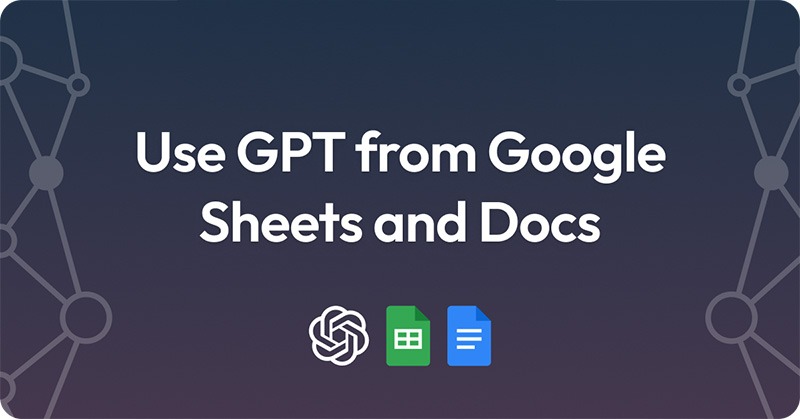 What is ChatGPT?
ChatGPT is a version of GPT (Generative Pre-trained Transformer), a natural language representation (NLP) neural network architecture based on the development of Transformer networks. It is trained on large amounts of text data from the Internet to understand and generate natural language. 
ChatGPT was developed to interact with humans through answering questions, discussing and providing information. It has the ability to understand and respond contextually, can provide information, give advice and even create new content based on input data. 
ChatGPT is a prime example of deep learning-based NLP models (deep learning) and unsupervised learning. It has the ability to "learn" from training data and apply that knowledge to generate new answers and content. Some of ChatGPT's applications include chatbots, consulting support, content aggregation and more. 
However, it should be noted that ChatGPT is an automatic content creation tool and cannot completely replace human reasoning and understanding.
Benefits of integrating ChatGPT with Google Docs and Sheets
More and more users are using ChatGPT while working by integrating it with Google Docs and Sheets. This opens up countless new possibilities, providing many benefits for use such as:
Better writing ability
When you integrate ChatGPT with Google Docs and Sheets, your creativity will never stop. ChatGPT will help improve your writing skills because it continuously gives you suggestions to help you improve your grammar, word choice, and expression. 
Most importantly, it will bring together all the necessary information in one place; thus giving you a better writing and creative experience than ever before.
Improved consistency 
Like many of us, you've probably encountered inconsistencies while working on Google Docs and Sheets. But once you start using the suggestions that ChatGPT offers, you can rest assured that your consistency will improve significantly. 
Whether it's the tone or the writing style, everything will be consistent. Therefore, this feature makes your text in Docs and Sheets easier to read and understand. 
High precision
One main reason why many people like working on Google Docs and Sheets with ChatGPT is because its feedback is highly accurate. When you integrate this powerful AI engine, it generates consistent and accurate responses that help you create well-researched, realistic texts. 
Once you've finished working on a document, you won't have to edit it manually anymore because there will hardly be any mistakes. Importantly, it also provides suggestions related to keywords that help improve the accuracy and quality of the writing. 
Save time
ChatGPT will help reduce your working time on Docs and Sheets because it continuously provides suggestions, content ideas, etc. so you can quickly complete your work without having to spend a lot of time researching. manual rescue, lengthy. 
In addition, correcting grammatical errors and maintaining writing tone will also be shortened thanks to this tool
Get new ideas 
With the help of ChatGPT, you can find new ideas and topics while working on a specific request. You won't have to scour countless websites and forums to find creative ideas, because AI tools will help you with this task. 
Furthermore, when you are in the middle of a topic, the AI engine will bring up many subtopics and information suggestions that help improve the quality of the text. 
Cost savings 
Unlike other AI tools commonly used in conjunction with Google Docs and Sheets, ChatGPT has proven to be much more cost-effective. 
This AI tool is completely free and anyone can use it. Although OpenAI has introduced a paid model for its advanced tool, you can still use the free version an unlimited number of times.
Minimum requirements to integrate ChatGPT with Google Docs and Sheets
Integrating and using ChatGPT with Google Docs and Sheets may sound complicated, but it's not. However, for seamless integration, you must maintain the following requirements: 
ChatGPT Account: To integrate ChatGPT with Google Docs, you will need an account in the AI platform. ChatGPT is completely free, so you can easily create an account through any of your email or Facebook accounts. However, for a seamless experience, you should choose a subscription plan with minimal fees.

OpenAPI Account: When you create an account, you will be provided with the necessary APIs and also permissions to create projects. 

API Code: API Code can be easily generated as per your requirement just need the right option. 

API client library: You also need to install the API client library as it will help you integrate ChatGPT with Google Docs and Sheets. 

Google account: You need access to Google Docs and Sheets through your Google account. During ChatGPT integration, you can use existing documents or create new documents.
How to integrate ChatGPT with Google Docs and Sheets
The first thing you need to do is create a ChatGPT account by visiting their website. 

Now, your next task is to go to the "Account" section in ChatGPT and find the "View API key" option located below. There, you must create an API code for integration. 

Once you generate the API code, you will need to duplicate it as it will only be displayed once. Keep your API Key stored in your text editor to ensure you don't lose it. 

Now you need to open Google Sheets or Docs and make sure you are signed in to your respective Google account. 

Click Extensions→Add-ons→Get add-ons.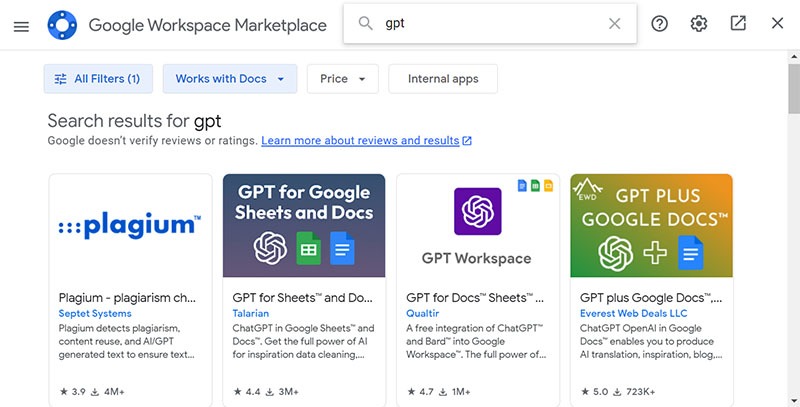 Search for Add-ons about ChatGPT (eg "GPT for Sheets and Docs") and click "Install".

Click "Continue" and select the account to install the add-on. Then click "Allow" to grant the necessary permissions. 

Click "Next" then click "Done" to complete the installation and setup process.

Click Extensions. Select "GPT for Sheets and Docs" then select "Set API key".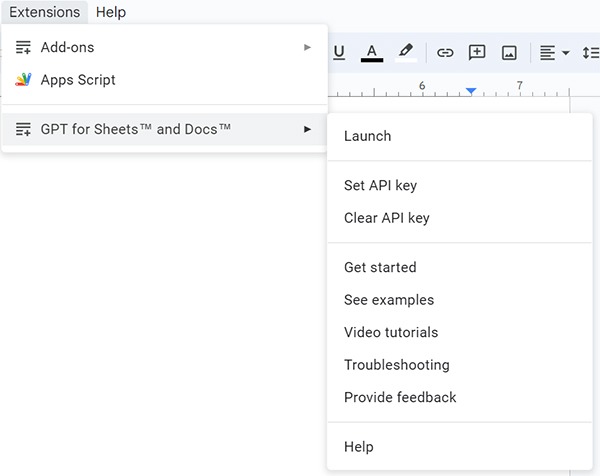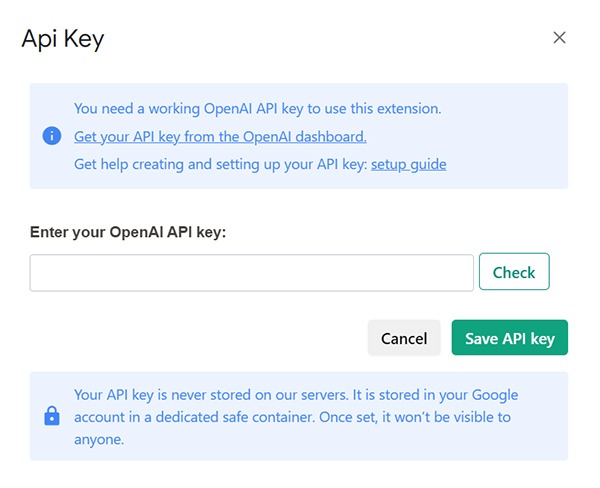 Paste the OpenAI API key and click "Check" to verify if the key is valid or if it has any credits. Then click "Save API key".
After activating Add-ons, we can use them immediately to create text, summarize text, translate languages, format data, etc. With the instructions above, you can easily ChatGPT integration Go to Google Docs and Google Sheets to take advantage of its great features.
Gimasys – Premier Partner of Google in Vietnam:
Hotline: 0974 417 099 (HCM) | 0987 682 505 (HN)

Email: gcp@gimasys.com
Source: Gimasys