Overview of Google Cloud Certification
Chứng chỉ Google Cloud (Google Cloud Certification) có miễn phí không? Ở bài viết này, Gimasys sẽ giải thích chi tiết về chi phí và các loại chứng chỉ Google Cloud, cũng như cách chọn lựa những chứng chỉ phù hợp với bản thân bạn.
If you've earned a Google Cloud certification, it means you're well-versed in its technologies. The Google Cloud Learning Path is free for 30 days and you can use it to earn Google Cloud Badge. Earning this certification will make you more potential for employers, you will be able to maintain and implement Google Cloud technology into the company's workflow.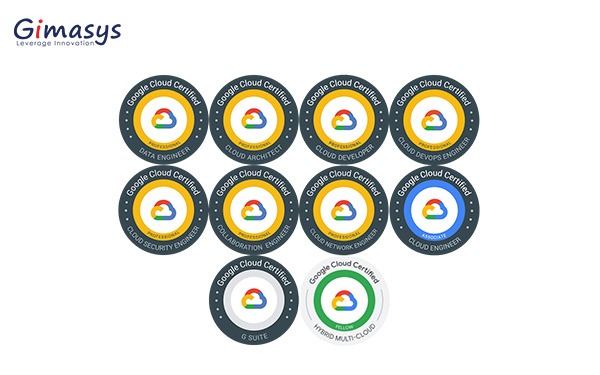 What is Google Cloud Certification? 
Google Cloud Certification cho thấy bạn đã hoàn thành khóa đào tạo về Google Cloud và sử dụng thành thạo Google Cloud Platform (GCP). Các dịch vụ của Google Cloud bao gồm lưu trữ và sao lưu trên đám mây, quản lý cơ sở dữ liệu, Internet vạn vật (IoT), Machine Learning, Analytics,… 
Companies that use Google Cloud services instead of Amazon Web Services (AWS) or Microsoft Azure will be eager to find employees with Google Cloud certification, which can save them time and training costs. 
You can choose from one of nine Google Cloud certifications:
Google Cloud Digital Leader 

Cloud Security Engineer 

Cloud Engineer 

Cloud Data Engineer 

Cloud Architect 

Workspace Administrator 

Cloud DevOps Engineer 

Cloud Network Engineer 

Machine Learning Engineer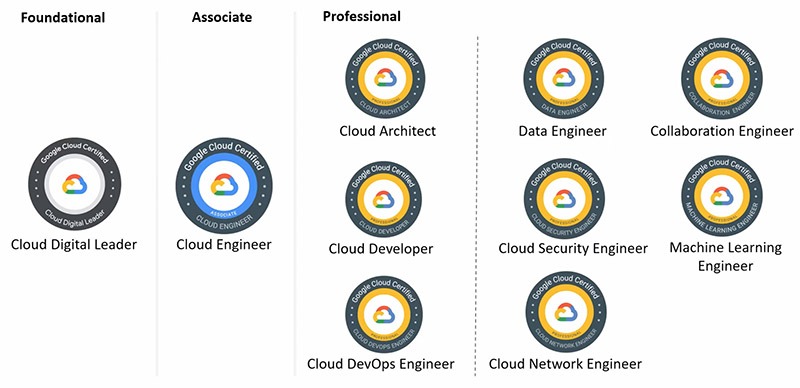 Why do you need Google Cloud Certification? 
You can stand out from the competition for the job with the right certifications. Having a bunch of Google Cloud certifications makes you a good candidate for a company that uses the Google Cloud platform. It also showcases many of your skills and helps you attract more companies. 
The Google Cloud Platform is gaining a large market share, has a slight growth in 2022 compared to the previous year, and is one of the top 3 cloud providers along with Azure and AWS. In addition, many businesses have a multi-cloud strategy, so it is beneficial to learn as much as possible about all cloud services.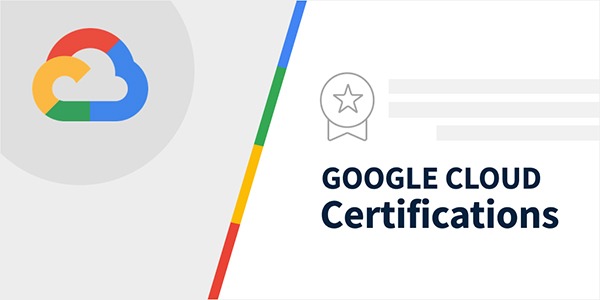 Types of Google Cloud certificates and their costs
Google Cloud certification exams range from $99 for the entry-level certificate (Cloud Digital Leader) to $200 for the Professional level. The type of certification you pursue depends on your goals.
Foundational 
The Google Cloud Foundational certification will demonstrate your broad knowledge of cloud concepts and Google Cloud products, services, tools, features, benefits, and use cases. 
For this certification, you must have experience working in a collaborative role with other technical professionals, but you do not need to meet any technical requirements to apply. This certification allows you to work as a Cloud Digital Leader. The test costs $99. 
Associate certification
The Associate certification demonstrates you have the fundamental skills to deploy and maintain Google Cloud projects. You'll need at least six months of experience working with Google Cloud to get the knowledge to pass the test. Exam fee is $125
Professional Certificate
The Professional Certificate shows you can perform critical engineering job functions and advanced skills in the design, implementation, and management of Google Cloud products. These certifications require at least three years of experience in the Cloud and one year of working on Google Cloud. 
All Google Cloud Professional Certification exams cost $200 plus taxes if applicable. Google Cloud Professional certifications include: 
Cloud Architect 

Cloud Database Engineer 

Cloud Developer 

Data Engineer 

Cloud DevOps Engineer 

Cloud Security Engineer 

Cloud Network Engineer 

Google Workspace Administrator 

Machine Learning Engineer
How to choose the right certificate for you 
Keep your career goals in mind when choosing the right Google Cloud certification. If you want to work with the Cloud at a large company that uses Google Cloud Platform (GCP), you'll usually need the right certifications. 
There are different cloud certifications that make you a more attractive candidate, and you'll also have more options when looking for new job opportunities. They demonstrate your ability to work flexibly between different cloud platforms. And with many companies now having a multi-cloud strategy, this can help you stand out from the crowd. 
What is your current role?
When choosing a Google Cloud certification, start thinking about your current role or the one you want to achieve. Then choose the certificate program best suited for that role. For example, if you are a cloud developer looking to hone your skills, the Cloud developer certification would be the right choice. 
Do you meet the prerequisites for that type of certificate? 
You need to join certificate programs that are tailored to your skill level. If you are new to GCP, Foundational certification is the best choice as it does not require GCP experience. With six months of GCP experience, you're ready to receive the Associate certification. Finally, to prepare for the Professional Certificate, you need more than three years of cloud experience and one year of GCP experience. 
What is your end goal with the certificate?
You need to consider whether you are looking to make a career transition to cloud management or simply want to advance in your current career. Certifications related to your current role can help you showcase your skills and set you up for competition. However, assuming you're planning to move to another job in the cloud, certifications related to your target job can show employers your potential. 
Are you financially constrained? 
Each certificate will cost between $99 and $200, so it's essential to take financial considerations into account when deciding which Google Cloud certification to pursue. Check with your employer to see if employers will fund the costs, especially if the company needs employees with the skills the certification offers. Your Google Cloud certificate will be valid for two years from the date you receive it. You will have to pay to retake and pass the exam after two years to maintain your certification.
GCP Certification Exam Guide 
After carefully reading the preparation materials and references related to the certification you want to take the exam. You need to follow the steps below
Schedule an exam: On the GCP certification page, find and select the GCP exam that's right for you. Schedule your exam and choose a test location near you. 

GCP Certification Exam: Arrive at the exam site on the specified date and time. Check the paperwork and equipment requirements to bring. Familiarize yourself with the exam software and take the test as required. 

Check results and get a certificate: After completing the exam, your results will be reviewed. If you get a pass, you will get a GCP certificate from Google. This certificate will be stored on the GCP certificate site and can be shared and validated by others.
Trên đây Gimasys đã cung cấp các thông tin tổng quan về Chứng chỉ Google Cloud (Google Cloud Certification).
Cloud has been and is an inevitable trend in the technology development and optimization system of enterprises. Gimasys - Premier Partner of Google in Vietnam is the unit providing, consulting the structure, designing the optimal Cloud solution for you. For technical support, you can contact Gimasys - Premier Partner of Google in Vietnam at the following information:
Hotline:

0974 417 099 (HCM) | 0987 682 505 (HN)

Email:

gcp@gimasys.com
Source: Gimasys