Experience the new interface on Gmail on web, Android and iOS
Quick summary
Recently, Google announced a new integrated workspace that brings your favorite G Suite apps closer together. Currently, Google is rolling out this workspace for Gmail on the web, Android, and iOS. Stay tuned  G Suite Updates blog for release time information for the iOS version.
Gmail now has four distinct components:
Mail

, hasn't changed and is still the Gmail experience users used to know and love.

Chat

, which allows users to message directly with individuals and small groups.

Rooms

, is a space that includes chat, files, and shared tasks to make it easier for teams to work on projects.

Meet

, there are upcoming meetings that you can view and join.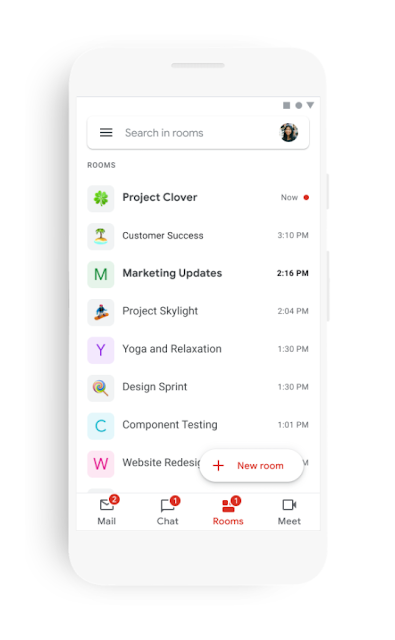 Mail, Chat Rooms, and Meet tabs in the Gmail mobile app
With this release, you can also open and sync document editing with your team without leaving Gmail. Makes it easier to collaborate directly where you're doing your work at the time.
In addition, Google introduced some new tools to help you prioritize and stay focused. Now you can several new tools:
Assign tasks to the group.

Get updated notifications about tasks in the room. 

Pin rooms for easier search and access. 

Set your availability to "Do Not Disturb".

Protect your time better with Chat status messages like "Out of office"

View shared files in the room.

View integrated search results and switch between Email and Web Chat.

Start a new meeting or view your upcoming meetings in the "Meet" section of the web.
Google hopes a new experience built into Gmail will help you focus, be more productive, and collaborate more effectively – no matter what your workspace looks like.
Getting started
Admin: These features will launch for domains with the feature enabled Chat preferred. Chat preferred can be enabled at the organizational unit (OU) or domain level. Google We recommend migrating your organization at once to avoid any disruptions.
Note, certain features included in this release require specific services to be enabled in the Admin Console. Visit the Help Center for more information about make sure you have these services configured properly.
End Users: Visit the Help Center to learn more about how enable or disable Chat in Gmail and Meet in Gmail
Rollout pace
Rapid release domain

: Gradual rollout to users (up to 15 days for full feature visibility) starting August 12, 2020

Scheduled release domains

: Gradual release to users (up to 15 days for full feature visibility) starting September 1, 2020
Availability
Source: Gimasys