Autocorrect is now available for Google Docs on the web
Quick summary
Năm ngoái, Google đã thông báo cải thiện chính tả và ngữ pháp khi bạn gõ trong Gmail. Bây giờ, Google đã đưa chức năng đó lên Google Docs trên web.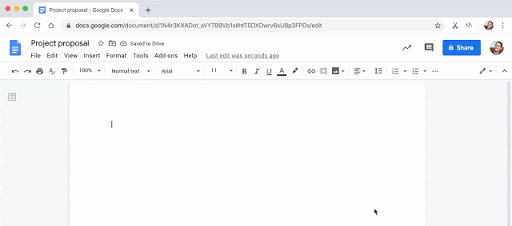 Tự động sửa lỗi chính tả giúp bạn soạn thảo tài liệu nhanh chóng và tự tin. Các từ sai chính tả sẽ tự động được sửa trong khi gõ và biểu thị bằng một gạch dưới ngang màu xám. Khi bạn tiếp tục gõ, dòng nét đứt này sẽ biến mất. 
Nếu bạn cần hoàn tác chỉnh sửa, bạn chỉ cần nhấn backspace, chọn "Undo" trong khi di chuyển qua từ tự động sửa, hoặc sử dụng các phím tắt như Command+Z.
Getting started
Admins

: Không có kiểm soát nào dành cho quản trị viên về tính năng này

End users

: Tính năng này được

ON

by default and can be disabled by selecting

Tools > Preferences

và bỏ chọn "Automatically correct spelling". Truy cập vào Help Center để tìm hiểu thêm về cách

sử dụng tính năng tự động sửa lỗi chính tả trong Google Docs

.
Deployment speed
Express release domains:

Gradual rollout (up to 15 days for feature visibility) starting February 18, 2020

Scheduled release domains:

Extended rollout (may take longer than 15 days for feature exposure) starting March 3, 2020
Effect
Có sẵn cho khách hàng G Suite Basic, G Suite Business, và G Suite Enterprise 

Không có sẵn cho khách hàng G Suite for Education (Google Workspace for Education), G Suite Enterprise for Education, và G Suite for Nonprofits 
Source: Gimasys