Use built-in mail merge tags like @firstname to personalize multi-send emails
What's changing
Recently, we made it easier to send individual emails to many recipients with the launch of multi-send in Gmail.Whether you're organizing a large event or sending a newsletter to customers, multi-send emails look more professional than using mass-BCC. You will also see replies in separate threads, making conversations easier to manage. 
Today, we're announcing the ability to personalize multi-send emails with mail merge tags like @firstname and @lastname.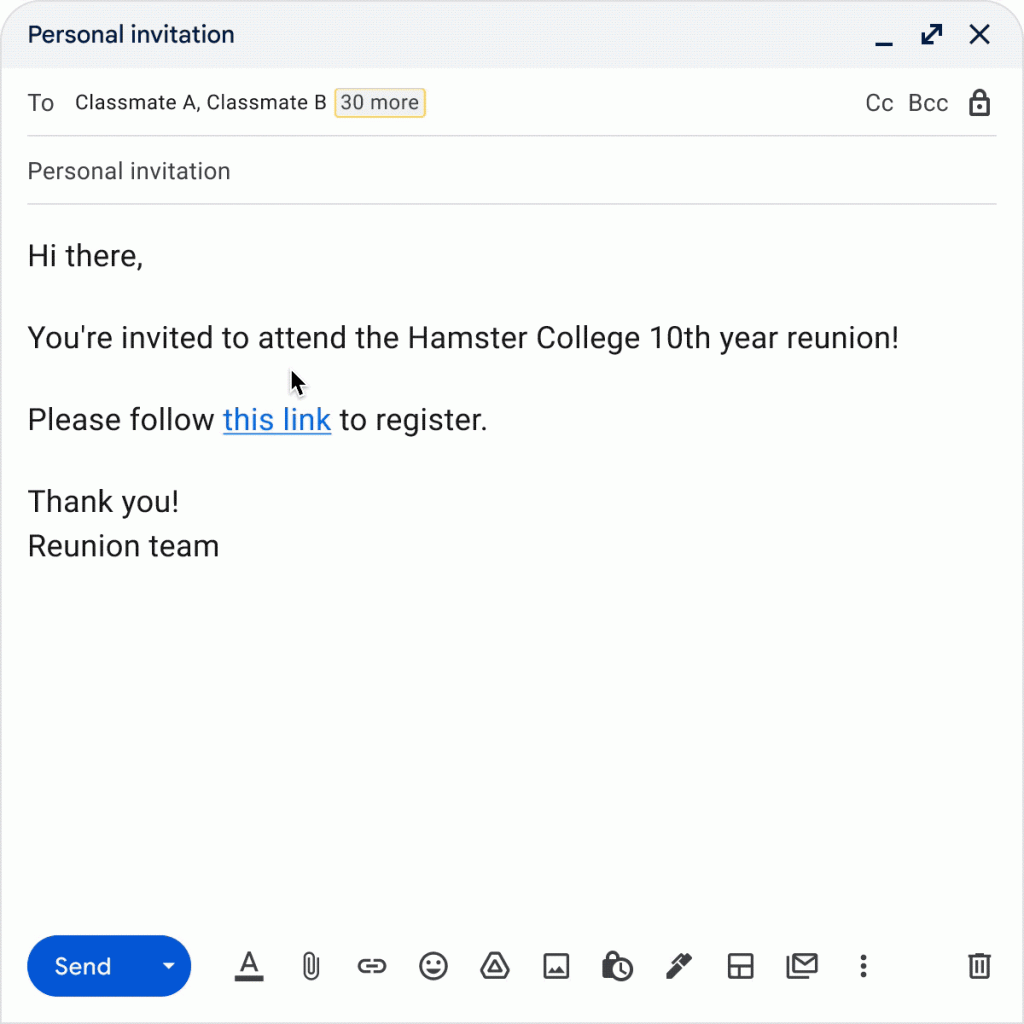 Who's impacted 
End users 
Why it's important 
You can use mail merge tags to send more personalized and engaging emails to large audiences from web Gmail. 
Getting started 
Admin: There is no admin control for this feature. 

End users: 

Turn on multi-send mode: 

Multi-send mode must be turned on to use mail merge. Turn on multi-send mode using the button in your Compose toolbar. 

Add recipients to your email draft in the "To:" line 

Insert mail merge tags: 

Type "@" to see a list of available merge tags. 

Insert the desired merge tag by pressing Enter or by clicking on the merge tag. 

Currently, the available merge tags are @firstname, @lastname, @fullname, and @email. 

What recipients will see: 

When your email is sent, the first name and last name values will be taken from whatever is saved in Google Contacts (if available). If you added recipients who aren't in your Google Contacts, mail merge will try to infer the first name and last name based on how the name is formatted. Adding recipients to Contacts is the best way to ensure that they see the correct names in the email they receive. 

Visit the Help Center to learn more about

mail merge.

. 

Adding custom merge tags: Future releases of this feature will provide support for custom mail merge tags using spreadsheets. 

Previewing mail merge emails: Before sending a multi-send email to recipients, you can send a preview to yourself. If your draft has mail merge tags, the test email will show the corresponding values for the first recipient.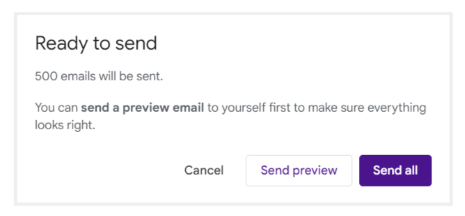 Rollout pace
Rapid Release domains: Gradual

rollout (up to 15 days for feature visibility) starting on October 24, 2022 

Scheduled release domains:

2022 
Availability
Available to Google Workspace Business Standard, Business Plus, Enterprise Starter, Enterprise Standard, Enterprise Plus, Education Plus, and Workspace Individual customers 

Not available Google Workspace customers Essentials, Business Starter, Enterprise Essentials, Education Fundamentals, Education Standard, Education Teaching and Learning Upgrade, Frontline, are returning customers of G Suite Basic and Business 

Not available to users with personal Google Accounts 
Source: Gimasys