What are digital transformation trends in 2021?
For a long time, it was inevitable that in order to stay ahead of the competition and meet the needs of customers, businesses and organizations from almost every sector would have to go digital. In fact, digital transformation is nothing new. Businesses of all industries and sectors are increasingly turning to modern technology and software solutions to enhance product and service portfolios, digitize data, optimize processes, and cut costs. operating costs. Today, businesses are under increasing pressure to stay competitive and create digitally connected experiences. The trend of digital transformation will increasingly become the focus of investment in businesses.
Overview of digital transformation
Digital conversion is the process of transforming from a traditional business operation and management system to a digital one, by applying new technologies such as cloud computing (Cloud Computing), big data (Big data). , Internet of Things (IOT), ... Since then, changing operating methods, leadership, working processes, company culture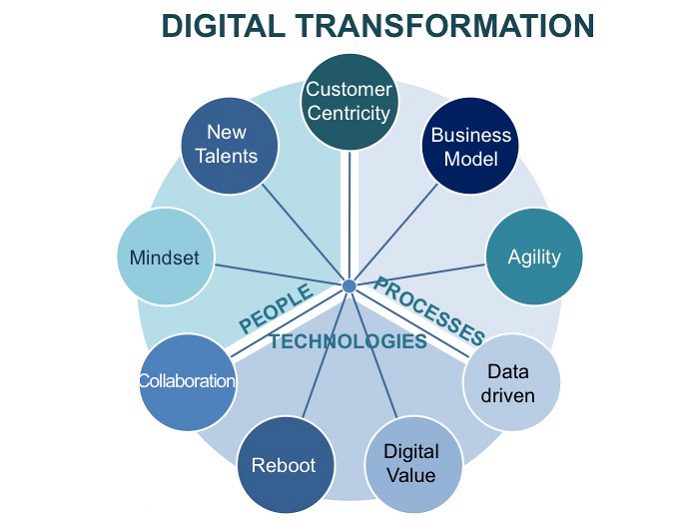 At the corporate level, digital transformation is the integration of digital solutions into the core of business operations, profoundly changing the way businesses operate to create new business processes, customer experiences. and organizational culture. It can not only reinvent the traditional methods but also create new methods to meet the changing expectations of the market.
For each business with different operating methods and organizational models, the definition of digital transformation is also different. But in general, conversion can be understood in the broad sense as "reshape industries by restructuring existing business and operating models"
Distinguish digital transformation from digitization and exploit digital opportunities
Digitization is the transition from analog to digital, while exploiting the digital opportunity is the use of digital technology and digitized data to influence the way work is done, transforming the way customers and companies collaborate and interact and create new revenue streams.
Digitalization (Digitalization) is "the use of digital technologies to transform business models and provide new revenue and value creation opportunities; it's the transition to digital business. "However, this begs the question: what is digital business? I-SCOOP gives the answer. They argue that a digital business is the result of a multitude of processes that exploit digital opportunities (i.e. going from supply chain to supply chain with digital technology and is an essential step towards digital transformation.
At its core it is argued that exploiting digital opportunities cannot happen without digitization. Digitization refers to the internal optimization of processes (e.g. work automation, paper reduction) and leads to cost reductions. In contrast, digital opportunity exploitation is a strategy or process that goes beyond the implementation of technology to imply a deeper, more core change to the entire business model and evolution of the business. Work.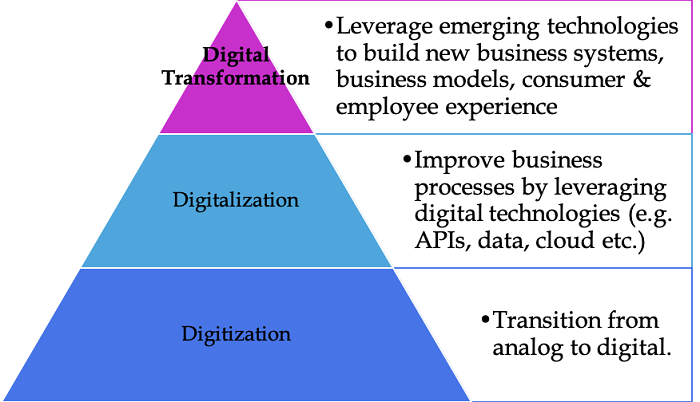 At the highest level is Digital Transformation, although business leaders often use digitalization as an umbrella term for digital transformation, the terms are very different. Digital transformation requires broader adoption of digital technologies and cultural change. Digital transformation is more about people than about digital technology. It requires organizational changes to be customer-centric, supported by leadership, driven by fundamental challenges to corporate culture, and leveraging technologies that empower and create opportunities for employees.
Digital transformation trends in 2021
In the wake of the COVID-19 pandemic, digital transformation has accelerated to replace the previous slow but steady approach. Faced with unprecedented challenges, businesses have no choice but to adapt to the radically changed business environment. Looking ahead, here are some digital transformation trend should be considered in 2021.
Innovate, Implement & Deploy at Speed
The pandemic has resulted in companies having to innovate overnight, the ultimate solution is to have services fit for purpose and used seamlessly. However, many companies have had to suddenly upgrade systems and provide hardware to enable a fully functioning digital workplace, which must be done and deployed at lightning speed. fast.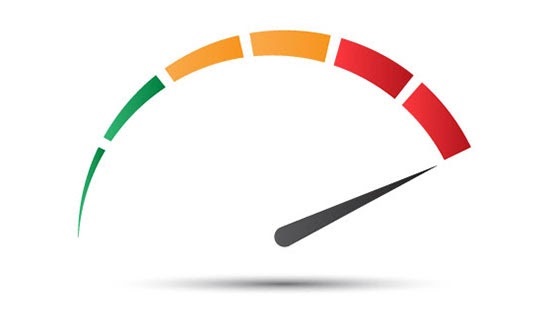 This rapid innovation and deployment will be the preparation needed throughout 2021 as digital teams work. It aims to promote their digital workplace throughout the year with new tools to enable the customer experience to be maintained in the remote working world. Expansion plans that have been delayed for the past year are likely to return in the new year leading to many beginners needing hardware quickly. Companies' overall hardware and infrastructure will have to be aligned with an employee support strategy for years to come.
Workforce development
Having new technologies and systems is great, but we need a skilled workforce that can function effectively in a digital workplace, which requires development and training. professional for all staff besides daily support. In a year where Learning & Development is harder to come by, upskilling employees is a more prominent need than ever. With the acceleration of digital transformation, unfinished skills will need to be filled in by 2021 and delivering this will be done digitally.
The best way to create a learning culture that is fully supported by employees at all levels is to start from the top, the leadership skills required have changed and been challenged along the way. epidemic. One of the first things companies need to tackle is upskilling their team leaders to manage a distributed team and ensure all team members are supported.
Remote working takes the throne
Part of innovating and developing employee skills faster is creating a fully cohesive work environment even with a distributed workforce. In addition, the employee experience needs to be impeccable to maintain a happy and productive workforce.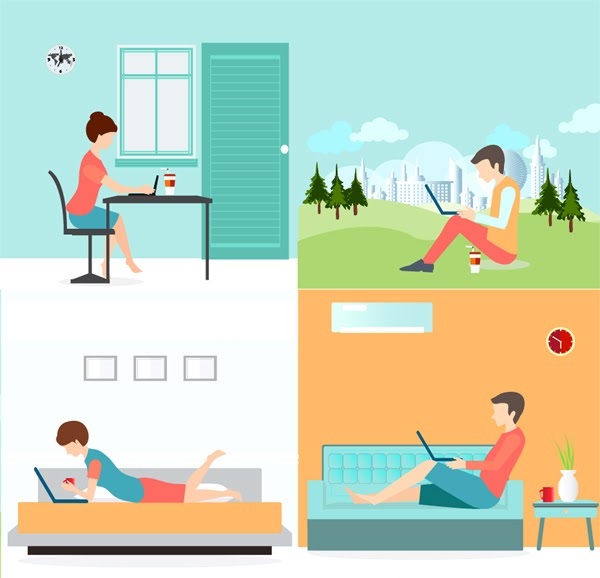 Working remotely can be difficult, especially working from a laptop screen, there are many innovations through technology that can increase personal productivity. Focus is another aspect of remote working, and employee experience will be a prominent theme in 2021. To drive employee engagement in a distributed workforce In many places, we need our workforce to take control of their own health, which is something that needs to be driven across the business from top to bottom. Timd understands the application suite Google Workspace.
Network security
It's clear to companies that teleworking needs to make sure their employees are working in a safe and secure digital workplace. This requires administrative tasks that are centrally managed and can be updated on all machines easily, with minimal downtime. The shift to working from home has increased the threat level from phishing attacks and insecure networks, which will be an area of concern for IA Managers in the coming year. Need to solve the headache when operating machines in insecure networks, not setting permissions to allow applications to be used. And the move to a fully transparent management system of the distributed network will be crucial.
Managing data in the cloud with two-way authentication is a great way to maintain a secure environment where only relevant employees have access to sensitive data, employee and customer information. .
Cloud computing
Working in the cloud is even more crucial when working with remote teams, the ability to access data and work on cloud-based applications is critical to productivity and keeping software Optimum performance. Services like virtualization for non-cloud native applications are something many companies will look to harness in 2021. With a push to collaborate through working anytime, anywhere available to everyone.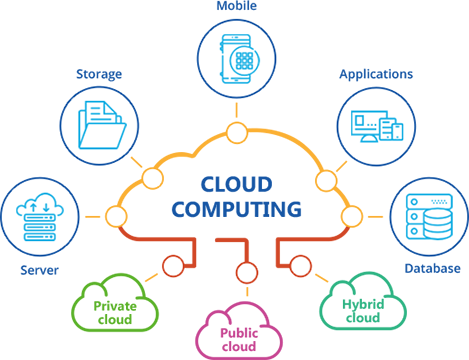 The immediate future of most fields, jobs and professions is clearly in a remote work environment, which comes with both obstacles and opportunities. It's a good sign that the recent digital transformation momentum could lead to an innovative strategy that enables a technologically advanced workforce to work remotely better than ever and deliver services to customers. goods at fast speed in all situations.
The development of cloud computing has made achievements in the trend of becoming more and more optimized and perfected. With the advent of hybrid cloud and multi-cloud platforms, the cloud computing market has become more vibrant and there are more options for users and businesses with their own needs and development goals. Now, in the next 2021, cloud platforms have the presence of Google Cloud Platform, Amazon Web Services and Microsoft Azure, ... will be increasingly upgraded and optimized for digital transformation trend businesses.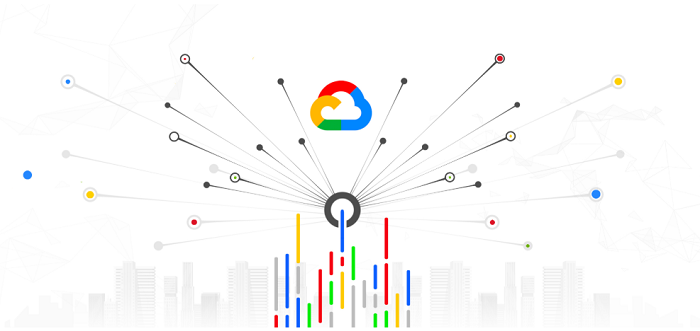 In general, 2021 will witness unprecedented changes in the organizational structure and operation of businesses. Facing opportunities as well as challenges from the digital transformation trendIf businesses catch up and prepare an appropriate digital transformation roadmap, they will reap achievements, maintain their position and lead in their business fields. The first year of a new decade will be the year to mark digital transformation trend further promoted and developed.
Contact Gimasys for advice on a transformation strategy that is right for your business situation and to experience the free Google Cloud Platform service:
Hotline: Hanoi: 0987 682 505 – Ho Chi Minh: 0974 – 417 – 099
Email: gsuite@gimasys.com