Introducing membership search and the option to add up to 50,000 members to spaces in Google Chat
What's changing
In continuing our efforts to boost communication and collaboration for teams of all sizes in Google Workspace, we're increasing the number of users you can add to a space in Google Chat from 8,000 to 50,000.
This update is especially impactful for company-wide announcements, event-oriented spaces, large communities within companies, and support-related spaces.
We hope this feature not only helps increase connectivity and sense of belonging but also creates broader and more thriving communities within your organizations.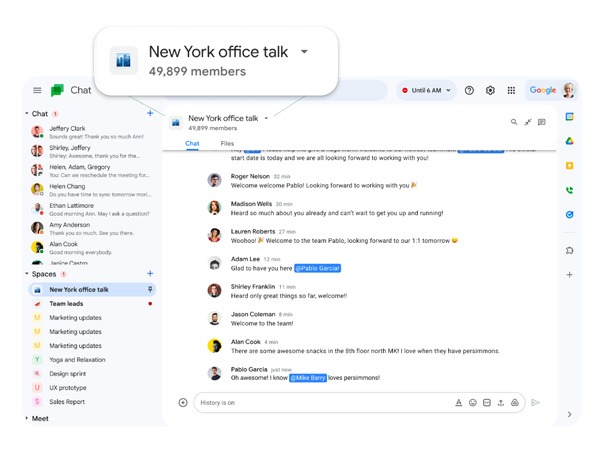 Additionally, we are introducing the ability to easily search for members within a space. If a member is present, you can change their role and if a member is not present, you can add the member to the space.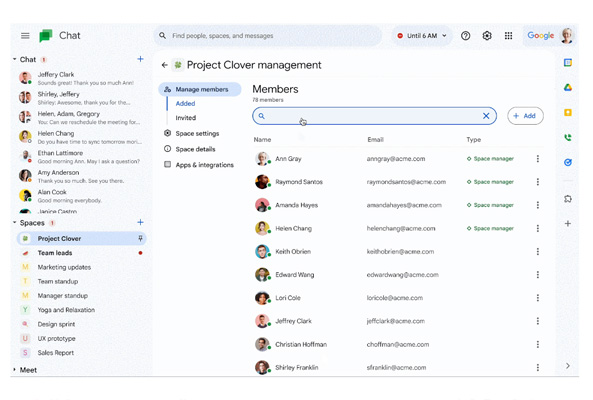 Getting started
Admins: There is no admin control for this feature. Visit the Help Center to learn more about Google Chat participant limits and optimizing Chat spaces for your organization.

End users: Visit the Help Center to learn more about spaces and group conversations and managing your space settings.
Rollout pace 
Large spaces:
Rapid Release and Scheduled Release domains: Gradual rollout (up to 15 days for feature visibility) starting on July 18, 2023
Member search — Web: 
Rapid Release domains:- Gradual rollout (up to 15 days for feature visibility) starting on July 20, 2023

Scheduled Release domains: Gradual rollout (up to 15 days for feature visibility) starting on August 3, 2023
Member Search — Mobile: 
Android: Gradual rollout (up to 15 days for feature visibility) starting on August 7, 2023

iOS: Gradual rollout (up to 15 days for feature visibility) starting on September 4, 2023
Availability
Available to all Google Workspace customers
Source: Gimasys