Gimasys cooperates with HSC to deploy "Infrastructure Modernization with Google Cloud Platform"
With the goal of creating a rapid breakthrough following the current digital transformation trend, Gimasys and Google support HSC customers in modernizing their infrastructure with the Google Cloud platform, marking an important milestone in the digitalization journey of a nation. One of the long-standing, reputable securities companies in Vietnam.
July 27, 2022 in City. Ho Chi Minh City, Gimasys - Google's senior partner in Vietnam and Ho Chi Minh City Securities Joint Stock Company (HSC) have officially signed and launched the project "Modernizing infrastructure with Google Cloud Platform(GCP)".
With the determination to innovate to create different values to meet customers' increasingly diverse digital needs and experiences and optimize operational efficiency, HSC chose the Google Cloud platform to carry out the digitalization process. for Business. Accordingly, after the POC experience period with Anthos Cloud, realizing GCP's ability to meet the goals, HSC migrated part of the system to Google Cloud, modernizing the core infrastructure with Google Kubernetes Engine (GKE) and modernize applications when migrating to GCP for phase 1.
Specifically, experts from Gimasys and Google will design and deploy infrastructure modernization for HSC with the Google Cloud platform as well as transfer Google technology knowledge to the HSC technical team for nearly 3 months. With this milestone, HSC is one of the pioneering securities companies in the process of transitioning to the Cloud in Vietnam.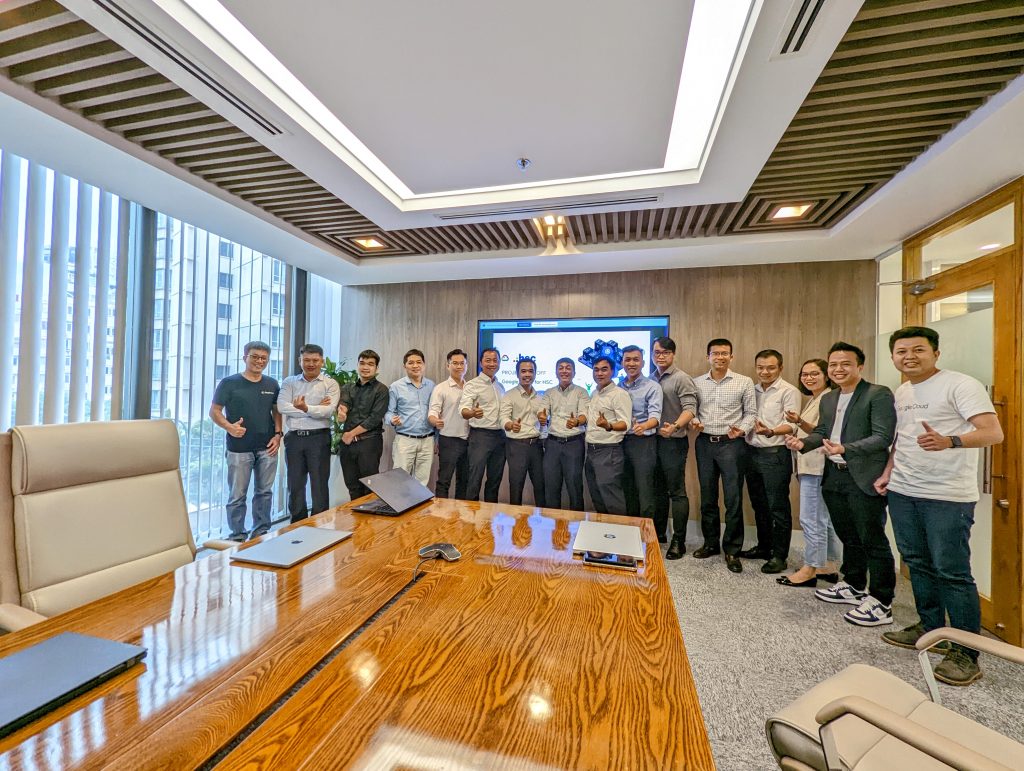 Mr. Doan Chi Trung, Director of Information Technology of HSC shared: "With the strategy of digitizing and optimizing with cloud computing technology to create a breakthrough in the market, HSC cooperates with Gimasys to implement an infrastructure modernization project and comprehensive application of technologies. Advanced on Google Cloud platform. We believe that moving to the Cloud will improve user experience, accelerate product development, enhance security, deploy new technologies while optimizing costs. In particular, coordinating the implementation of projects based on Google technology also helps improve the operational management capacity of the entire HSC technical team.."
Representative of Gimasys, Ms. Le Thi Mai – Gimasys' Branch Director of Ho Chi Minh City shared "As a unit with many years of experience working with companies in the field of FSI, Gimasys understands HSC's goals in transforming technology for business operations. With the project "Modernizing infrastructure with Google Cloud Platform", Gimasys and Google believe that Google Cloud's technology will help HSC move quickly to create a competitive position to become the securities company of the future."
About Ho Chi Minh City Securities Joint Stock Company (HSC):
Ho Chi Minh City Securities Joint Stock Company (HSC) is a leading reputable stock broker and investment bank with nearly 20 years of development in Vietnam. HSC provides a variety of financial products and services to individual customers, institutional customers, and corporate customers on a professional financial solutions platform designed and advised by a team of rich experts. Experienced, professional, trustworthy and certified through prestigious international awards.
With an extensive track record in successfully connecting Vietnamese businesses with international and domestic investors, HSC comprehensively addresses the needs of customers through four service areas: Securities Brokerage, Investment Banking, Analysis, and Capital Investment.
Website: www.hsc.com.vn
About GIMASYS:
With more than 18 years of experience in the field of providing advanced technology solutions, International Management System Integration Co., Ltd (Gimasys) has become a reliable and reputable partner of many large enterprises, such as: Vin Group, Masan Group, Vietnam Airlines, Be Group, Bao Viet Holdings, Techcombank, Vietcombank, VPBank,…
In the process of formation and development, Gimasys has established partnerships and become a solution service provider in Vietnam of major technology brands in the world such as Google, SalesForce, Oracle, NetSuite , MuleSoft and Tableau. With this close association, Gimasys is a prestigious partner catching up with the latest technology trends, always ready to meet the improvement needs of enterprises specific to business.