What is Anthos? What is the strength of anthos?
Nền tảng Cloud Computing sau một thời gian phát triển đòi hỏi một trải nghiệm khác biệt, vượt trội hơn. Đó là lúc Multi-cloud trở thành xu hướng tiếp theo, xu hướng của việc hỗ trợ hệ thống quản trị bằng các nền tảng "write one, run everywhere" và Anthos cũng dần trở thành cầu nối mang các nền tảng on-premise tại các doanh nghiệp lên Google Cloud.
About Anthos
Anthos is a solution hybrid and multi-cloud powered by the latest innovations in Google's distributed systems and service management software. Anthos is an application modernization and distribution platform created by Google Cloud Platform cung cấp. Anthos kết hợp dịch vụ được quản lý của Google Cloud, Google Kubernetes Engine (GKE), GKE On-Prem và bảng điều khiển Anthos để giúp bạn xây dựng và quản lý các ứng dụng hybrid hiện đại trên các môi trường.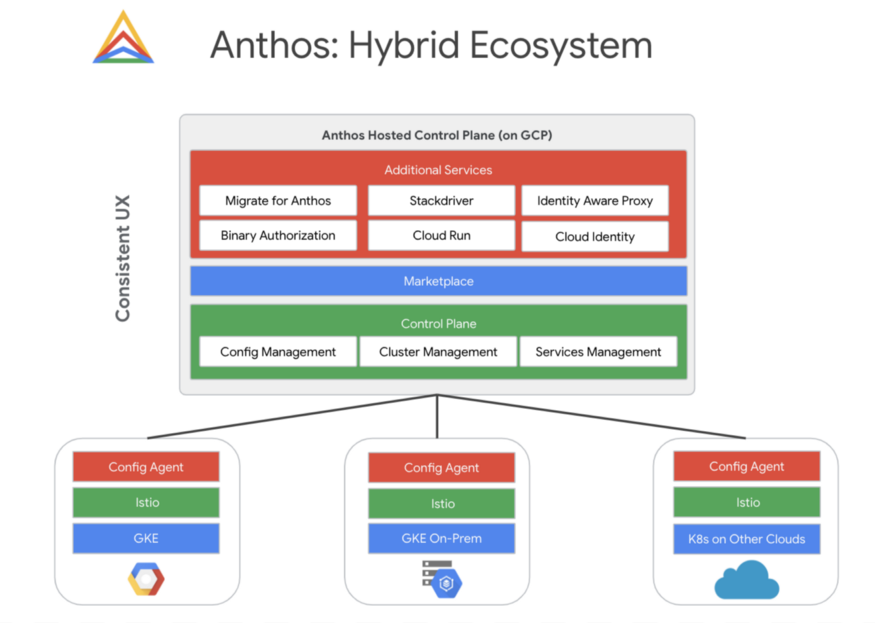 Anthos không chỉ là một sản phẩm mà còn là một nền tảng hỗ trợ cho nhiều dịch vụ và giúp hiện đại hóa ứng dụng, cloud migration, hybrid cloud và quản lý multi-cloud.
Components of Anthos . solution
Google Kubernetes Engine (GKE) is the core division of Anthos and serves as the central command and control center for this new service. But Kubernetes is not the only technology here, and there are several other key components that enhance the power and performance of Anthos.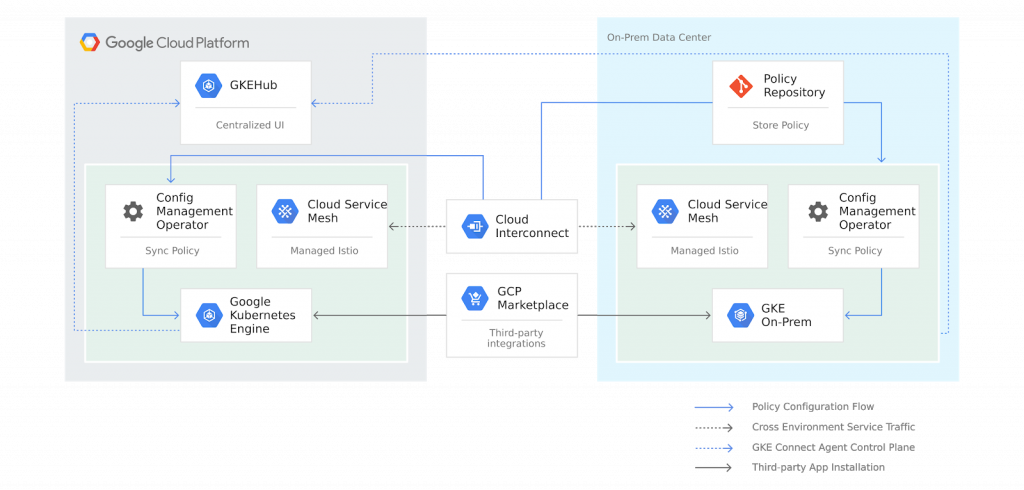 Google Kubernetes Engine
As noted above, the Google Kubernetes Engine sits at the heart of Anthos. Customers can manage distributed infrastructure in on-premises data, Google's cloud, and other cloud platforms using the GKE console.
GKE On-Premise
Google cũng đang cung cấp một nền tảng phần mềm dựa trên Kubernetes và phù hợp với GKE On-Premise. Điều này có nghĩa là người dùng có thể chạy hạ tầng này trên bất kỳ phần cứng tương thích nào và việc quản lý nền tảng sẽ thuộc phạm vi quản lý của Google. Hiện tại, GKE On-Premise hoạt động như một thiết bị ảo trên VMware vSphere 6.7 Update 3 trong khi hỗ trợ cho các hypervisors như KVM và Hyper-V đang trong pipeline.
Istio Service Mesh
Istio Service Mesh to facilitate the management of the affiliate network throughout the platform. For this purpose, Istio acts as a mesh connecting components of different applications spanning GCP, data centers, and other clouds. It works through seamless integration with software-defined networks such as ACI, Cisco, VMware NSX, and Google's Andromeda. Customers working with network devices like the F5 will be able to take advantage of Istio for firewalls and load balancers.
Velostrata
Công nghệ cloud migration này được Google sử dụng để hỗ trợ Kubernetes. Nó hoạt động bằng cách cung cấp hai khả năng quan trọng – chuyển đổi các máy ảo hiện có thành Pod (ứng dụng Kubernetes); stream các máy ảo và vật lý on-premise để tạo bản sao trong các phiên bản GCE. Velostrata là công cụ di chuyển P2K (material to Kubernetes) đầu tiên được Google xây dựng và khả năng này đang được nhân rộng với Anthos Migrate, hiện đang trong giai đoạn thử nghiệm.
Anthos Configuration Management
Anthos users tackle Kubernetes deployments running in multiple environments. Because of Kubernetes' nature as an extensible and policy-driven platform, Google sought to simplify its configuration management with Anthos. Anthos Configuration Management nhằm mục đích thực hiện điều đó bằng cách cho phép khách hàng áp dụng và duy trì các cấu hình, ngay từ khi triển khai đến khi cài đặt cấu hình chính sách mạng và mật khẩu cho một hoặc đồng thời nhiều cụm.
Stackdriver
Stackdriver brings visibility to Anthos infrastructure and applications. Customers can monitor the status of clusters running in Anthos along with the health of the applications deployed in each managed cluster. It acts as a monitoring, logging, tracing and observation platform.
GCP Cloud Interconnect
No hybrid cloud platform is complete without a high-speed connection between the enterprise data center and the cloud infrastructure. Cloud Interconnect can provide speeds of up to 100Gbps while connecting the data center to the cloud.
GCP Marketplace
Google has created a curated list of ISVs and open source applications that can run on Kubernetes. Customers can deploy applications such as Cassandra databases and GitLab in Anthos with a single click. Finally, Google may offer a separate application portfolio maintained by IT internally.
Features of Anthos
Google Cloud Platform Ecosystem provides Anthos with outstanding multi-cloud support key features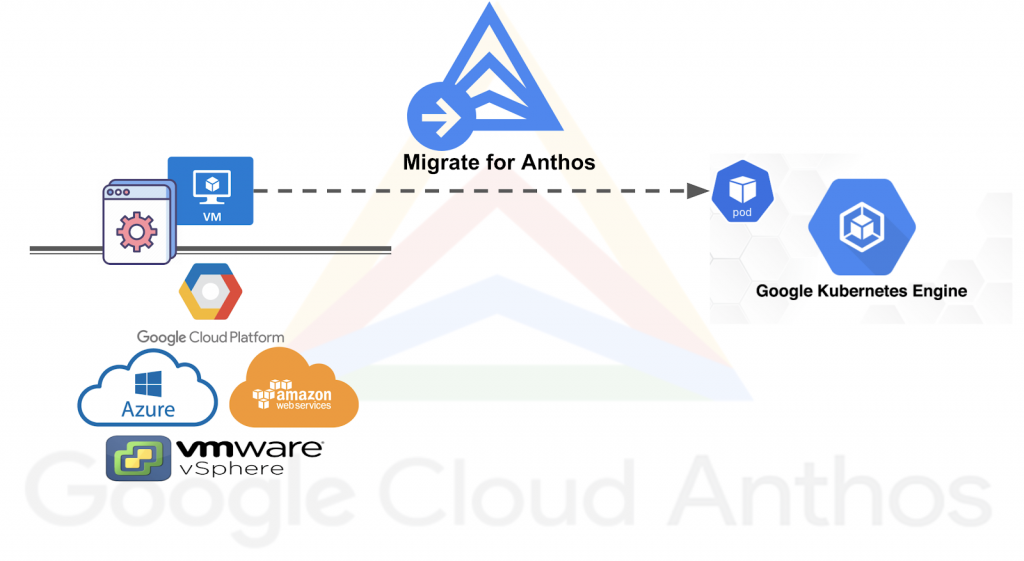 Enterprise-class container coordination and management services
Anthos allows you to run Kubernetes clusters anywhere, in both cloud and on-premises environments. A unified managed Kubernetes experience with simple installations and Google validated upgrades.
Automate policy and security at scale
Define, automate, and enforce policies across environments to meet your organization's unique security and compliance requirements. Anthos Config Management evaluates changes and deploys them to all Kubernetes clusters to always get the state you want.
Fully managed service mesh with built-in visibility
Anthos Service Mesh frees up operations and development teams by empowering them to manage and secure traffic between services while monitoring, troubleshooting, and improving application performance.
Modernize your security for hybrid and multi-cloud deployments
Anthos integrates security into each stage of the application lifecycle — from development to build to run — and enables in-depth security strategy with a comprehensive portfolio of security controls across all models this implementation.
Anthos' strengths
Many businesses deploy multiple cloud platforms to take full advantage of the features these platforms offer. However, managing different applications on different cloud platforms is a difficult challenge. Anthos can help your business face a number of challenges by enabling multi-cloud integration.
Anthos enables consistency across multiple clouds
Anthos uses Kubernetes and delivers policy enforcement and coordination across cloud and on-premises platforms. Your business can use the same open software across multiple environments.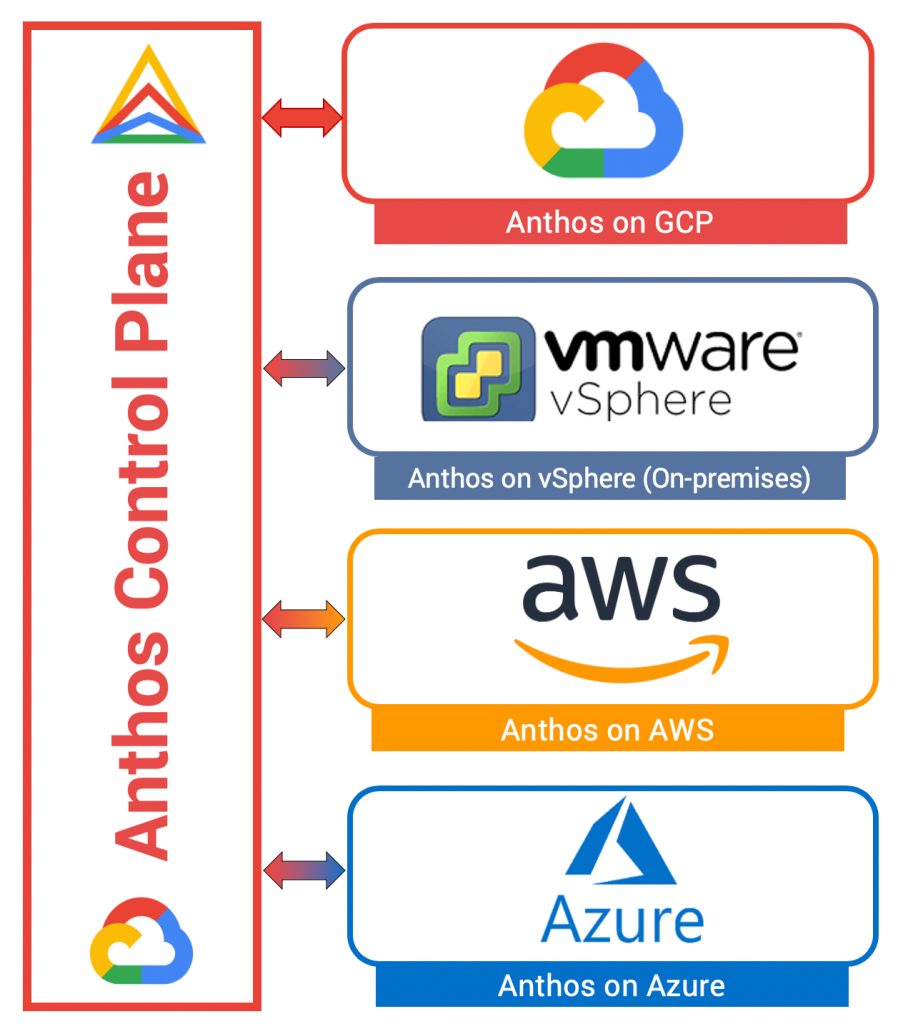 With the mechanism "deploy on any cloud", Anthos allows you to have a holistic view of all your services running in a multi-cloud framework. The Mesh and Config Management service allows you to scale different applications running on different cloud platforms. It frees you from the constraints that cloud providers have.
Anthos offers flexibility and options
Google is committed to giving businesses more options in choosing a cloud service provider. Sometimes, organizations start developing applications in a cloud and face speed issues due to lack of powerful tools. Anthos' open technology allows you to be flexible and avoid being locked into any cloud. Anthos works seamlessly with AWS. And if you've built processes and tools for AWS, you can install Anthos directly into an existing AWS VPC.
Through the features and strengths of Anthos, Google wants to take advantage of Anthos cloud as a bridge to change the story around the multi-cloud platform. Overall, the benefits of Google promoting Anthos will extend beyond the industry. The Google Cloud Platform ecosystem and open source community will also benefit from rapid Kubernetes adoption.
Gimasys tự hào là đơn vị đầu tiên triển khai thành công dịch vụ Anthos cho một trong những công ty chứng khoán hàng đầu Việt Nam. Contact Gimasys for advice on a transformation strategy that is right for your business situation and to experience free Google Cloud and Anthos services: 
Gimasys – Google Cloud Premier Partner
Hotline: Hanoi:

0987 682 505

- Ho Chi Minh:

0974 417 099

Email: gcp@gimasys.com