Insert smart chips for files and meetings and create checklists in Google Docs
What is changing? 
As part of the mission Building the future of work, Google announced smart canvas — a new product experience that will make it easier for people to connect, focus their time and attention, and convert their ideas into impact.
In the coming months, Google will announce new features and functionality for products such as Google Docs, Sheets, and Slides. These new features will create more flexible, interactive and intelligent experiences, enhancing content and connectivity that foster collaboration across Google Workspace customers.
Starting today, in Google Docs you can:
Insert smart chips for Google Docs, Sheets, Slides, other Google Drive files, and Calendar events.
Create checklists
Insert links easier with smart suggestions in the insert link dialog.
See below for more information.
Who is affected? 
End users
Why it's important 
In Google Docs, Google is adding new interaction building blocks to connect people, content, and events into one seamless experience:
Smart chips are available when you mention a person in a document, displaying additional information such as the person's location, job title, and contact information. They have expanded this functionality to include the ability to insert smart chips for files and events. This makes it easy for your collaborators to quickly scan meetings and everyone involved, and preview all linked documents without switching contexts.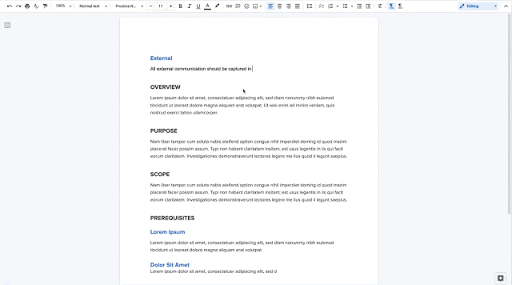 Additionally, Google has improved the link insertion experience. You'll now see smart suggestions for Drive files or titles and bookmarks in your document based on your highlighted text.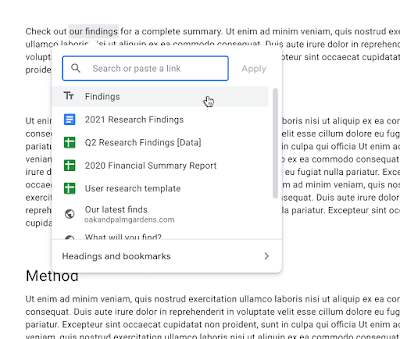 You can also create checklists in Docs, making it easier to keep developing projects and track progress.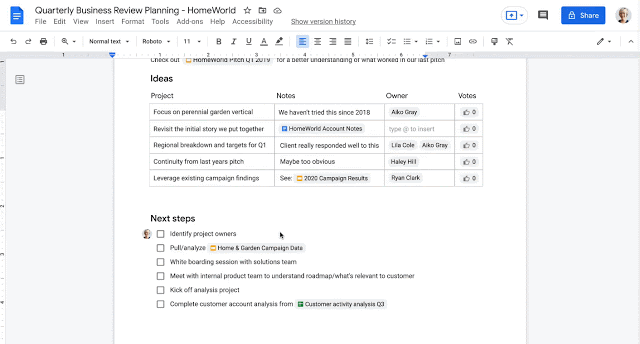 Smart chips and Checklists are now rolling out. Table templates, topic-voting tables, and additional Checklist capabilities coming soon..
Soon, you'll be able to assign checklist action items to others. In addition, these checklists will appear in Google Tasks, making it easier for everyone to manage their tasks on the project's To-Do list. Google will provide an update on the Workspace Updates Blog when the feature becomes available.
Additional details 
In the coming months, Google plans to introduce more features like:
Table templates to quickly insert different boards in Docs, such as topic voting boards, where feedback can be seamlessly gathered in one place.
Meeting note templates will automatically import any relevant information from the Calendar meeting invitation, including smart chips for attendees and files.
Pageless format in Docs will allow you to erase the boundaries of a page to create an infinite surface to work on.
Timeline view in Sheets makes it easier and faster to track work by allowing you to organize your data by owner, category, campaign, or whichever property is most relevant.
You can read more about these features on Google Cloud Blog. Keep an eye on the Workspace Updates Blog, as Google will provide updates here as these features become available.
Getting started 
Admin: No action required from admin.
End users: This feature will be available to all users. Visit the Help Center to learn more about using smart chips and checklists in Google Docs.
Deployment speed 
Source: Gimasys