3 notes when choosing email by company domain name
Email by company domain name is a basic but equally important factor that every business must pay attention to. Not only does it show professionalism in a daily communication tool, but it can also become a platform to promote productivity inside and outside the business. This article will provide you 3 most important notes when considering choosing email by company domain name, whether you have never used it or are looking to switch to a new provider.
1/ Choosing a domain name for business email
To be able to create an email under your company domain name, you first need to have domain name (domain). (In case you don't know, domain-specific email is made up of two parts: the domain name, and the email addresses belonging to that domain.). Once you have a domain name, you can create email addresses for users according to your wishes.
Eg: Email address nguyenhoa@tencongty.com then The part after the @ sign is called the domain name.
Usually businesses will use this domain name as the website address. For example, Gimasys company will have a website address of: https://gimasys.com/ and the email address will be in the form ho-ten-people-dung@gimasys.com. So, if your company already has a website, you just need to get the administrative information of that domain to register for an email service. 
Note: You must know the administrative information of the domain name to verify that the domain name belongs to your company and not someone else's, this also helps your company avoid cases of intentional impersonation, fraud. Island.
Notes when choosing a domain name for your company:
Brand matching: You can take the company name or the name of the service or product that you provide to make a domain name, or you can also combine both. However, when reading it, it should be relevant and directly reminiscent of your business. 
Easy to read, easy to remember: Since this domain name will be used as both the website address as well as the email address, they should be short and concise, otherwise it will be difficult for customers who need to find you on the internet. If your company has a long brand and product name (or a foreign name) then you may want to consider just choosing the initials (abbreviations). 
Should not contain special characters: Domain names containing characters such as dashes, underscores, etc. not only make it difficult for you to communicate to the other party, but also reduce the quality of the domain name. For example, an email with a domain name containing the "-" sign may be more susceptible to spam.
Domain name ".com" / ".vn" / ".com.vn" ….: These are the most popular domain extensions in Vietnam today. If you want your address to be easily searched from other countries because the product is aimed at foreign markets, you can choose the domain name ".com". Otherwise, country-level domains (like ".vn") are fine and help you rank higher in search in those countries. 
Currently, you can easily register to buy from famous companies such as GoDaddy, PA Vietnam, Mat Bao, Tenten, etc. Just go to the websites of these units and enter the domain name you need to buy, system The system will automatically check to help you that the domain name has a buyer, if not, how much does it cost for a year of use.
2/ Choose the most suitable email solution according to the company domain name
Once you have a domain name, the next important thing is to choose the right email solution. Currently on the market there are many email solutions by domain name, diverse in terms of cost, quality and features. However, for ease of visualization and selection, these solutions can be divided into two groups:
Traditional email hosting (On-premise):

Email hosting is an online email hosting service usually provided by hosting service providers. Usually, traditional email hosting solutions are also solutions provided by domestic units. The characteristics of these solutions are

sold by package.

The biggest advantage is

Cheap

. You can easily find service plans that allow you to create 50 emails with a total capacity of 50GB for less than 200,000/month. 
However, with this price, users also face many limitations:
Capacity:

Because of using hosting, the storage capacity of email is also limited because the capacity is not high. With 50GB divided among 10 people, each person can only store up to 5GB. This number is too little for daily email storage, not to mention storing email attachments.
Send/receive success rate

: This is an extremely important factor that you should consult and consult in many places if you don't want to fall into the situation of ... crying or laughing because email doesn't "go there, get there". There are many factors that affect whether an email reaches the recipient's inbox or is marked as spam.
For example IP address. If the email provider that lets you share an IP address with another business that is regularly reported as spam on the same physical server of the provider, then you will certainly be affected. The probability of traditional emails sent to customers is very high if the administrator does not control well – This is the opposite of Google.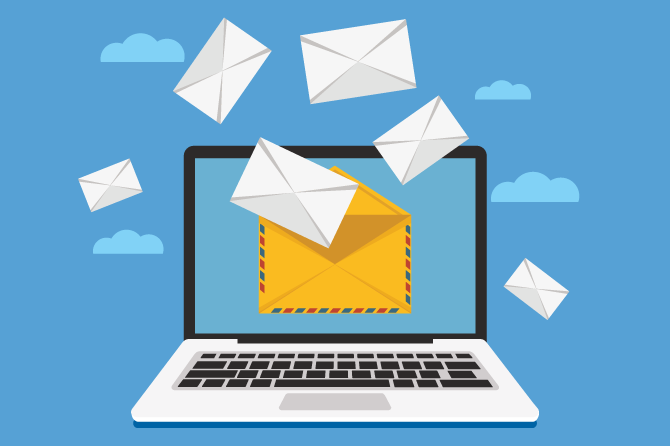 Email using cloud computing technology (Cloud computing): These solution providers are usually foreign companies, typically Google with G Suite or Microsoft with Office 365. Compared with traditional email hosting services, these solutions:

Not selling by package, but by account – you need to use as much as you can buy, no need to buy a pack in advance while not using it all. This not only saves costs, but also enables rapid development, which is especially useful for those

The business has plans to expand

Future.
Traditional email hosting solutions usually only send and receive mail. However, G Suite or Office 365 are is a set of products with many essential applications, meeting the basic needs of any business. If you are using a personal Gmail account, then you probably know: in addition to Gmail, there is Drive to store documents, Calendar to manage work schedules, Docs, Sheets, Slides to edit documents online, …
Quality is always guaranteed: Each product of Google or Microsoft has been verified by millions of global businesses for its quality. The most important elements of an email system such as: Good spam control, the percentage of outgoing emails being spammed is almost nonexistent. High stability and security. 99.9% uptime – this has been committed by these units through the service level agreement and independently evaluated by third parties. And most importantly, businesses do not have to spend time and human resources to manage email systems. 
To be able to make the right choice, you can refer to the comparison of traditional email hosting and cloud-based email solutions. here.
3/ Choose the most reputable email provider by domain name
Finally, after choosing the right solution, you need to carefully consider the provider of that solution. Some of the important factors you need to include in your assessment list include:
Credibility: This is especially important if you choose solutions provided by foreign units. Large companies like Google or Microsoft often have an authorized partner to provide the service. Instead of buying directly with the company but not receiving an invoice, its partners in Vietnam will stand out to directly support and issue a financial invoice for you. If you choose G Suite (Email Google Workspace) of Google, you can check its list of authorized partners in Vietnam.
Service: Good service will ensure a smooth user experience for the whole business. You should carefully study the service reviews of each provider before deciding to sign the contract.
Technical support capabilities: As a technology product, technical support is essential. You should ask in advance about the technical support time (with 24/7 support or not), the information channels for receiving support requests, the cost, etc. Especially if your company is using it. Already have an email system but have a need to switch to a new solution/provider, this factor is even more important. At that time, you need to ensure that the data from the old system is fully transferred to the new system, without disrupting employee workflow and system stability.
Conclude
Above are the basic factors that you must not ignore when choosing email by company domain name. If you still need more advice on choosing the right solution for your business, you can contact Gimasys – Authorized Google Partner in Vietnam – for the most accurate, detailed and timely information support.
Source: Gimasys