All newly created spaces in Google Chat will be in-line threaded beginning March 13, 2023
What's changing
As previously announced, Google is streamlining the way you organize conversations in Google Chat. Starting March 13, 2023, all newly created spaces in Google Chat will be in-line threaded. Users will no longer have the option to organize them by conversation topic, where related messages and replies were grouped together in the main conversation window. Existing spaces organized by conversation topics will continue to function as they do today.
Later this year, existing spaces organized by conversation topic will be migrated to the new in-line threaded experience — Google will provide more information on the Workspace Updates blog and via email to the primary admin in your domain ahead of this change.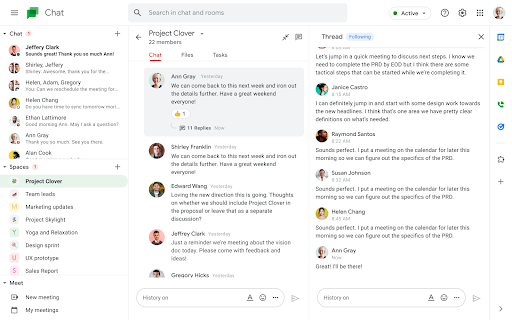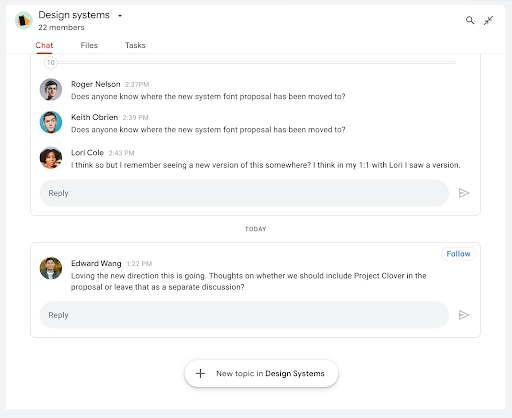 Who's impacted
Admins and end users
Why it's important
Spaces in Google Chat can help you communicate with a group of people or an organization about a topic, project, or shared interest. Google has heard from users that having two different options to organize their spaces can be confusing. To streamline the user experience and accelerate product development, Google is focusing on the model most users prefer: in-line threading. With in-line threading, you can reply to any message and create a separate discussion isolated from the main conversation. In-line threads can be helpful when you want to reply to a specific message or discuss a topic in-depth without disrupting the flow of the main conversation.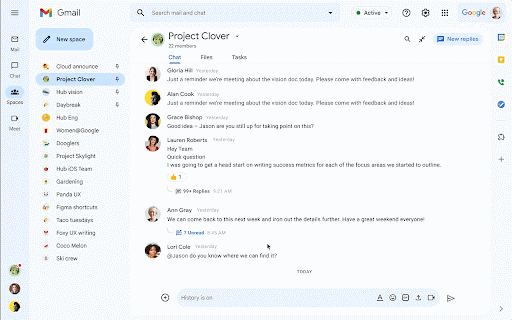 In-line threaded spaces are more organized, making it easier for you to:
Scan and understand what's being discussed in the space

Browse all topics via the active thread navigation panel

Find and follow the most relevant topics and conversations
Additional details
All spaces created on or after March 13, 2023, will be in-line threaded. Starting on that date, the option to "Organize the conversation by topic" will no longer be visible when users create a new space.

Getting started
Rollout pace 
Rapid Release and Scheduled Release domains: Gradual rollout (up to 15 days for feature visibility) starting on March 13, 2023.
Availability
Available to all Google Workspace customers, as well as G Suite Basic and Business customers.

Not available to users with personal Google Accounts
For more detailed product information or to need technical support, you can contact Gimasys - Premier Partner of Google in Vietnam at the following information:
Source: Gimasys