Enable your users to report inappropriate messages for review
What's changing
For select Google Workspace customers, admins can enable content reporting for their Google Chat users. Once a user has flagged a message, admins can find more information about the incident in the Security Investigation Tool and decide whether further action is needed. This feature is available for Google Chat on the web and mobile devices.
Admins can turn content reporting on for 1:1 messages, group messages, or messages in spaces, and select which reporting categories are available for their users, such as harassment or rude behavior, sensitive information, and more. Admins can also customize the language in the reporting dialog box to educate users about next steps following the report submission.
When you turn content reporting on, you can select which reporting categories to show to your users and which conversation types content reporting is available for.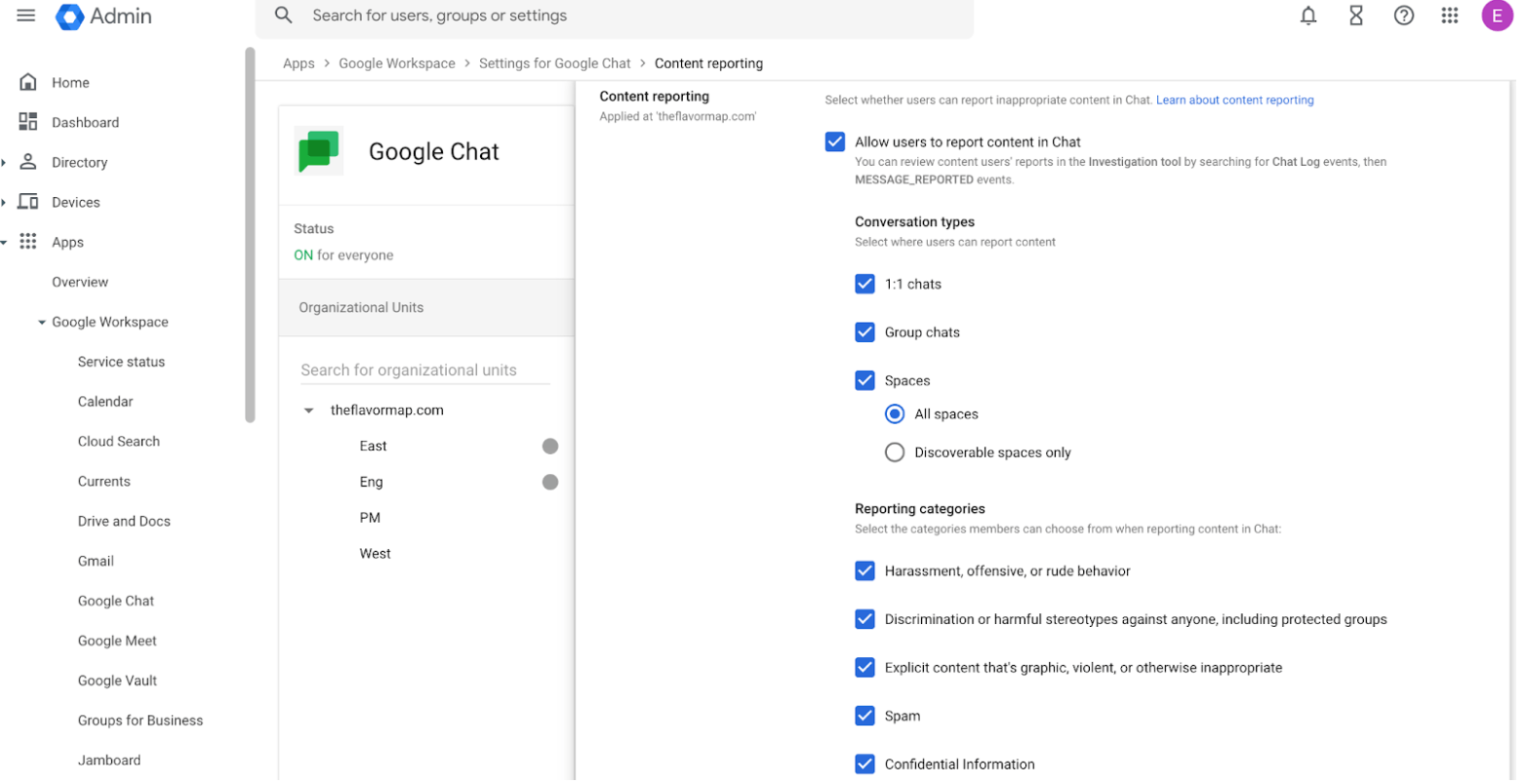 Who's impacted
Admins and end users 
Why it's important
Effective collaboration in the modern workplace requires a sense of psychological safety for users and appropriate protections for sensitive business data. Content reporting in Google Chat enables users the opportunity to report inappropriate messages for review. This can include anything from offensive , discriminatory or explicit content, sensitive data that should not be shared (personal or proprietary), and more. This is critical for Google's customers, especially those of larger organizations and in regulated industries, to stay on top of potential abuse and inappropriate use of Chat in their organization. 
Further, admins can use the Security Investigation Tool to decide whether data protection rules need to be created to proactively prevent similar messages from being shared in the future.
Trong Công cụ điều tra bảo mật, bạn có thể tìm kiếm các tin nhắn được báo cáo, xem thông tin hội thoại bổ sung và xem bản chép lại cuộc trò chuyện để biết thêm ngữ cảnh.
Along with recent updates such as managing Google Chat spaces in the admin console, Google hopes this feature helps admins manage Chat across their organization.
Getting started
End users: This feature must be enabled by your admin. Visit the Help Center to learn more about reporting messages in Google Chat. 

Rollout pace
Rapid Release and Scheduled Release domains: Gradual rollout (up to 15 days for feature visibility) starting on May 25, 2023.
Availability
Source: Gimasys