Networking methods in Google Cloud
Google Cloud is an incredible resource, but you can't make the most of it if you can't interact with it effectively. And because networking isn't a one-size-fits-all situation, you need options to connect on-premises network own or a cloud provider other than Google's network.
When you need to connect to a Google Cloud network, you have the following options:
Connect directly to Google Cloud:

Cloud Interconnect

and

Cloud VPN

Connect multiple on-premises systems through Google Cloud:

Network Connectivity Center

Connect with Google Workspace customers and Google APIs:

Peering

Connect with CDN service providers:

CDN Interconnect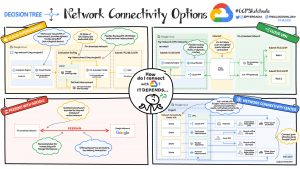 If you need to encrypt traffic to Google Cloud, you need a lower traffic solution, or you are experimenting with migrating your workload to Google Cloud, you can choose Cloud VPN. If you need an enterprise-class connection to Google Cloud with higher throughput, you can choose Dedicated Interconnect or Partner Interconnect.
> Reference:  Connect to Google Cloud: Explain your network options.
Direct connection to Google Cloud
Cloud Interconnect
Cloud Interconnect offers two options: you can create a connection (Dedicated Interconnect) or use a service provider (Partner Interconnect) to connect to a Virtual Private Cloud (VPC) network. If your bandwidth needs are high (10Gpbs to 100Gbps) and you can access Google's network in one locating base Dedicated Interconnect is a cost-effective option. If you don't require a lot of bandwidth (50Mbps to 50Gbps) or can't physically connect to Google's network in your colocation to reach your VPC networks, you can use Partner Interconnect to connect to service providers that connect directly to Google. 
Cloud VPN
Cloud VPN allows you to securely connect your on-premises network to your VPC network via IPsec VPN connection in an area. Traffic traveling between two networks is encrypted by one VPN gateway and then decrypted by the other VPN gateway. This action protects your data as it is transmitted over the internet. You can also connect two Cloud VPN instances together. HA VPN SLA offer is 99.99% service availability.
Connect to Google Cloud: Network Connectivity Center
Network Connectivity Center (in preview) supports connecting different business sites outside of Google Cloud using Google's network as a wide area network (WAN). On-premises networks may include on-site data centers and branch or remote offices.
Network Connectivity Center Is one hub-and-spoke mode to manage network connections in Google Cloud. Centralized resources reduce operational complexity through a simple, centralized connection management model. The on-premises networks Your device connects to the hub through one of the following modes: HA VPN tunnels, VLAN attachments or router instances that you or some partners deploy in Google Cloud.
Connecting to Google Workspace and Google APIs: Peering
If you just need access to Google Workspace or Google's supported APIs, you have two options: 
Direct Peering

to connect directly (peer to peer) with Google Cloud at a

Google edge location

Carrier Peering

to peer with Google by connecting through an ISP (supporting service provider), this service provider is a peer to Google.
Direct Peering exist outside of Google Cloud. Unless you need to access Google Workspace apps, recommended access methods to Google Cloud are Dedicated Interconnect, Partner Interconnect, or Cloud VPN.
Connect to a CDN provider: CDN Interconnect  
CDN Interconnect (not shown in the image) allows some third-party Content Delivery Network (CDN) providers to establish direct peer-to-peer links with the Google edge network at different locations, allowing you direct traffic from the VPC Network to the provider's network. Your network traffic coming out of Google Cloud through one of these links benefits from a direct connection to supported CDN providers and is automatically charged at a reduced rate. This option is recommended for high volume emission and frequent content updates in the CDN.
For an in-depth look at the service, check out document.
Source: Gimasys