Large corporations are trusting more in cloud security
Cloud-based solutions are a technology vehicle for organizations during the COVID-19 pandemic when employees arrive virtual office and companies scramble to adjust to the distributed, remote reality. However, these rapid and significant changes in the role of cloud technology for business are accompanied by an increased focus on security.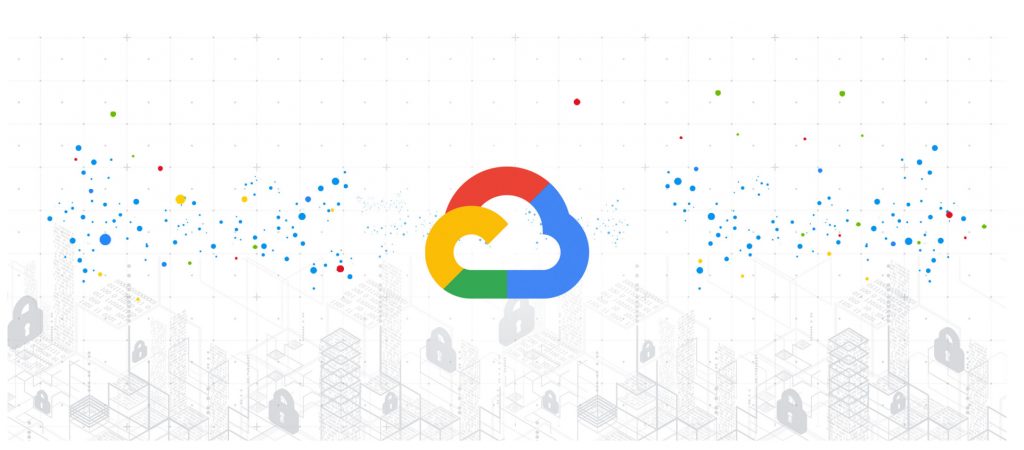 The rapid transition to the cloud also means that companies need to rapidly evolve existing security methods to protect everything that matters at the core of their business — from people as well as data. data about their activities and transactions with customers and their most sensitive personal information. Suddenly, businesses are clearly aware of where business practices, employee training, and security policies are falling short. 
A recent study Google-commissioned study by IDG explored the details behind the intense focus on security solutions since the start of the pandemic and highlighted the role cloud-based security solutions play in helping to keep guests safe. row. The survey of 2,000 global IT leaders illustrates that in this new and unfamiliar world, businesses are more ready than ever to embrace cloud security.
Security is an even higher priority after the pandemic
Amid the pandemic, many organizations are facing an ever wider attack surface as employees move in temporarily from remote (and in some cases) home offices. cases, they are encouraged to stay there). With fewer security protections inherent on personal internet connections and more work meetings taking place via video conferencing, attackers have launched a cyber pandemic of their own designed designed to take advantage of and exploit new vulnerabilities. 
However, even as businesses ramp up security initiatives and precautions, the growing wave of threats continues to keep IT leaders on edge. security. Security concerns and risks remain among the top stumbling blocks for innovation according to IDG study respondents – surpassed only by insufficient developer and IT skills. 
Businesses look to cloud providers for security help
As a result, addressing security risks is the top area where IT leaders turn to cloud providers for support. For these organizations, the ability to control access to data while using cloud services is the most requested infrastructure security and compliance feature from a vendor. cloud.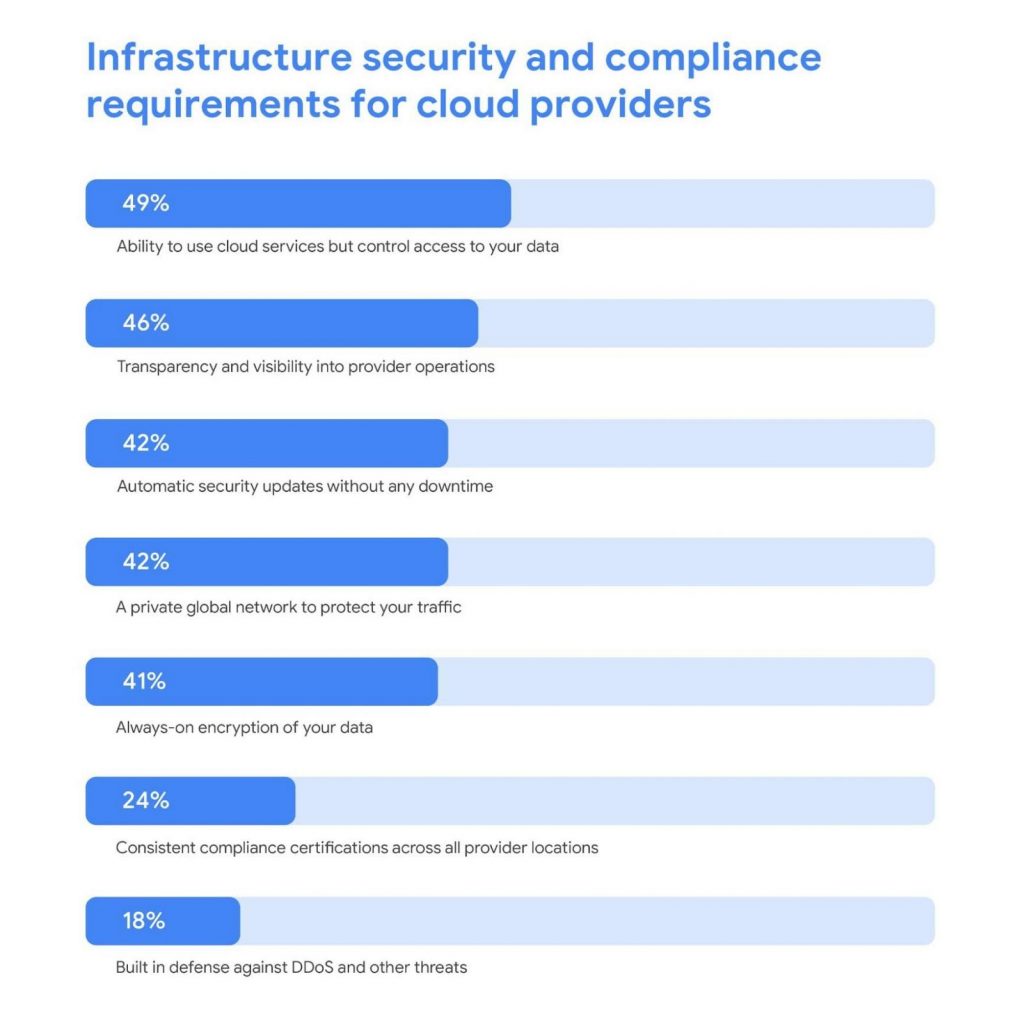 Cloud security is trusted more than ever 
A closer look at the results also reveals a shift in opinion about whether cloud security is really up to the task of protecting businesses against modern attacks. Despite the skepticism of the past, the majority of IT leaders today are comfortable with using cloud-based security solutions. 
Confidence in the security of cloud infrastructure is extremely high with 85% respondents saying they feel secure (or more secure) than on-premises infrastructure — compared with just 15% believing still safer in place.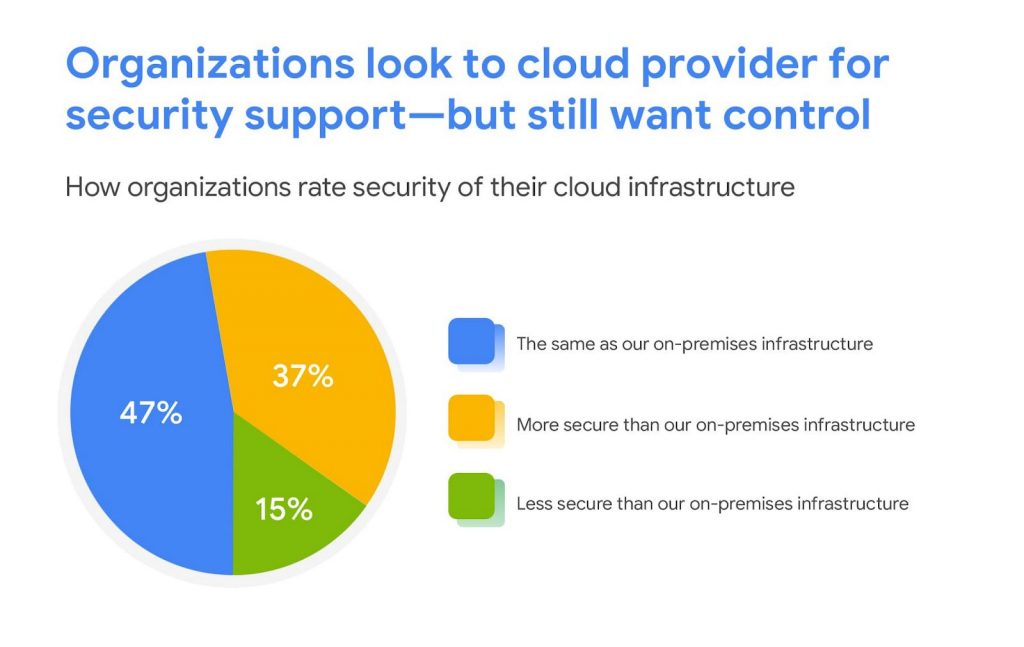 This is a clear sign that there are few reservations around the effectiveness of cloud-based security solutions, signaling increased trust as organizations invest in infrastructure and solutions. cloud-based solution. 
Google is committed to providing safe and secure solutions 
Google Cloud Platform bảo vệ dữ liệu, ứng dụng và cơ sở hạ tầng cũng như khách hàng của bạn khỏi hoạt động gian lận, spam và các loại lạm dụng trực tuyến khác. Google cùng Gimasys sẽ bảo vệ bạn trước danh sách các mối đe dọa an ninh mạng ngày càng tăng bằng cách sử dụng cùng một nền tảng cơ sở hạ tầng và các dịch vụ bảo mật mà Google sử dụng cho các hoạt động của riêng mình, vì vậy bạn không bao giờ phải thỏa hiệp giữa tính dễ sử dụng và bảo mật nâng cao. 
To learn more about IDG's findings and how IT leaders are addressing post-COVID security concerns, visit Download full report.
The source: Gimasys