The latest way to create a Google Map for businesses easily and quickly in 2023
If you want to increase your online presence and make it easier for customers and partners to find you, you should ask: "How do I create Google Maps for businesses mine?" Many businesses have overcome difficulties during the pandemic by establishing and growing their online presence – primarily through social media sites. Among them, Google is still the most preferred search choice for internet users. If you want people to find your business on Google, or when they search for anything related to your industry, providing business information to Google should be a top priority. This is one of the simplest marketing strategies for small businesses. 
What is Google Maps?
Google Maps is a web service that provides detailed information about geographic areas and locations around the world. In addition to regular road maps, Google Maps also provides aerial and satellite views of many locations. 
In some cities, Google Maps offers street views that include photos taken from vehicles. Google Maps offers several services as part of a larger web application. For example, a route planner to direct drivers, cyclists, pedestrians, and public transport users from one specific location to another.
> Watch now: Secret 5 benefits that Google Maps brings to your business on the internet
How to create Google Maps for business
Prepare before creating Google Maps for your business
Before creating Google Maps for your business, you need to prepare complete information about your business and make sure the address you want to create does not have Google Maps of another business.
Create a Google Business Profile
Business profile is an extremely important thing for Marketing activities. If you need to create a business profile, you'll need to set up a Google Business Profile (GBP) or Google My Business to add your business to Google Maps.
Generating GBP is free and extremely easy. With GBP, you can manage the business information shown on Google, and personalize and update your profile with business hours, photos, posts, and other essential information that helps your business. Yours becomes unique. 
If your business is already established, it will exist in Google's online business listings. All you have to do is claim and make sure all information is correct and up to date to generate your GBP.
How to register a business with Google Business Engine
Step 1: Go to Google Business Profile and click "Manage now". 

Step 2: Enter your business name and select "Create a business with this name" or select your business from the list from the results that appear. Click "Continue".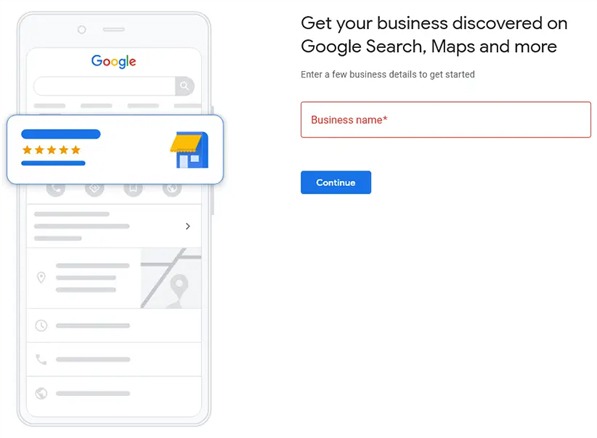 Step 3: Choose your business type. You can select all that apply, then click "Next". 

Step 4: If you have an online store, you will be prompted to add your website. You can choose to skip this step. If you select "Local Store" or "Service Business" as your business type, you will not be prompted to provide a website. You will be taken directly to the step of choosing your business type. 

Step 5: Choose your business type and click "Next". 

Step 6: Enter your business address. You can enter a street address if you don't have a physical store. 

Step 7: You will be prompted to select an existing business profile from the list; If you are not on the list, select "None of these" and click "Next". 

Step 8: Determine your location and add your business to Google Maps by positioning the marker at the exact location where your business is located. 

Step 9: Add your phone number and click "Next" or you can skip this step. 

Step 10: Click "Continue" then choose how to verify your business. You will be sent a verification PIN. You may be allowed to obtain your PIN by text message or automated phone call.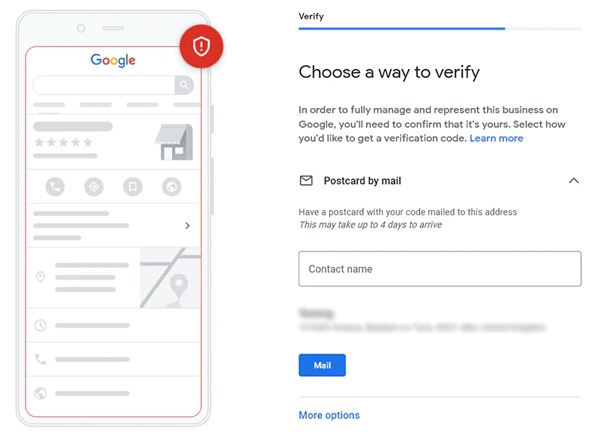 Continue to customize your business profile with business hours, messaging options, business description, photos, etc. Once verified, your Google Business Profile will display all the information you provided and your business will be added to the Google Business category on Google Maps.
Create Google Maps for businesses
You can also add your business to Google Maps and get listed on Google by working directly on Google Maps. You have choices:
Add your business to Google Maps
On your computer, sign in to Google Maps. 

You can add your business in 3 ways: 

Enter your address in the search bar. On the left, under Business Profile, click Add your business. 

Right click anywhere on the map. Then, click Add your business. 

At the top left, click Menu then click Add your business. 

Follow the onscreen instructions to complete your Business Profile registration.
Claim your business through Google Maps 
On your computer, open Google Maps. 

In the search bar, enter the business name. 

Click on the business name and select the correct name. 

Click Claim this business and click Manage now. 

To choose another business, click I own or manage another business. 

Select a verification option and follow the onscreen steps.
Edit information after creation
Once verified, your business will be live on Google, Google Maps, and you can still edit details like business hours, description, profile photo, etc. You can also edit the page business website created by Google to communicate more about your business and all that you offer by way of
Go to Google Business Profile. 

Select "Edit profile" then select "Business information". 

After each change you make, select "Save".
Refer to the solution Google Maps API for Business
Tips for Google Maps
Generate Google Maps QR code
Step 1: Access Google Maps

Step 2: Choose a location
Enter the location where you want to generate the QR Code and make sure to adjust the location pin correctly.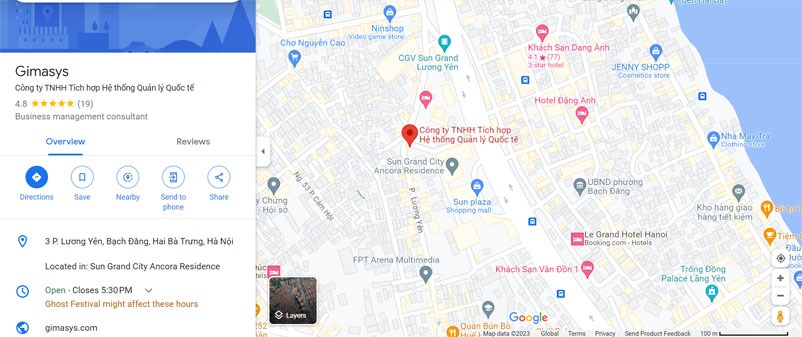 Step 3: Share and copy the link 
Click 'Share' and then click 'Copy Link'.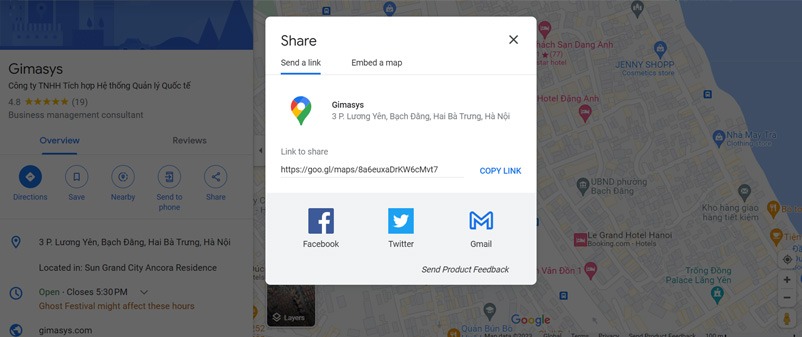 Step 4: Paste the copied link 
Paste the copied link into the 'Google Map URL' field of QR Code Generator for Google Maps.
Step 5:

Save and download 
Save the QR Code by clicking the 'Save QR Code' button, entering the QR name and then clicking 'Save'. Note: Please scan your QR Code from different devices (iOS and Android) before printing for use.
Label locations as private
Step 1: Open Google Maps. 

Step 2: Search for a location or address. 

Step 3: Select Add label. 
Note: You need to turn on Web & App Activity to label places.
The above is all you need to know create Google Map for businesses 1 quick and easy way. This is one of the best things you can do to ensure your business continues to grow and give it a competitive advantage in this day and age. This Google feature is completely free and comes with many benefits that help put your business on the map. 
Gimasys - Google's Premier Partner in Vietnam is a provider and consultant on the structure and design of the optimal Cloud solution for you. For technical support, you can contact Gimasys – Premier Partner of Google in Vietnam at the following information:
Hotline:

0974 417 099 (HCM) | 0987 682 505 (HN)

Email:

gcp@gimasys.com
Source: Gimasys