Block apps from accessing G Suite data with app access control
What is changing? 
Last year, Google launched app access control feature để giúp tất cả khách hàng G Suite và Cloud Identity kiểm soát quyền truy cập vào dữ liệu G Suite qua OAuth 2.0 của các ứng dụng thuộc sở hữu miền và bên thứ ba. Giờ đây, Google đang cải thiện việc này bằng cách cho phép quản trị viên chặn các ứng dụng truy cập vào bất kỳ OAuth 2.0 scope any. This makes it easy for customers to quickly restrict applications that are considered high risk or intrusive.
If an app is blocked, it won't be able to access any data from Google services. It will be blocked whether the app is on iOS, Android or web. If the user tries to authorize the app, they will see an authorization error message. Administrators can custom error message this if they choose.
Who will be affected? 
Admins
Why you'd use it 
G Suite has a strong development ecosystem, with thousands of apps available through the G Suite Marketplace and directly to customers, and a rich API framework that allows customers to develop custom apps. However, not all apps comply with the privacy policy of every enterprise customer, so google customers and partners value controls for managing third-party apps. access to G Suite data
Previously, admins could trust or limit the access of specific apps. Now, google is streamlining this to make it easier for you to manage thousands of potential apps and help you block apps faster when needed. By adding the option to block apps, you can quickly and effectively protect your data when apps are infringing or high-risk.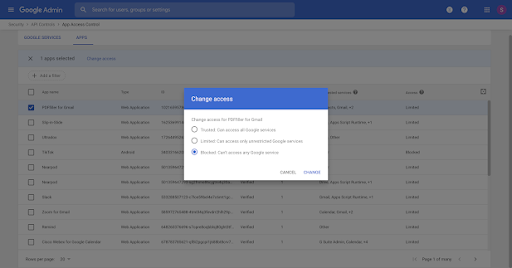 You can now block your application's access to the OAuth 2.0 scope through the Admin console.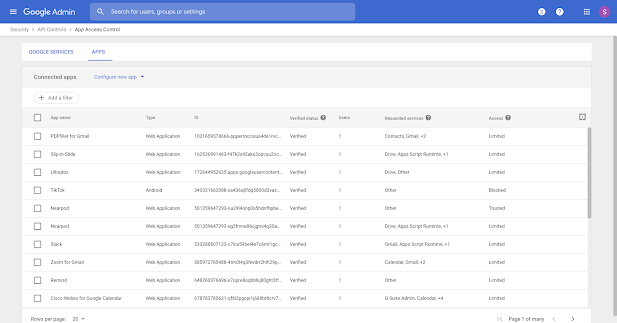 Applications can now be trusted, limited or blocked
Getting started 
Admin: Scroll to

Admin console > Security > API controls > App access control

to start using the feature. Visit the Help Center to learn more

about how to control which third-party and internal apps access G Suite data.

End users: There are no end-user settings for this feature. 
Deployment 
Availability
Available to customers G Suite Basic, G Suite Business, G Suite Enterprise, G Suite for Education, G Suite Enterprise for Education, and G Suite for Nonprofits

Not available to G Suite Essentials and G Suite Enterprise Essentials customers
Updated: Gimasys.