Series of events "Digital transformation and information security with Google Cloud"
Lần đầu tiên một chuỗi sự kiện về công nghệ Google được tổ chức tại các tỉnh Bình Dương, Đồng Nai, Vũng Tàu do Công ty TNHH Tích hợp Hệ thống Quản lý Quốc tế (Gimasys) đối tác chiến lược Google tại Việt Nam tổ chức với chủ đề "Chuyển đổi số và an toàn thông tin với Google Cloud".
Facing the increasingly widespread wave of digitalisation, Vietnamese businesses need to seriously look at the nature and positive effects of digitalisation. At the same time, business leaders and management levels should also change their management thinking about the process of converting businesses to business based on digital platforms to adapt, compete and develop in the new era. number. Therefore, the conference was organized to convey a new perspective on business digital transformation in business based on Google's technology platform. Workshop topics focused on how businesses bring G Suite tools and Google Cloud Platform cloud solutions to business applications to drive more than just efficiency, business continuity, but also improve information security and data security of enterprises in the digital era.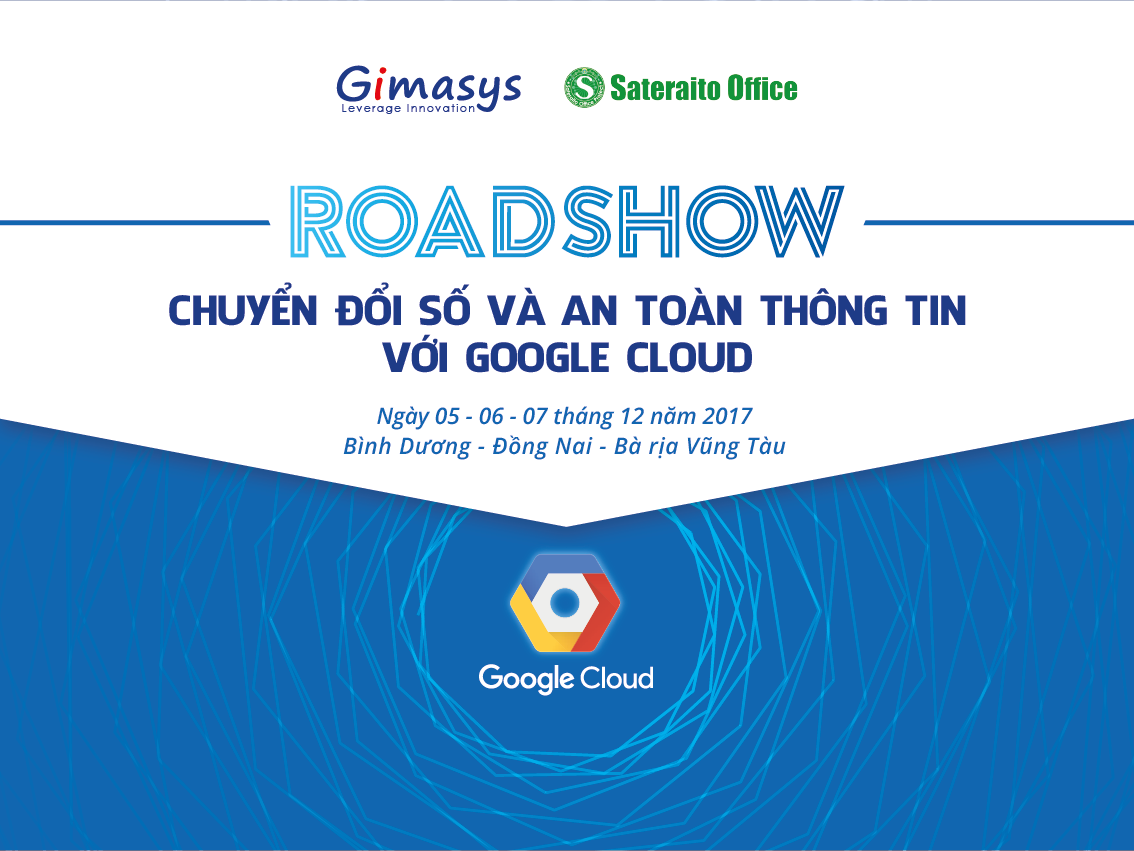 The seminar is also an opportunity for Gimasys - Google's strategic partner in Vietnam and Sateraito Office, a strategic partner of Google from Japan to share urgent issues for Vietnamese businesses in the current digital era. now like:
Go digital with Google's G Suite for business

Transform digitally with Google Cloud solutions for businesses.

Ecosystem of Google Cloud solutions to promote information security and data security during digital transformation.
Additional information about the conference:
Seminor: "Digital transformation and information security with Google Cloud"
Registration: Here (Free to attend)
Time: Tuesday - Wednesday - December 05-06-07, 2017
Location:
Binh Duong:

1:30 – 4:30: Thang Loi Hotel –

210 Thich Quang Duc, Phu Cuong Ward, Thu Dau Mot Town, Binh Duong Province

Dong Nai:

 8:30 – 11:30: Tran Bien Assembly Hall –

Chu Van An, Buu Long, City. Bien Hoa Dong Nai

Vung Tau:

8:30 - 11:30: Cao Su Hotel - 108 Vo Thi Sau, Thang Tam, City. Vung Tau, Ba Ria - Vung Tau
The seminar was attended by industry experts from Gimasys company and partners Sateraito Office At the same time, it is a gathering place for CEOs, CTOs and IT experts from businesses in the southern provinces to acquire, exchange and share experiences on the application of outstanding Google technologies in transforming working methods as well as ensuring the safety and security of information and data for businesses. in the digital age.
An event not to be missed at the end of the year, free to attend, register now: Register to attend Roadshow 2017
Best regards!