Choosing VPS hosting or Cloud server will determine your 10% revenue.
Many customers today are still confused between the two concepts of VPS Hosting and Cloud Server, and at the same time do not know which one to choose to build Web, App... Let's take a look at the outstanding features of the two types of machines. this virtual owner
1.VPS HOSTING
1.1 What is VPS Hosting?
VPS or "Virtual Private Server" (virtual private server). One VPS same as shared host, there are many private virtual servers that are initialized and running on the same physical server, and these virtual servers will be rented by businesses to run web, App…
Each VPS virtual server has its own operating system, CPU, memory,... just like a physical server
1.2 VPS Hosting Review
Advantage:
VPS Hosting usually receives extensive support from hosting providers

Users will have full control over the current VPS they manage, and data will also be guaranteed to be safe compared to when using Share Hosting.

VPS provides the ability to upgrade and expand easily, meeting the needs of businesses.
Defect:
– VPS Hosting works on a single server, so stability and access is low

– Resource upgrade cost is high, resource upgrade ability is also limited

– At peak times, the physical server may hang, leading to the VPS may be suspended
2. CLOUD SERVER
2.1 What is Cloud server?
Cloud server provide a server Virtual private is like VPS but is deployed and developed on cloud computing technology platform, so Cloud server have advantages over technology VPS traditional.
Data được lưu trữ phân tán ( Distributed Storage Systems ) trên toàn bộ hệ thống Google Storage. Điều này đảm bảo vấn đề an toàn cho hệ thống trong mọi tình huống sự cố xảy ra.
Maybe you don't know: Websites using the service Google's cloud server almost never crashes.
2.2 Optimal points of Cloud Server:
Advantage:
High stability:

Cloud Server develops on the cloud computing platform. This feature helps the system to be stable and not congested when there is a large amount of traffic. If there is a physical server that fails, your Cloud Server will still work stably thanks to the data synchronization mechanism.
High performance:

Cloud Server ensures operation, fast processing speed and maximum productivity
Expanded system:

Cloud Server has a large amount of resources, always ensuring traffic. Automated administration software from service providers enables quick service initialization, and unlimited configuration expansion as needed.
Confidential data:

Cloud Server is supported with the ability to control problems due to large amounts of storage. In addition, the automatic backup and backup system ensures data safety at the highest level.
Easy and tight administration:

Users can easily manipulate Cloud Server on the provided administration software.
Expense:

Especially when using

Cloud Server,

you only pay for what you use (Cpu, Ram, Capacity,..) You can upgrade/ha level your resources easily to save cost
♦ Do you believe that your business has lost since the first choice?
If you take a look around, you will see that Google's cloud server rental price is 6-8 times more expensive than other providers in Vietnam. Why? The reason lies in the following features:
Google commits

uptime up to 99.99%

, while other suppliers only dare to commit to you 99.9% number only. Many people at first glance will not see too much difference between those two numbers, but let's try to do a simple calculation to see the difference.
60(minutes) x 24(hours) x 365(days) x 99.99 = 52,554,744 minutes        (1)
60(minutes) x 24(hours) x 365(days) x 99.9 = 52,507,440 minutes          (2)
You can see (1) and (2) 47,304 minutes difference ie 788.4 hours. If the website operates 24/24, the amount of operation time:
24(h) x 365(day) = 8760 (hour).
So when your system hangs for 788.4 hours, you've been damaged 10% meaninglessly. From there you can see, the difference is only a very small number but it greatly affect the business performance of the business.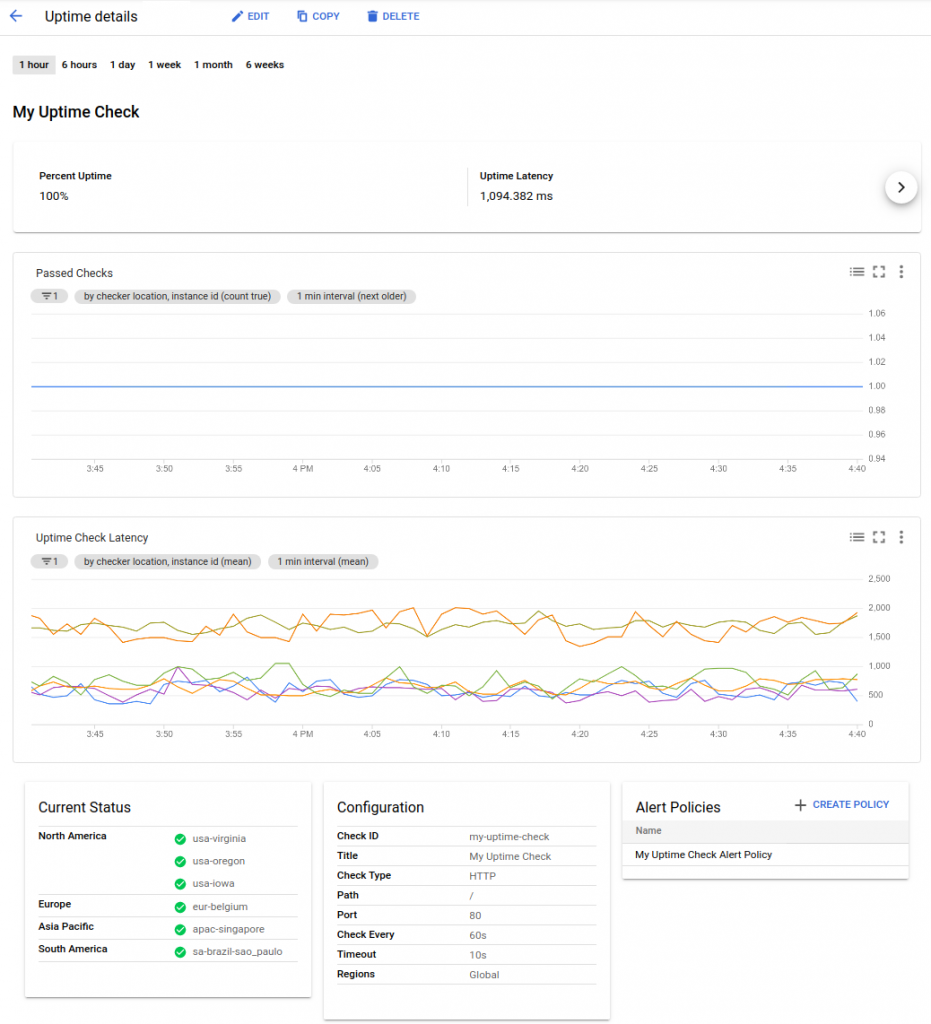 No supplier in Vietnam dares to promise you this number except Google
Not only that, when the system's uptime only reaches 99% or 98%, Google is ready to Reimbursement for lost time. This is also something that no supplier in Vietnam dares to commit to customers.
Note: Why not try the service of Google cloud to save money today?
With a worldwide system, Google ensures your web system quickly reaches customers in every country, while that is not possible if you rent a server in the country.

With weak configurations, domestic suppliers can meet them, but with high configurations, only Google has enough resources to provide etc….
The above are some outstanding advantages that many customers are willing to choose Google Cloud to ensure business performance of the business. Hope you and your business can consider to choose the right solution for you. Use VPS Hosting with initial economical initialization costs, but difficult to use, expensive to manage, upgrade, or choose Cloud Server to experience stability in use, flexibility in management, conversion, long-term cost savings in human resources as well as upgrades.  
And yet..
In addition to not providing enough information about server performance, many carriers are also dishonest in cheap business email to sell customers low-quality product packages at a relatively high cost, causing damage. serious loss later
Note: Maybe you should read the article facts about cheap business gmail To be able to reduce the risk for your business, because with the excitement of google adword, it is difficult for users to distinguish which is the real quality supplier in today's time.
If you are in need of solution advice Cloud Server of Google, please contact Gimasys – a strategic partner of Google Cloud in Vietnam to be consulted by our experts for more specific information.
Hotline: 0974.417.099
Email: gcp@gimasys.com
 Sign up for a trial 500$ for business