Easily format and display code in Google Docs
What's changing
Currently, when working in Google Docs, collaborators who want to present code have to paste it in the document and then manually apply styles by highlighting syntax.
We're adding a new smart canvas feature that makes this process much easier by enabling you to format and display code in Docs with code blocks.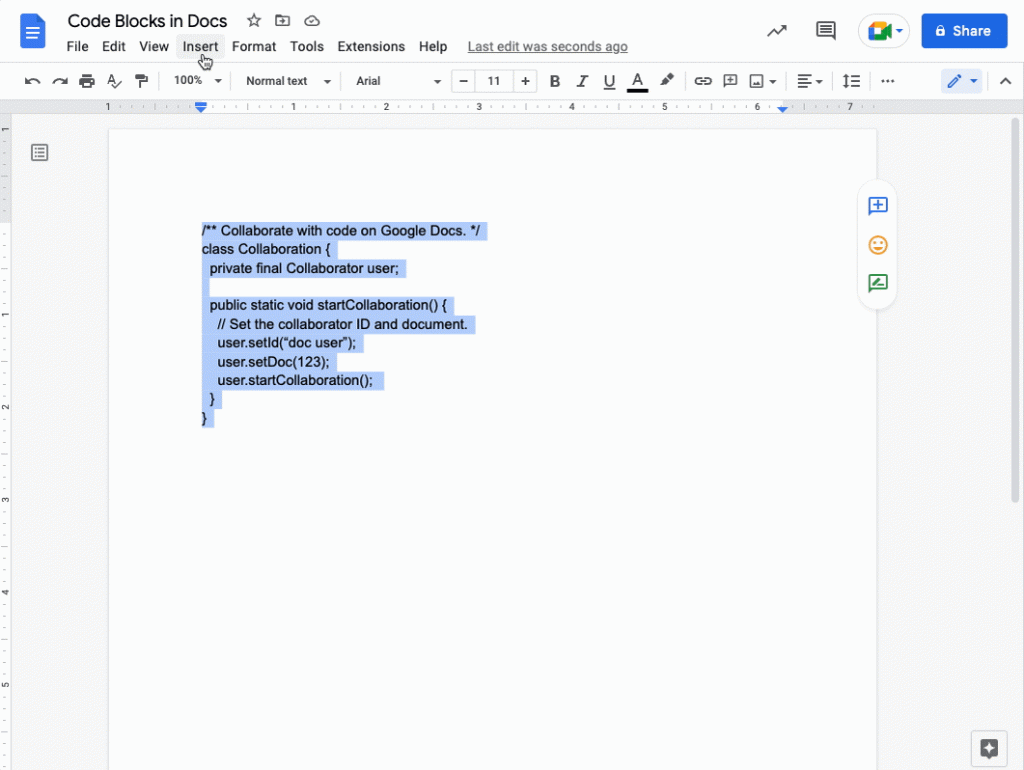 Who's impacted
End users
Why you'd use it
This feature gives you the ability to visualize code with industry standards, making code readable and collaboration much easier.
Getting started
Admins: There is no admin control for this feature.

Người dùng cuối: Để định dạng và hiển thị mã trong Tài liệu, hãy chọn Chèn > Khối dựng > Khối mã > chọn ngôn ngữ lập trình của bạn hoặc tìm kiếm @ > Khối mã > chọn ngôn ngữ lập trình của bạn. Tìm hiểu thêm tại trang hỗ trợ

inserting smart chips & building blocks in your Google Doc

. 
Rollout pace
Rapid Release domains: Extended rollout (potentially longer than 15 days for feature visibility) starting on December 14, 2022

Scheduled Release domains: Extended rollout (potentially longer than 15 days for feature visibility) starting on January 3, 2023
Availability
Available to Google Workspace customers Business Standard, Business Plus, Enterprise Standard, Enterprise Plus, Education Standard, Education Plus

Not available to Google Workspace Essentials, Business Starter, Enterprise Essentials, Education Fundamentals, the Teaching and Learning Upgrade, Frontline, as well as legacy G Suite Basic and Business customers

Not available to users with personal Google Accounts
Source: Gimasys