Easily search for Chat spaces in Gmail
What's changing
In the continuing effort to build community and connection in hybrid work, we're introducing the ability to find and join spaces through Gmail search on web.
When entering queries previously in the Gmail search box, you could see applicable emails or Chat and space conversations by selecting the "Mail" or "Messages" buttons.
Starting today, Spaces in your domain with names or descriptions that match your query will appear when you click the newly added Spaces option. The directory will not only include spaces you've joined, but also discoverable spaces and restricted spaces you've been invited to, but have yet to join. Users also have an opportunity to preview the space contents before deciding to join by clicking on the "Preview" button next to each unjoined space.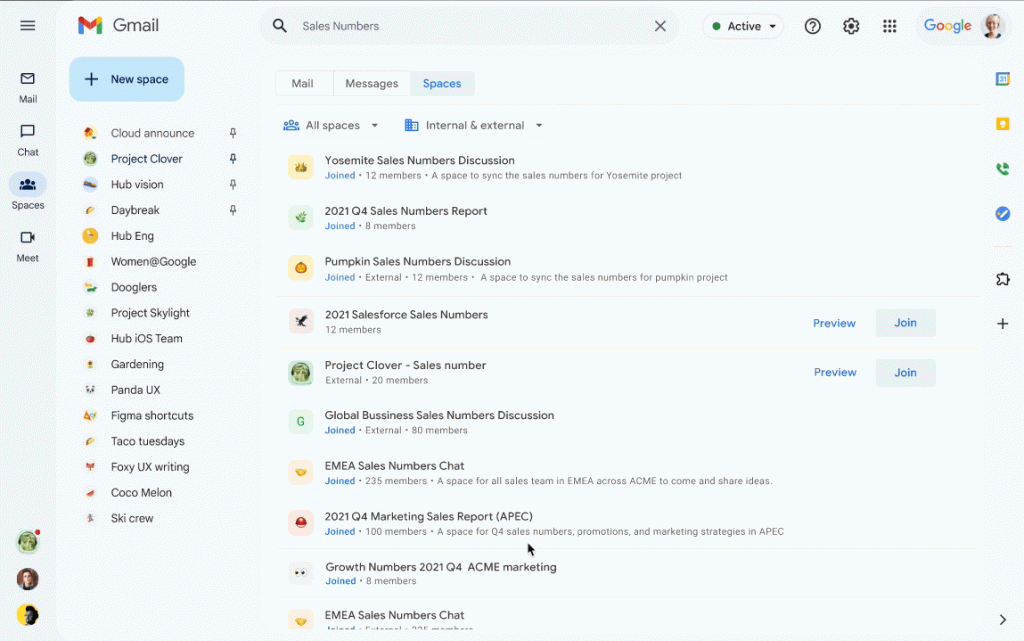 Who's impacted
End users
Why it's important
As the number of spaces within your organization continues to grow, we're offering a better way for you to discover and find the exact space you're looking for, while also providing a path to join spaces for specific teams, projects, shared interests, and more.
Getting started
Admins: There is no admin control for this feature.

End users: To search for a Space, type a query into the Gmail Search Box > hit enter > navigate to the Spaces results list. Spaces that you are not in, but can join will have "Preview" and "Join" buttons next to the search result. Visit the Help Center to learn more about searching for spaces by name on Gmail.
Rollout pace
Rapid Release and Scheduled Release domains: Extended rollout (potentially longer than 15 days for feature visibility) starting on August 24, 2022
Availability
Available to all Google Workspace customers, as well as legacy G Suite Basic and Business customers

Available to users with personal Google Accounts.
Source: Gimasys