G Suite Box: Collaborate in different ways
What's new:
Cách đây gần hai năm, Box và Google Cloud gần đây đã thông báo về việc trở thành đối tác của nhau to give businesses large or small a set of tools to collaborate and increase productivity. Since then, the two sides have worked together to create integrations to make it easier for businesses to work together in the cloud, including integrations in the cloud. Hangouts Chat and Gmail.
Admins can enable these integrations from Box's Admin Console.
In addition to this experience, Google also launched Box for G Suite – a new way for users to take advantage of Google's word processing tools directly on Box's secure content platform. help increase productivity and project completion time.
Với Box dành cho G Suite (GG Workspace), bạn có thể:
Collaborate on Docs, Sheets, Slides directly from Box while keeping Box's permissions settings intact.

Automatically save and manage Docs, Sheets, Slides documents in Box – you can use your favorite toolset and still manage them in Box. And because G Suite has always supported a wide variety of text formats, you can also view and edit other types of files.

Leverage the same security, management, and governance platform for other content stored on Box. This ensures that you can centrally manage it in a single place.
Whichever solution you choose, businesses want their employees to be productive and efficient, so Google always works closely with third parties like Box to develop more. more integration for G Suite.
For the past 8 months, Intuit – a financial services business – has been using the Box integration for G Suite. "Box for G Suite not only gives us and our global team the right collaboration tools, but it also stores all the information in one place, making administration a lot easier. " – Atticus Tysen, CIO of Intuit.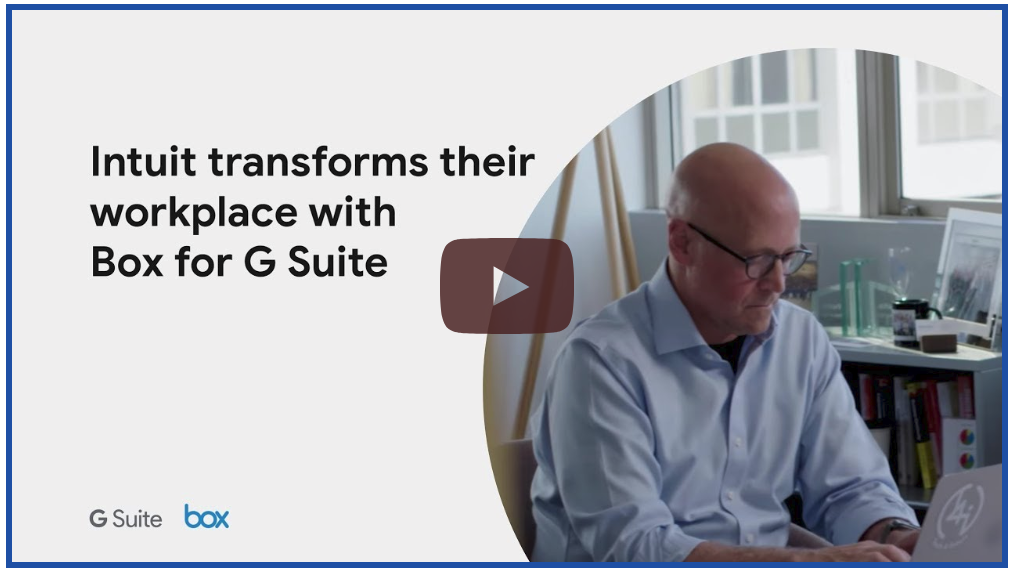 Box for G Suite will begin rolling out to customers next week.
More ways to use Box and G Suite together
In addition to Box for G Suite, Google also recently released the additional Box for Gmail and Box for Hangouts Chat Bot apps – two new ways to help users collaborate in the cloud.
With the Box add-on for Gmail, you can simplify email collaboration while maintaining the security of your content and following guidelines. Use the Gmail add-on to attach files stored on Box or download email attachments directly to Box without leaving the Gmail interface. You can Download the additional application Box for Gmail here.
With Box for Hangouts Chat, you can also access Box content right from the Chat interface. Here, you click on "Find People, Rooms, Bots" in the upper left part of the application and a window will appear. Then select "Message a Bot" and search for Box, where you will be asked to log in to your Box account. Once logged in, you can ask Box bot to show you recently accessed files or provide a list of "favorite" files/folders. Please read this paragraph for more detailed information.
These integrations will further make it easier for your business to transform employee collaboration. Learn more about the Box and Google partnership by visiting https://gsuite.google.com/box.
Update: Gimasys