G Suite: Easily enter the locations of buildings into the Admin console
What's changed?
You can also enter addresses instead of coordinates (latitude and longitude), to locate your office in the Admin console. This is a much more efficient and reliable way for you, as a G Suite Admin, to be able to manage international office locations.
Who is the influence?

Admins only
Why you'd use it
When you add location information, the system will immediately automatically adjust the accuracy of the room and time zone based on your office address. This ensures that you have accurate data in your room's dashboard. In addition, with this change, Google will automatically set the correct time zone for all resources in the office and help ensure you see the correct time of day usage on the detailed dashboard. of the room.
In the future, this information will be the premise to provide other smart features such as:
Adjust time zones automatically when you work in different offices.

Precise navigation from Calendar.

Recommend meeting rooms

in nearby buildings.
How to get started
For administrators: there are 3 ways to enter information:
Import directly from the Admin console

: In the Admin Console, select

Manage Resource -> Manage Buildings

, bạn có thể nhập địa chỉ trực tiếp và hiển thị trên Google Maps API để xác nhận vị trí. Khuyến nghị nên nhập một số lượng nhỏ các tòa nhà tại cùng một thời điểm.
Bulk upload via CSV files

: This is also in the Admin Console, select

Manage Resource -> Manage Buildings

. Bulk upload spreadsheets support the same address format, so you can verify your location in multiple countries

and area.

Upload via build resource API
For end users: no effect on end users.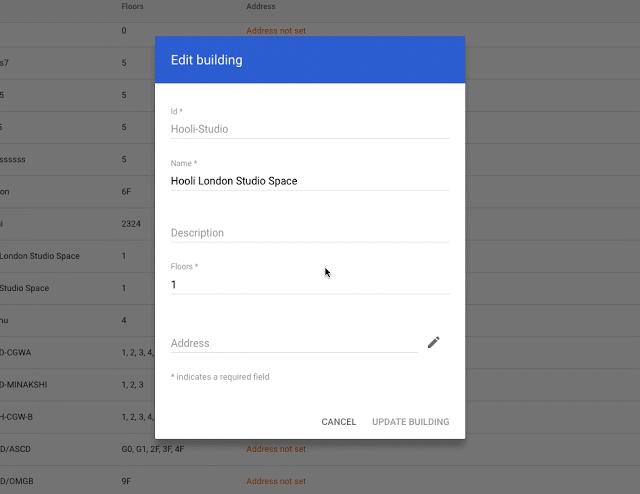 Additional details
Visit the Help Center for full instructions on how add location for all 3 methods above and read more documentation on how add building address via API.
Update: Gimasys