Cloud collaboration solution with Google Workspace and JumpCloud
The simpler, more secure way to collaborate in the cloud
Changing needs for more collaboration and security
Today's workplace is increasingly developed and much more modern than many years ago when technology had not yet improved or updated. Now, when many businesses and employees have more choices about where, when and how they work and collaborate such as hybrid and remote. Therefore, companies and organizations are becoming more and more dynamic, requiring more solutions to optimize work performance and of course need more data security.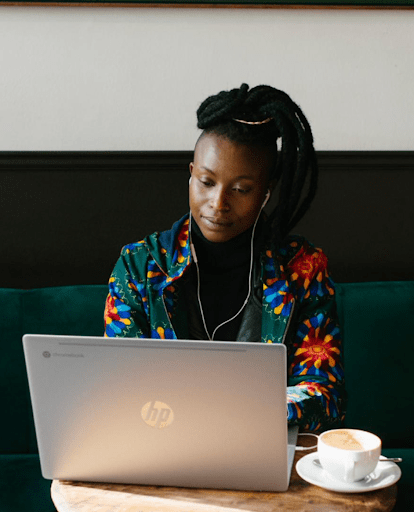 Google Workspace and JumpCloud have officially partnered together to provide businesses and organizations with a modern productivity optimization solution with more unified, optimized user, device and access management capabilities. superior. This solution makes access and connection to work more flexible and expanded to help make working activities within the organization even more secure. 
Some highlights between Google Workspace and JumpCloud:
Google Workspace customers
JumpCloud

Commonly used applications (Gmail, Chat, Calendar, Drive, Docs, Sheets, Slides, Meet, etc.) promote productivity and collaboration across departments.

Cloud-native infrastructure designed with the modern threat and regulatory landscape in mind, including AI-powered threat defenses, zero-trust access built-in as well as digital sovereignty and compliance controls.

An open directory platform that extends or replaces legacy on-premises directories like Active Directory for unified, cloud-based device, access, and identity management.

Combined with Google Workspace, JumpCloud provides a cost-effective alternative to legacy, rigid solutions that rely on a single vendor and reduces the complexity of multiple solutions.
"Global organizations can now combine Google Workspace's innovative communications capabilities with JumpCloud's device management and directory services, providing IT teams with a modern, flexible collaboration solution and can grow according to their business needs." – Shared by Grandfather. Kevin Ichhpurani, Vice President of Global Ecosystems and Partner Channels, Google Cloud
Different approach: safety – productivity – more connection
Google Workspace has a different structure
Giải pháp thiết kế cloud-only nhằm giúp tránh các rủi ro liên quan đến lỗ hổng phần mềm máy tính, macro lừa đảo và các tệp cục bộ được trang bị hóa. Giải pháp được thiết kế này cũng cho phép đổi mới nhanh chóng: Nhóm phát triển của Workspace G Suite có thể gửi bản cập nhật phần mềm bất cứ lúc nào, thường xuyên nếu cần, để đáp ứng nhu cầu của khách hàng và giải quyết các vấn đề xảy đến.
Why is architectural structure important?
Consider Google Workspace's success rate when it comes to operating securely in the modern threat landscape:
Workspace is built with sophisticated security features for every organization
Every organization, regardless of size or industry, can benefit from the same integrated security capabilities designed to meet users' needs for their most sensitive data and security requirements. strictest confidentiality.
Prevent cyber threats before they appear

Allow

Work more securely from anywhere, on any device

Simplify compliance efforts and technologized sovereignty

bottom line.

Client encryption

helps prevent any third party from accessing your sensitive data, including Google and foreign governments.

Workspace is certified to meet these requirements

standard

the most rigorous and inclusive of measures

Control is guaranteed

, helps your compliance team manage and approve supplier actions, meet evolving requirements, and avoid penalties.
Security is stronger and simpler
Unified identity, access, and device management JumpCloud is directly integrated into Google Workspace, provides valuable capabilities that help lay the foundation for a more secure, more manageable, and more cost-effective information technology (IT) environment.
One unified platform – combining identity and access management, device management, and reporting into a single pane of glass not only limits IT sprawl and streamlines the work of IT teams, but also delivers other benefits. essential security.
With JumpCloud for Google Workspace, IT teams can manage identities and access across devices, operating systems, and applications for both cloud and on-premises environments, all from one unified platform. This centralized view provides a unified signal to give IT the visibility and information needed to mitigate risk both internally and externally.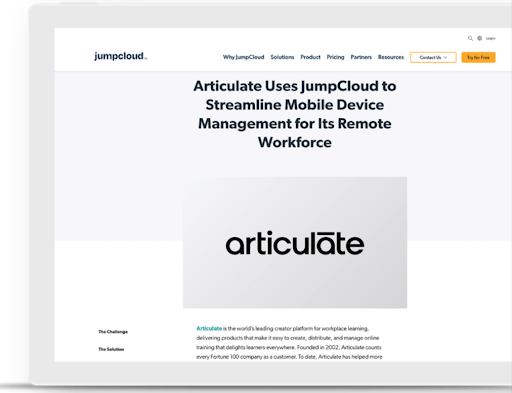 Explore Articulate, the world's leading creator platform for workplace learning, uses JumpCloud and Google Workspace to secure and manage its remote workforce.
Flexibility to use your preferred security solution
Businesses using single-vendor solutions risk being left out of the security solutions they really need due to licensing and integration restrictions; instead they may be forced to pay for solutions they don't need or can't easily implement. Having the freedom of choice and flexibility to choose industry-leading technologies to combat the growing challenges companies face as they transform over time makes them more secure and resilient .
Eg: With JumpCloud security built directly into Google Workspace, users get a seamless, tailored experience without relying on the feature set of a single vendor solution. By leveraging single sign-on (SSO), multi-factor authentication (MFA), and mobile device management (MDM) solutions, IT teams can reduce attack surfaces and minimize damage potential even if a breach occurs or their underlying tools change. With JumpCloud, admins can go further by enabling even stronger security policies, automated patch schedules, provisioning, MFA push, and other security enhancements—all in one place dashboard.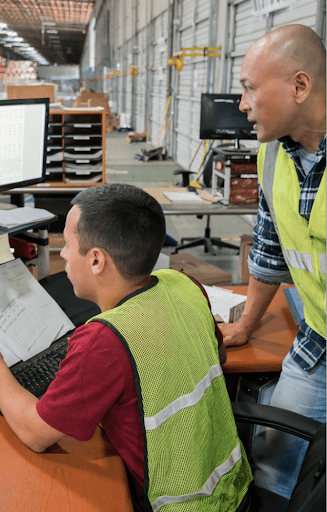 A safer experience for employees and IT
Minimizing IT costs and complexity is critical to securing your organization; Every step reduced in the process of connecting end users to the resources they need to work eliminates vulnerabilities and vulnerabilities. JumpCloud for Google Workspace helps you achieve this goal with an open directory platform built into Google Workspace. The platform enables IT to manage and automate every stage of the user lifecycle across Google Workspace identities, devices, applications, and IT resources. IT can manage secure access policies built on the principle of zero trust, ensuring least privilege, widespread use of MFA, and conditional access for all users and devices . IT admins can also leverage Cross-Domain Identity Management (SCIM), Security Assertion Markup Language (SAML 2.0), and OpenID Connect (OIDC) to combine JumpCloud's SSO capabilities into one A truly comprehensive identity and access management process gets new users provisioned quickly and onboarded with just one click for added security. 
Employees who rely on Google Workspace to get work done will enjoy the same simple experience with JumpCloud for Google Cloud. With JumpCloud SSO integrated with Google Workspace, the same user identity provides instant and secure access to over 800 additional apps, as well as support for accessing custom apps and bookmarks.
Empower your organization with JumpCloud for Google Workspace
Managing and protecting your workplace doesn't have to be as complicated or expensive as it is today for so many companies.
JumpCloud and Google Workspace join forces to provide organizations with identity, access, and endpoint management solutions to help businesses find more secure and cost-effective ways to communicate, collaborate, and build Build stronger teams.
Source: Gimasys