Introducing Currents, the newest G suite app
Change
Ra mắt phiên bản beta đầu tiên, Currents là một ứng dụng G Suite (Workspace) cho phép mọi người có các cuộc thảo luận và tương tác có ý nghĩa trong toàn tổ chức của bạn, giúp mọi người luôn nắm bắt thông tin và giúp cho các nhà quản lý kết nối với nhân viên của họ.
Currents is replacing Google+ on G Suite and has a new look, usage, and feature set. All existing Google+ content in your organization will automatically migrate to Currents when you sign up for the beta.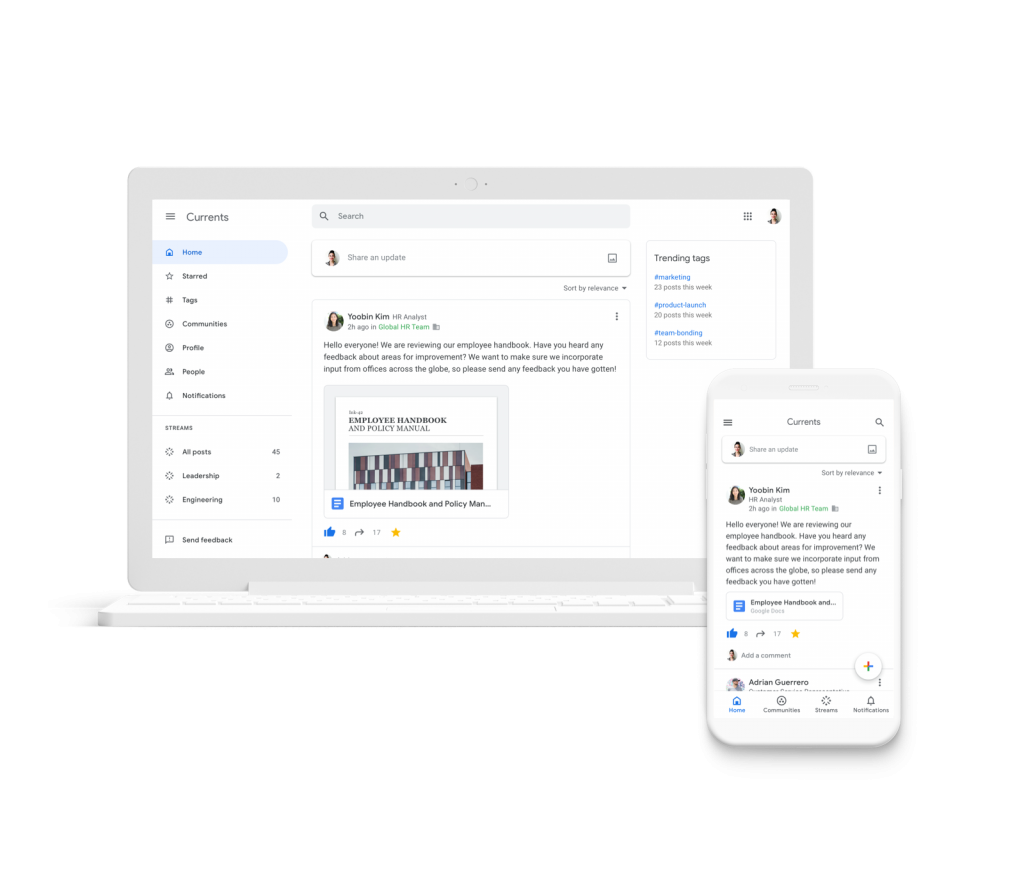 Who's impacted
Admin and end users.
Why you'd use it
1. Trao đổi ý tưởng ở quy mô lớn
Currents helps facilitate discussion by allowing managers and employees to exchange ideas across the organization, capturing everyone's feedback and input – without flooding inboxes.
Currents has a streamlined experience for composing – users can easily tag their posts and attach relevant attachments or images.

When a user posts, others can comment, give feedback, and ask questions right on the post itself.

Individual users can also track analytics for their posts.
Currents also gives managers a way to engage more directly with their employees, allowing them to stay on top of the organization and understand what's important.
Posts from managers can be prioritized, helping to promote and improve connections within the organization.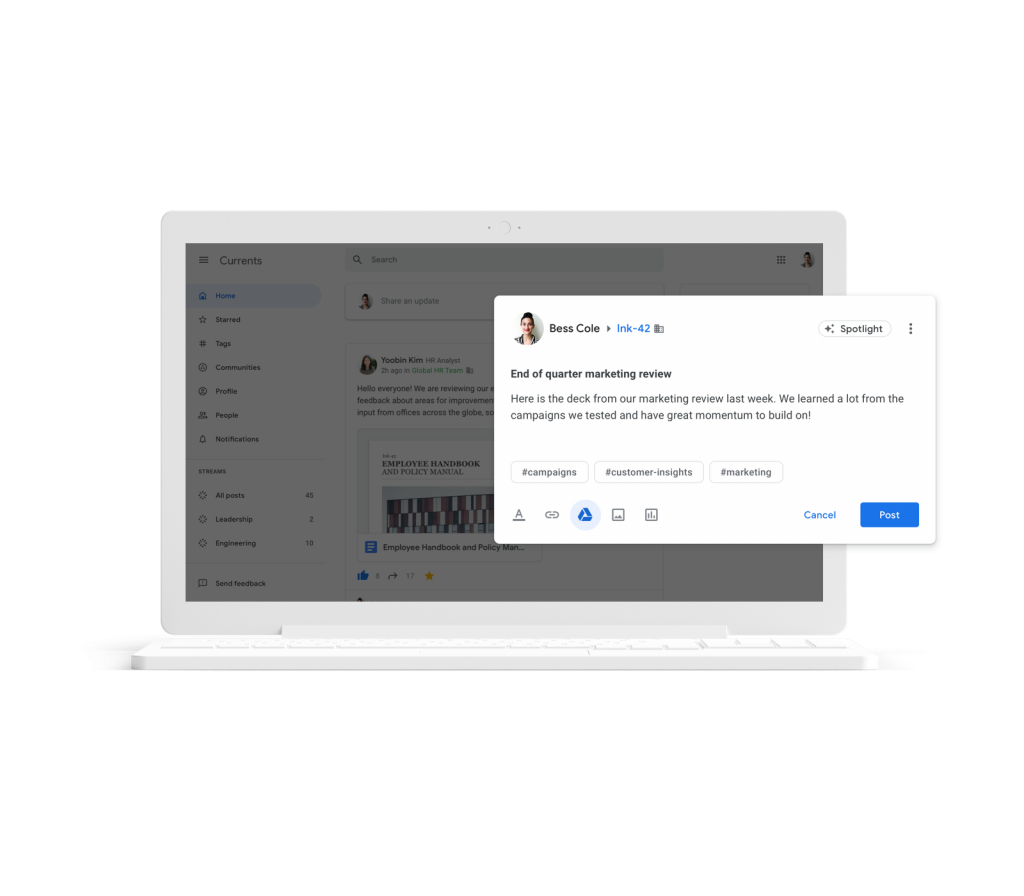 2. Kết nối mọi người với nội dung
Currents connects employees with timely and helpful content personalized to their role and interests. Giving employees access to relevant content helps them connect with the organization and creates more learning opportunities:
Posts are still visible on Currents' timeline, so users can review and join the discussion a few days later.

Tags and streams make it easy to find and discover content that interests you.

The content on the threaded homepage is sorted by relevance, so it prioritizes what's most important to the individual, or the user can choose to sort it chronologically.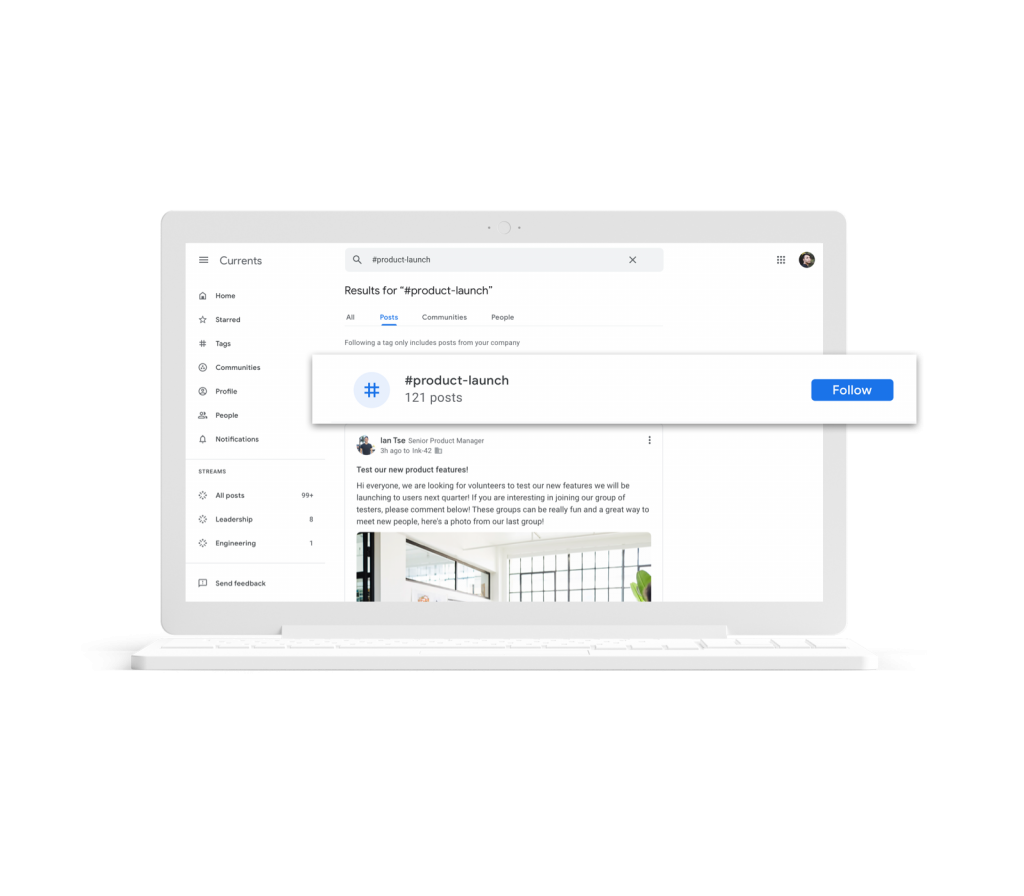 3. Quản lý dễ dàng
Quản trị viên có thể định hình các cuộc thảo luận trong tổ chức bằng cách tạo các luồng tùy chỉnh để quảng bá nội dung cụ thể đến một nhóm nhân viên được nhắm đến hoặc toàn bộ công ty. Ngoài ra, quản trị viên có thể đo mức độ tương tác bằng các số liệu để theo dõi việc sử dụng và hiểu nội dung nào đang tạo ra tác động trong tổ chức.
Admins can delegate content management responsibilities to a new role called Content Administrator (Content Administrator).

Content Administrators can easily create custom flows, manage tags, define curators, moderate content, and track usage and interactions with metrics.
How to enable the feature?
Admins: To request access to the beta program for your organization, please email CurrentsBeta@google.com.
End users: no action to intervene.