Google Chat: restricting messages from unsafe strangers
What's changing
Google Chat secure domains allow you to limit external chat to only users in domains you trust. Previously, you could only choose to allow Google Chat to outsiders or not. You can now choose to limit external chats to people in trusted domains for your entire organization, or set different policies for different organizational units.
Who's impacted
Admins 
Why it's important 
Trusted Domains for Chat give admins more granular control over external chat within their organization. This can help the right users communicate with the stakeholders they need to work with, and help prevent inappropriate or unwanted external conversations.
Additional details
Trusted domains only allow communication with domain-managed accounts in those domains. Email-verified consumer accounts will not be trusted.
Getting started
Admins

: Admin can enable trusted domains from chat admin settings page. Apps > Google Workspace > Settings for Google Chat and Classic Hangouts. 

End users

: There are no end-user settings for this feature.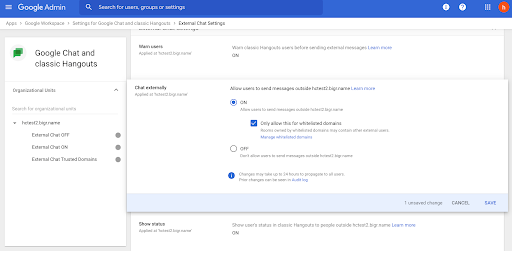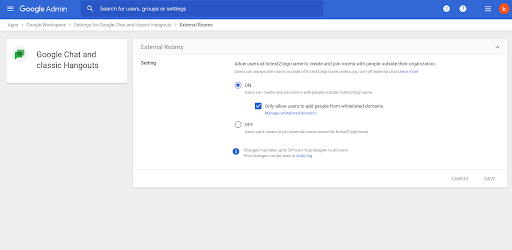 Release time 
Rapid and scheduled release domains: Gradual rollout (up to 15 days for feature visibility starting Aug. 18)
Availability
Available to Google Workspace customers Essentials, Business Starter, Business Standard, Business Plus, Enterprise Essentials, Enterprise Standard, Enterprise Plus, Education Fundamentals, Education Plus, Frontline và Nonprofits cũng như khách hàng G Suite Basic và Business
Source: Gimasys