Google Cloud Cortex Framework: Connect SAP data via Cloud Data Fusion
The speed at which your organization can innovate depends on two major factors: Having access to the right set of tools and suitable services as well as making relevant data sets available to those services. Google Cloud Cortex Framework solves for the first part by providing solution accelerators that can be deployed to address a variety of use cases and industry scenarios, incorporate best practices, and build on Google Cloud's cumulative experience working with enterprise environments. Cloud Data Fusion can solve for the second part by providing scalable data integration pipelines to help consolidate your organization's SAP and non-SAP datasets within BigQuery, Google's scalable cloud data warehouse designed for business agility.
Accelerating your data and analytics strategy
With the new Google Cloud Cortex Framework (https://cloud.google.com/blog/products/sap-google-cloud/faster-time-to-value-with-the-google-cloud-cortex-framework), bạn có thể tận dụng nền tảng dữ liệu phong phú gồm các khối xây dựng và template cho môi trường SAP. Điều này cho phép bạn có được những hiểu biết mới thông qua nền tảng dữ liệu có thể mở rộng, có thể kết hợp cả dữ liệu SAP và đơn vị cung cấp khác. Nó đi kèm với các mã dữ liệu hoạt động được xác định trước và thay đổi các tập lệnh xử lý thu thập dữ liệu để BigQuery loại bỏ phỏng đoán ra khỏi quá trình lập và xử lý dữ liệu. Và với các machine learning templates, bạn có quyền truy cập vào các khả năng nâng cao cho các tình huống kinh doanh phổ biến như đề xuất sản phẩm và phân khúc khách hàng. Để làm cho tất cả các tài sản dữ liệu này hiển thị và có thể sử dụng được cho nhiều người dùng doanh nghiệp khác nhau, có một số  Looker dashboard templates where you can gain fast insights into sales numbers, order volumes, product and customer details, and much more.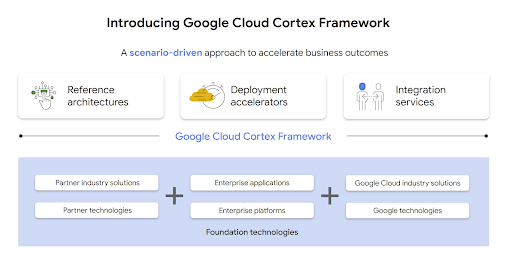 There are a number of assets already available today that can get you started on a scalable technology strategy that can support various business scenarios. With upcoming Google Cloud Cortex Framework releases additional solution accelerators will become available to cover even more use cases and deliver improved customer experiences to drive insights to action.
Cloud Data Fusion delivers cloud-native data integration
Cloud Data Fusion is a fully managed, cloud-native data integration and ingestion service that helps developers, data engineers, and business analysts efficiently build and manage ETL/ELT pipelines. It provides a wide variety of plugin cho các nguồn và mục tiêu trên Google Cloud, các đám mây khác và lưu trữ tại chỗ. Trong số này có các plugin để trích xuất dữ liệu từ hệ thống SAP Business Suite và S/4HANA, sau đó chúng có thể được gửi đến các kho dữ liệu như BigQuery.
By using Cloud Data Fusion's , SAP SLT Replication plugin you can integrate your data continuously and in near real-time from SAP ERP to BigQuery by leveraging your existing SAP Landscape Transformation Replication Server (SLT) tooling and skill sets. You can configure and execute data transfers in raw SAP table format to BigQuery, where data can then be consumed by Cortex Framework Data Foundation for SAP predefined data models and content. The SAP SLT replication plugin is well suited to compliment Cortex Framework Data Foundation as it can replicate raw SAP ERP data records in near real-time, while also taking care of change data capture processing, so your integration jobs are only running on the delta records that have been created instead of requiring a bulk transfer once the initial load is completed. By replicating data in this way you can help ensure data is ready to be combined with other data sets more easily, leading to new insight possibilities.
Cloud Data Fusion enables data integration with Google Cloud Cortex Framework
If you are interested in leveraging the predefined operational data models and other solution accelerator content provided by Google Cloud Cortex Framework to kickstart your journey to more innovation and have SAP as a key source of records, using Cloud Data Fusion for data integration will provide the following benefits:
Cloud Data Fusion is a complete, visual environment, where users can use the

Pipeline Studio

to quickly design pipelines that read from SAP ECC or S/4HANA and many other data sources. This means that you can easily join data from SAP and non SAP systems and load it into Google Cloud Cortex Data Foundation where it can be picked up by prebuilt accelerator templates and provide insights in a user-friendly format, eliminating the need for domain-specific expertise around SAP data models.

Cloud Data Fusion scales horizontally to execute pipelines, which leads to better performance and scalability. The SAP SLT Replication plugin allows for the SAP SLT system to write data to a Google Cloud storage bucket to keep track of all changes, and Cloud Data Fusion pipelines will handle the steps to move the data into BigQuery where all changes can be merged into the existing data sets. 

Cloud Data Fusion provides many plugins to existing enterprise applications and data warehouses beyond SAP. With the growing list of solution accelerators from Google Cloud Cortex Framework, more and more use cases will also lean on data sources from other software vendors, so choosing a data integration platform that can handle a variety of source endpoints will enable your organization to leverage the same tooling regardless of the source systems in your landscape.
With Google Cloud Cortex Framework and Cloud Data Fusion you can leverage a variety of Google Cloud services to gain insights from the data in your SAP systems, using fully managed, cloud-native data integration at scale, pre-defined BigQuery views, and ML templates as well as plug-and-play Looker dashboards for fast insights into common business scenarios.

Visit

Google Cloud Cortex Framework

solution page as well as the

Google Cloud Data Fusion

product page to connect with our solution experts on the latest content and available deployment options.
Source: Gimasys