Google Cloud VMware Engine is ready to use
Let's take a look at the problem: it's not always easy to migrate processes to the public cloud. And if you want to take full advantage of the flexibility, economics, and innovation of cloud services, you often have to write a new application. But that's not an option, especially for existing apps, which may be from a third party or written years ago. Ultimately, the challenge of rewriting those applications in the cloud is how you manage the application after you rebuild it, how do you protect the application from bugs, monitoring, or application security, etc. For many existing applications, this is done on a platform like VMware®. So the question becomes: how can these mission-critical applications take advantage of the cloud when you don't have a clear direction to refactor them appropriately?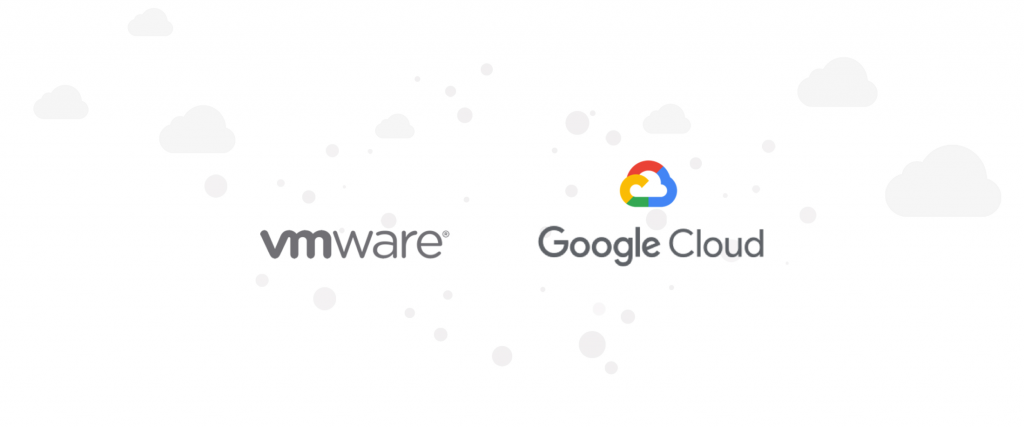 Google Cloud VMware Engine is now ready to use
Google is pleased to announce that Google Cloud VMware Engine nay đã sẵn sàng, cho phép bạn dịch chuyển dễ dàng các ứng dụng dựa trên VMware hiện tại của mình sang Google Cloud mà không cần tái cấu trúc hoặc viết lại chúng. Bạn có thể điều hành dịch vụ ở các khu vực us-east4 (Ashburn, Bắc Virginia) & us-west2 (Los Angeles, California) và Google sẽ mở rộng sang các khu vực Google Cloud khác trên toàn thế giới trong nửa cuối năm nay.
Google Cloud VMware Engine provides everything you need to run your VMware environment natively on Google Cloud. The service provides a fully managed VMware Cloud Foundation hybrid cloud platform, including VMware vSphere, vCenter, vSAN, NSX-T, and HCX technologies, in a dedicated environment on top of a trusted infrastructure. the reliability and performance of Google Cloud, to support your business workflow. With this service, you can scale or bring your on-premises workloads to Google Cloud in minutes and unchanged by connecting to a dedicated VMware environment.
Google Cloud VMware Engine is a first-party service, owned, operated and fully supported by Google Cloud, allowing you to seamlessly migrate to the Cloud without the costs or complications of refactoring and workflow management applications tailored to your on-premise environment. You reduce operational burdens by moving to an on-demand self-service model, while maintaining continuity with your existing tools, processes, and skill sets while leveraging our services. Google Cloud to improve your VMware environment.
Google Cloud VMware Engine is a unique solution for running VMware environments in the cloud, offering four distinct experiences: a) user experience, b) enterprise-class infrastructure, c) networking integration and d) rich service ecosystem. Let's take a closer look.
Simple user experience
Launching a fully functional instance of Google Cloud VMware Engine is easy, all in four clicks from the Google Cloud Console. Within minutes, you have a fresh, ready-to-use environment. Compare that to spending days and weeks designing a new do-it-yourself data center, ordering hardware and software, staging, stacking, cabling, and configuring the infrastructure. Not only that, once the system is up and running, you can still expand or shrink it at the touch of a button.
To further simplify the experience, you can provision a VMware environment using your own existing Google Cloud account. You also get built-in support from Google Cloud, a support hub for anything, whether in VMware or the rest of Google Cloud. The service is fully certified and endorsed by VMware and VMware Hay support is fully integrated with Google Cloud support for a seamless experience. Consumption bundled with the service is available in the standard billing view of the Google Cloud Console. And when you need to use native VMware tools, simply log in to the familiar vCenter interface to manage and monitor your VMware environment as usual.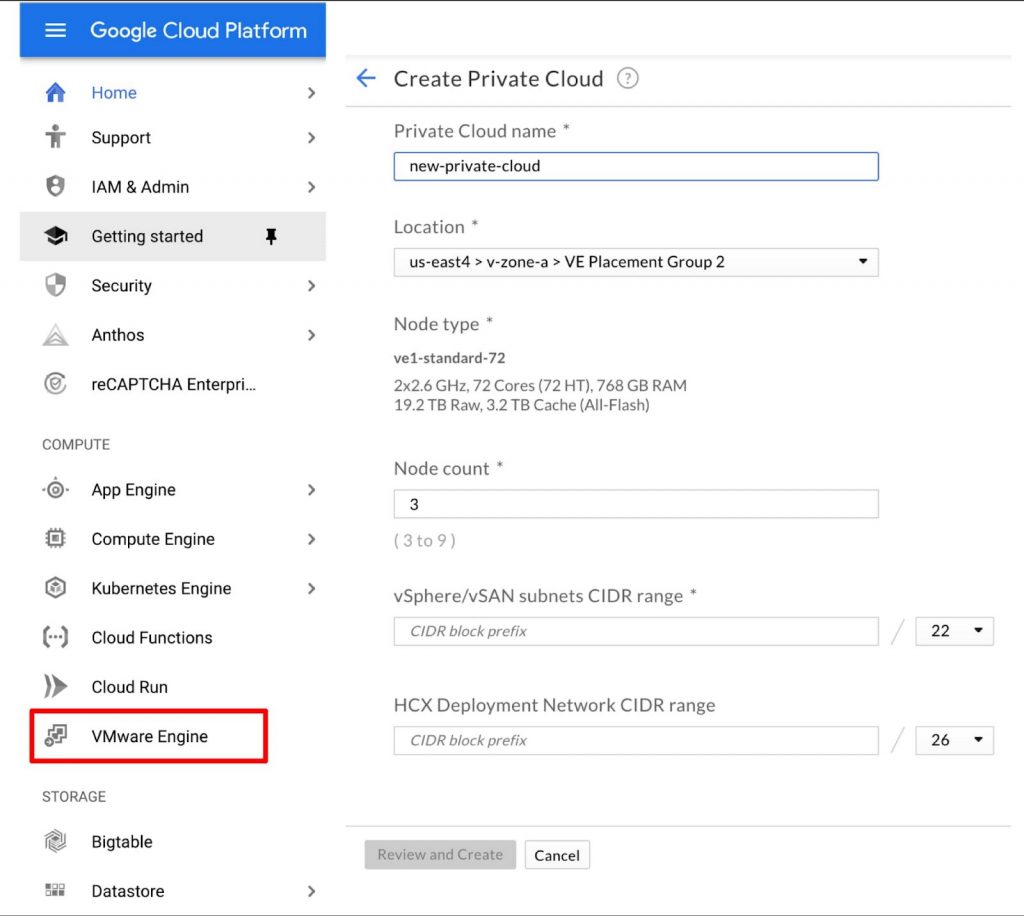 Dedicated, high-end infrastructure
Google Cloud VMware Engine is built on a high-performance, reliable, and high-capacity infrastructure that gives you a fast and highly available VMware experience, at a low cost. Environment includes:
Network network 100Gbps fully redundant and dedicated, provides 99.99% available, low latency and high bandwidth, ready to meet your most demanding requirements.
Hyperlinked storage via VMware vSAN stack on high-end NVMe device. This enables the fast performance with the massive scale, availability, reliability, and redundancy of distributed storage systems.
Recent generation CPUs (2nd Gen Intel Xeon Scalable Processors), delivering very high computing performance (2,6 GHz under normal, up to 3.9 GHz) for your workflow.
768GB RAM and 19.2TB Raw Data Space for each node. VMware allows computing to overprovision, many workflows in on-premise environments that are often memory or storage constrained. Greater memory and storage in Google Cloud VMware Engine nodes enables more VMs to be deployed per node, reducing your overall costs.
Each tenant's computing and storage infrastructure is unique – not shared by any other customers. Network bandwidth to other servers in the VMware vSphere cluster is also reserved. This means you not only get the privacy and security of a dedicated environment, but also a very predictable level of performance.
Cloud network integration
VMware environments in Google Cloud VMware Engine are configured directly on VPC subnets. This means you can use standard mechanisms like Cloud Interconnect and Cloud VPN to connect to the service, just like any other service in Google Cloud. This eliminates the need to establish an additional, costly, bandwidth-limiting connection.
You also get direct, private, network layer 3 access to workflows and services running on Google Cloud. You can connect between VMware workflows and other services in Google Cloud with high-speed, low-latency connections that use private addresses. This provides a faster access experience and higher levels of security for a variety of use cases, such as hybrid applications, backups, and centralized performance management. By removing a lot of network complexity, you get a secure, seamless experience integrated with Google Cloud.

A rich service ecosystem
In addition to native features, VMware users appreciate a rich third-party ecosystem platform for disaster recovery, backup, monitoring, security, or any other IT need that needs to be addressed. can imagine. The service provides the native VMware platform, so you can continue to use those tools without change.
In the Google Cloud VMware Engine, Google has built in unique capabilities to enable ecosystem tools. By elevating system privileges, you can install and configure third-party tools as you wish on an on-premise system. Third parties like Zerto are leveraging this integration for mission-critical scenarios like disaster recovery.
You can also benefit from Google Cloud services and partners in the Google ecosystem along with your VMware applications. For example, you can use Cloud Storage với công cụ bảo vệ dữ liệu của bên thứ ba được cung cấp bởi các công ty như Veeam, Dell, Cohesity và Actifio để có nhiều tùy chọn khả dụng và chi phí cho các bản sao lưu của bạn. Bạn có thể chạy các công cụ KMS của bên thứ ba bên ngoài và độc lập với máy ảo Compute Engine của bạn để mã hóa bộ nhớ lưu trữ, làm cho môi trường của bạn an toàn hơn nữa.
And then there are native Google Cloud services. With your VMware-based databases and applications running inside the Google Cloud VMware Engine, you can now manage them and your cloud workflows with the system. Operations của Google (trước đây là Stackdriver). Bạn có thể tương tác các công việc trên VMware với các dịch vụ như Google Kubernetes Engine và Cloud Function. Bạn có thể sử dụng các giải pháp của bên thứ ba như NetApp Cloud Volume for extensive VMware storage needs. And you can leverage the privacy and performance of Google Cloud VMware Engine to execute cloud jobs right next to your VMware processes, with the help of Google Anthos được triển khai trực tiếp bên trong dịch vụ. Hoặc siêu phân tích các nguồn dữ liệu VMware của bạn với BigQuery và giúp nó thông minh hơn nhờ công nghệ AI và dịch vụ Machine learning.
Moving to the cloud is not difficult. When you migrate your VMware platform to Google Cloud, you can keep what you love in your on-premises application environments and execute on next-generation hardware and application services. 
If you have any questions regarding the application or need to sign up for a free consultation to learn about its features, Google Cloud Platform Please contact Gimasys immediately for advice:
Email: gsuite@gimasys.com
Sign up for a free trial: Here
Phone number: Hanoi 0987 682 505 - Ho Chi Minh: 0974 417 099
Source: Gimasys