Google Drive: block sharing from another user
What's changing
Google announced recently on the Cloud Blog that they will be adding the ability to block other users in Google Drive. If blocked, users won't be able to share any Drive items with you, and user-owned items won't be able to be shared with you or displayed while you're browsing Google Drive. Additionally, your files won't be available to users you've blocked, even if you've previously shared items with them.
Note that you can't block users in your domain, and blocking users on Drive will also block them from interacting with you on other apps and services.
Who's impacted
End users
Why you'd use it
Google Drive allows both individuals and organizations to store, share, and collaborate from anywhere. Drive's sharing capabilities foster productivity and collaboration, but bad actors can abuse tools that facilitate useful sharing. That's why Google is creating a way to block other users. By using this feature, you can:
1. Block other users from sharing any content with you in the future. This can be a useful control, such as if another user has a history of submitting abusive or spam content.
2. Delete all existing files and folders shared by other users. This is an easy way to get rid of all spam or abusive content shared from a particular user at once.
3. Remove other people's access to your content, even if you've previously shared it with them.
4. Blocking users will not only protect the usefulness of Drive sharing, but most importantly, protect the safety of Drive users.
Getting started
Admins: There is no admin control for this feature.

End users: Visit the Help Center to learn more about blocking and unblocking users in Google Drive.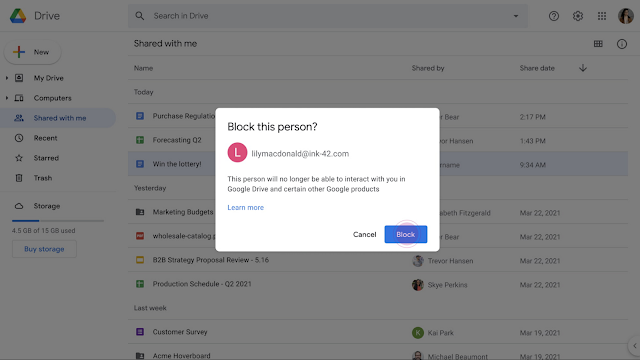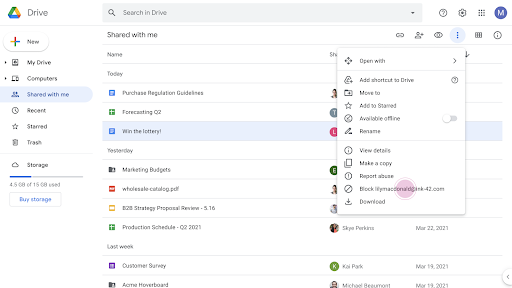 Rollout pace 
Scheduled and Rapid Release Domain: Gradual rollout (up to 15 days for feature exposure) starting July 22, 2021
Availability
Available to all Google Workspace customers, cũng như khách hàng G Suite Basic và Business. Cũng có sẵn cho người dùng có Tài khoản Google cá nhân.
Source: Gimasys