Google launches Data Clean Room for BigQuery
How to share secure and private Data in BigQuery Cleaning Rooms
After announcing it for Q3 this year, Data Clean Rooms are now finally in preview for BigQuery. These rooms provide a secure environment in which multiple parties can share, join, and analyze their data assets without moving or revealing the underlying data[1].
Already last year, Google has launched Analytics Hub which is built on BigQuery, which lets customers share and exchange data cost-effectively, while helping to minimize data movement challenges[2].
Data Clean Rooms will be accessible in every BigQuery region through Analytics Hub, and can be created and deployed within minutes. Customers can make use of the Google Cloud console or APIs to establish safe clean room environments, and invite partners or other participants to contribute to these rooms with data [3]. Users usually share many types of data that also have more stringent regulatory and privacy requirements. Hence, a Data Clean Room could be a possible solution. It is a technology service that helps content platforms to keep first person user data private when interacting with partners.
The approach of a Data Clean Room is to keep user data isolated and private. A Data Clean Room offers aggregated and anonymized user information to keep user privacy safe, while offering advertisers non-personally identifiable information to target a specific demographic and for audience measurement[4].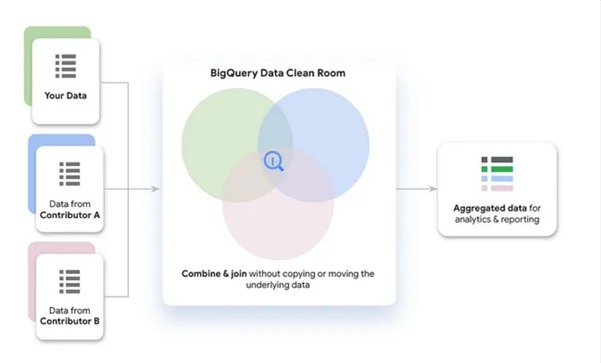 Use cases for Data Clean Rooms can be for example:
Retailers can optimize marketing and promotional activities by combining their data with external advertisers [3][4].

Financial Service enterprises can improve fraud detection by combining sensitive data from other financial and government agencies [3].

In the healthcare industry, doctors and pharmaceutical researchers can share data within a clean room to learn how patients are reacting to treatments [3].
As already said, for me this is a brilliant concept to share sensible data securely and a great new feature of the Google Analytics Hub and BigQuery. However, keep in mind that the feature is still in preview, so you can set up PoC testing until this features becomes generally available.