Google named a Leader in The Forrester Wave™: Cloud Data Warehouses, Q2 2023
Dữ liệu và trí tuệ nhân tạo mang đến cho các tổ chức rất nhiều cơ hội để tăng trải nghiệm của người dùng và khách hàng, cải thiện hiệu suất chuỗi cung ứng, giảm chi phí vận hàng và tăng doanh thu. Tuy nhiên, khối lượng và loại dữ liệu ngày càng tăng, các công cụ phân tích khác nhau cùng với giới hạn nguồn tài nguyên và kỹ năng machine learning hạn chế và một vài thách thức khác đều làm tăng thời gian cần thiết để xem xét giá trị từ dữ liệu và đầu tư AI.
Google's Data and AI Cloud is well positioned to help customers navigate these challenges with a unified analytics offering, an open data ecosystem, and built-in machine learning intelligence. Today, we are excited to announce that Forrester Research has recognized Google as a Leader in The Forrester Wave™: Cloud Data Warehouses, Q2 2023. We believe this is a testament to our vision and strong track record of delivering continuous product innovation.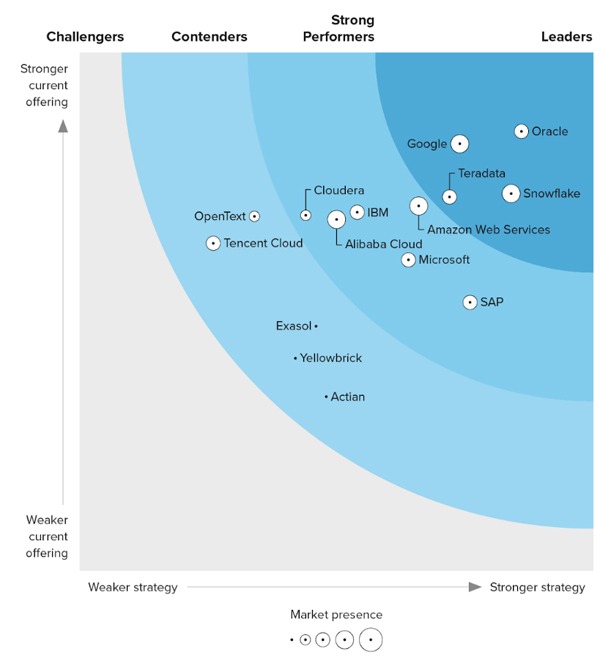 Download the complimentary report: The Forrester Wave™: Cloud Data Warehouses, Q2 2023.
In this report, Forrester evaluated 15 cloud data warehouse (CDW) providers against pre-defined criteria, evaluating them on their current offerings and strategy. In addition to being named a Leader, Google received the highest possible score for 10 different evaluation criteria, including roadmap, partner ecosystem, machine learning (ML) and data science optimization, performance optimization, built-in streaming, in-database analytics and data lake integration.
The Forrester Wave™: Cloud Data Warehouses, Q2 2023
Google has a superior roadmap emphasizing a more open and intelligent CDW, broader data connectivity and streaming, data quality, distributed data governance, and multi-cloud. …Google is an excellent fit for enterprises that need a CDW with high-end performance and scale to support large, complex analytical workloads, including real-time analytics, AI/ML-driven, and data collaboration workloads.
Hàng chục, hàng nghìn khách hàng trong doanh nghiệp các ngành đã và đang tăng tốc quá trình chuyển đổi kỹ thuật số với BigQuery, kho dữ liệu đám mây của Google. BBC dựa vào BigQuery để cung cấp dịch vụ ổn định và đáng tin cậy mà không phải lo lắng về quy mô. Và BigC Commerce  thu thập, phân tích và hành động trên dữ liệu bán lẻ với sự trợ giúp của BigQuery.
Unified data management 
Google Cloud provides a unified data platform that allows organizations to manage every stage of the data lifecycle — from running operational databases for applications, to managing analytical workloads across data warehouses and data lakes, to data-driven decision-making, and to AI and ML. How we've architected our platform is unique and enables customers to bring together their data, people, and workloads.
Example: 
" Phần mềm BigQuery tích hợp với Cloud Bigtable, Google Cloud Storage, Cloud AI Notebooks, DataPlex, Looker và Google Sheets, cho phép người dùng kết hợp dữ liệu trên các hệ thống khác nhau."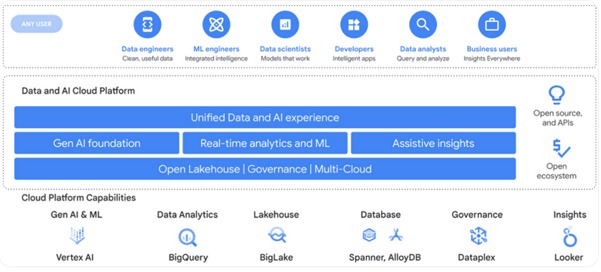 To unify data pipeline management, we recently announced the general availability of DataForm, which helps data engineers and data analysts of all skill levels build production-grade SQL pipelines in BigQuery while following software engineering best practices such as version control with Git, CI/CD, and code lifecycle management.
These integrations increase productivity and bring down costs. To help you further manage data cloud costs, we launched BigQuery editions with three pricing tiers — Standard, Enterprise and Enterprise Plus — for you to choose from, with the ability to mix and match for the right price-performance based on your individual workload needs. 
BigQuery's flexible new pricing options and autoscaling capabilities are driving results for customers. For example, Lytics, a leading customer data platform (CDP), has seen 15% operational improvement and a 20% decrease in costs with BigQuery.
BigQuery editions feature two innovations. First, compute capacity Autoscaling adds fine-grained compute resources in real-time to match the needs of your workload demands, and help you only pay for the compute capacity you use. Second, Physical bytes billing pricing allows you to only pay for data storage after it's been highly compressed. With compressed storage pricing, you can reduce your storage costs even while increasing your data footprint. 
The backbone of these innovations is BigQuery's unique architecture, which separates storage and compute, allowing BigQuery to scale both storage and compute independently, based on demand.
Built-in intelligence
BigQuery is more than just a traditional data warehouse. BigQuery ML empowers data analysts to use machine learning through existing SQL tools and skills. It saw over 200% growth in usage in 2022 as customers ran hundreds of millions of prediction and training queries.
"Reference customers like Google's serverless architecture, high-end scale and performance, geospatial and robust AI/ML capabilities, and support for broad analytical use cases." 
We continue to bring the latest advancements in AI technology to make our data cloud services even more intelligent. The new BigQuery ML inference engine , for example, allows you to run predictions not only with popular models formats directly in BigQuery, but also using remotely hosted models and Google's state-of-the-art pretrained models. 
Then there's BigLake, which lets you work with data of any type, in any location. This allowed us to deliver object tables, a new table type that provides a structured interface for unstructured data. Object tables let you natively run analytics and ML on images, audio, and documents, changing the game for data teams worldwide, who can now innovate without limits with all their data in one unified environment. Additionally, support for Apache Iceberg through BigLake is now generally available, so you can build a unified data and AI platform where multiple engines spanning analytics and ML/AI runtimes work seamlessly over a single copy of data. 
And now, the models you create in BigQuery using BigQuery ML are now instantly visible in Vertex AI model registry. Once in the model registry, you can then deploy them to Vertex AI endpoints for real-time serving, use Vertex AI pipelines to monitor and train models, and view detailed explanations for your predictions through BigQuery ML and Vertex AI integration. 
Priceline plans to deploy Google Cloud's generative AI technologies to enable customers to engage with a new, generative AI-powered chatbot and to receive personalized offerings when searching for hotels worldwide. By leveraging BigQuery, Looker, and Recommendations AI, TIME has gone from zero to two million connected users on time.com, enabling a 360-degree view of their audiences to create deeper relationships with them.
An open data ecosystem 
Google Cloud provides industry-leading integration with open-source and open APIs, providing portability, flexibility, and reducing the risk of vendor lock-in. At the same time, we significantly expanded our partner ecosystem and are increasing investments across many new areas. 
"Google's partner ecosystem stands out; GCP Marketplace has over 500 partner solutions and offers analytics hub integration for data sharing with thousands of commercial/public datasets."
Today, more than 900 software partners are building their products using Google's Data Cloud, and more than 50 data platform partners offer validated integrations through our Google Cloud Ready - BigQuery initiative. Learn how Airports of Thailand , SKY and EVme are adopting Google Cloud's open data cloud to deliver sustainable, digital-first travel experiences.
Google also introduced BigQuery Partner Center, a new user interface in the Google Cloud console that lets you easily discover, try, purchase and use a diverse range of partner products that have been validated through the Google Cloud Ready - BigQuery program. 
They look forward to continuing to innovate and partner with you on your digital transformation journey and are honored to be a Leader in The Forrester Wave™: Cloud Data Warehouses, Q2 2023.
Google khuyến khích bạn tìm hiểu thêm về cách các tổ chức đang xây dựng đám mây dữ liệu và AI của họ bằng các giải pháp Google Cloud. Và tất nhiên, hãy nhớ tải xuống báo cáo miễn phí của Forrester Wave™: Cloud Data Warehouses, Q2 2023.