What is Google Vault? The benefits that this application brings
For users Workspace G Suite Business and Enterprise editions, Google Vault is definitely an application that plays an indispensable role, supporting the work of the business management team. With G Suite Basic, although the application is not available, many businesses are willing to pay extra to buy Vault as an add-on (add-on application). So what is Google Vault and why do businesses need it?
Note: The article will use both English words and Vietnamese explanations so that readers can correctly understand the original content.
What is Google Vault?
Before you learn what a Vault is, you'll probably need to know about eDiscovery. eDiscovery or Electronic Discovery is the process of discovering and finding information stored in an electronic format. This process is usually done in response to a legal or investigative request.
Google Vault is an application that helps admins search, store and extract data to serve the eDiscovery needs of the business.
What features does Google Vault have?
To better understand the benefits of Vault, you need to know the terminology and how it works
Archiving: Help admin set up storage rules (retention) to control whether How long will the data be stored? before being removed from the user's account and removed from Google's systems. With this feature, the admin can store and protect data for as long as the company requires, even if the user has deleted messages, document files or deleted data in the trash. Or when no longer needed, the admin can also install a vault to delete sensitive data from the user's account.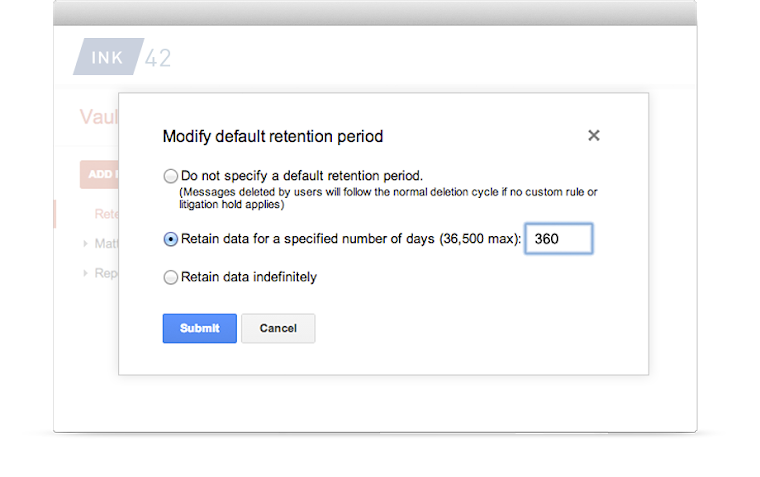 Legal hold: Command setting hold to a user's account to protect that user's data forever, in response to legal or storage requirements.
Search: Search for enterprise data by user account, by organizational unit, by date or by keyword.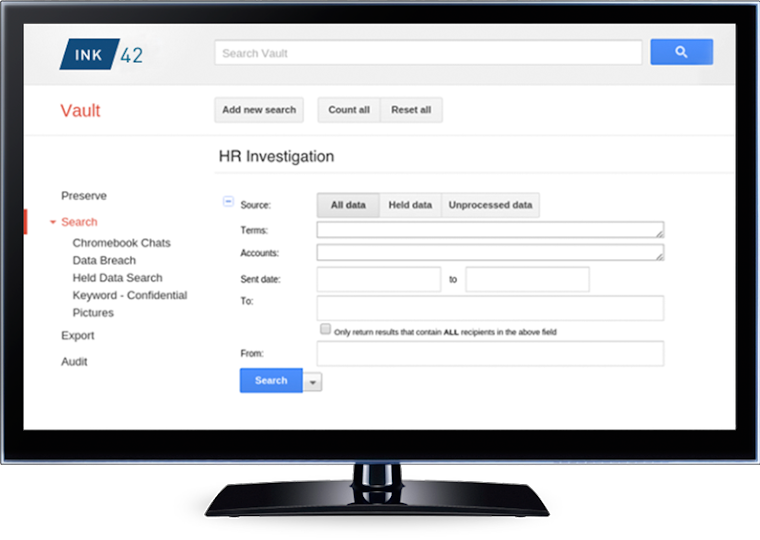 Export: Export data for data analysis and processing. For example, Admin can export search results to PST or mbox format.
Audit Report: View audit reports to get more information about the activity of Vault users who have permission to log into the Vault. When watching audit report, admins will be able to check the details of the actions they have performed in a specific time period, such as who set up the retention rule, changed the hold command, or performed other administrative actions.
Tutorials and examples on how to use Google Vault in G Suite.
What content does Google Vault support?
Due to tight security requirements, many businesses often have the need to "read emails" of employees. However, this is not really a reasonable and effective way to serve legal and inspection requirements. Because in the current digital era, communication channels will not be limited to email, not to mention the amount of information they send and receive is very large. If you are determined to "swim" in this information pool, it will certainly take a lot of effort. Instead, the admin can search for information according to the available information fields (keyword, time, account, ..) and Vault will check:
Email Messages
Hangouts chats (with chat history enabled) and Google Talk chats "on the record"
Google Groups
Document files in Google Drive and Team Drives
Benefits of Google Vault
Reduce legal risk

With the above features, Google Vault allows information management in the enterprise and eDiscovery service. Thereby, the admin can create a protective barrier for his business, in order to minimize the risks related to legal and litigation.

A single archive for all emails

Google Vault is a centralized place for information to be stored and managed in one place (i.e. not copied and transferred to any other system). Amin does not need to back up data into a separate data block, thereby minimizing risks related to moving and generating additional data to manage.

Cut the cost

Traditional IT systems often face large costs when managing, collecting and storing email. Cause: Because emails and documents are scattered in many different places such as network drives, user computer drives, laptops and mobile devices. This makes the admin spend a lot of time and money to search, identify and collect information from users.

Quick analysis and evaluation

By applying the famous Google search algorithm, Google Vault returns results very quickly when businesses need to search for information. By checking the overview as well as the details of related emails and chats, businesses can promptly take appropriate steps to prevent recurrence or consequences later.

 Continuous improvement without upgrading

Google constantly updates additional features for Google Vault, helping to improve risk management for customers. Because Vault is completely web-based – running in the browser, there is no need for admins to download, install or maintain software.
With the above features and benefits, Google Vault is definitely an effective support tool for businesses. To start using Vault, you need to ensure the following:
Your business is using G Suite Business or Enterprise edition.
You are the super admin of the G Suite system. Only the admin with the highest permissions can install and assign permissions to other accounts.
If you're using G Suite Basic, you'll need to purchase a Vault license as an add-on.
Note: All the accounts that the admin wants to find, store or extract information for must be a G Suite account and must have the Vault license installed by the admin. License vault can be installed (assign) for each individual, for sub-organizations, or for the entire domain.
Admins can consider using G Suite basic and only purchase additional Vault licenses for the accounts that need to be managed. This will help businesses save a lot of costs (compared to all users using the Business/Enterprise edition).
Need support information G Suite service contact: 
Email: gsuite@gimasys.com
Hotline: 0987 682 505
Form: Here
Updated: Gimasys