Google Workspace Migrate has an official version
What's changing
Google Workspace Migrate, previously announced in beta in 2019, hiện đã có sẵn cho các Phiên bản Google Workspace customers được chọn. Sản phẩm tại chỗ của bên thứ nhất này giúp quản trị viên đánh giá và lập kế hoạch cho các dự án di chuyển, đồng thời tự tin di chuyển người dùng của họ và một lượng lớn nội dung quan trọng trực tiếp vào Google Workspace.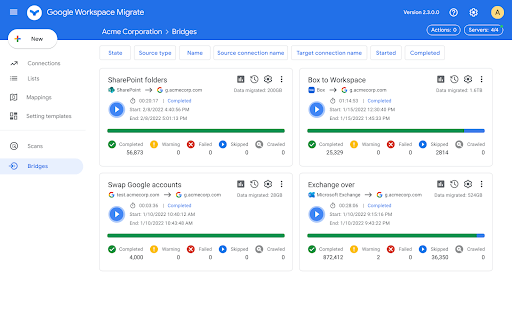 Who's impacted
Admins
Why you'd use it
Google Workspace Migrate is especially beneficial for Google Workspace customers with a large number of seats, as it allows them to securely migrate large amounts of their organization's data and setup on-premises infrastructure. Specifically, it provides assistance with:
Assessment: Quickly scan source environments to help accurately plan for key project milestones and observe points.
Migration: Efficiently migrate valuable data from a variety of sources (see below)
Track: Easily identify project progress and health with detailed aggregate and granular logging functionality.
Additionally, Google Workspace Migrate supports Microsoft Exchange, Microsoft SharePoint, Microsoft OneDrive, file shares, Box migrations, legacy G Suite Business and Google Workspace environments, enabling you to:
Selectively migrate Gmail, Calendar, Drive, and more data between Google Workspace environments.

Choose to migrate all users from one environment to another.

Selectively migrate specific user data (organizational units, users, or subsets of data) between Google Workspace environments.
Additional details about Google Workspace Migrate
To prevent disruption to end-user productivity, Google Workspace Migrate maintains a high level of fidelity for migrated content from supported sources: Exchange, SharePoint, OneDrive, and file shares. The following versions will be supported:
Google Workspace customers 

Exchange: Exchange 2010, 2013, 2016, and Microsoft 365

Sharepoint: SharePoint 2010, 2013, 2016, SharePoint Online, and OneDrive for Business

Shared files: A Windows-accessible file share (for example, SMB or NFS)

Box
Getting started
Rollout pace
Availability
Available to Google Workspace Business Standard, Business Plus, Enterprise Standard, Enterprise Plus, Education Standard, Education Plus, and legacy G Suite Business customers.
Not available to Google Workspace Essentials, Business Starter, Enterprise Essentials, Education Fundamentals, the Teaching and Learning Upgrade, Frontline, and Nonprofits, as well as legacy G Suite Basic customers.
Source: gcloudvn.com