Manage sales more effectively with G Suite and CRM
Combination of services G Suite and CRM is the inevitable development need of businesses in the digital age. If you want to boost sales and grow your business, your business must have also thought about investing in a CRM solution.Customer Relationship Management) to the sales team. CRM not only supports business workflow management, but also helps accelerate the process of making more accurate decisions, based on existing data. However, adding an application also means adding a set of tools, adding operations and can make the existing workflow more cumbersome. To solve this problem, Google and many partners have developed integration capabilities between G Suite and CRM to help make sales activities more efficient and smarter. 
Why use CRM solutions with G Suite integration? If G Suite is the toolkit your employees use every day, and your sales operation is demanding a quality CRM solution, the integration of the two platforms will help. Optimize experience and productivity of the user. 
Here are three CRM solutions at a reasonable cost and received the most positive reviews from users.
1/ Copper CRM and G Suite
Copper CRM was formerly known as ProsperWorks.
You can integrate this CRM platform with useful applications like Gmail, Calendar, Docs in an extremely simple way and enjoy the following benefits:
Access all your information from one place, no need to move back and forth between G Suite and CRM apps

Automatically sync Google Contacts with Copper

View and track sales activities in real time, directly in the Gmail interface

Extracting data from Sheets to ProsperWorks is to instantly have the necessary information about customers, revenue, ... without having to enter data manually.

Create your own dashboards, reports, and graphs using the Google Sheet integration in ProsperWorks CRM's custom report builder. 

Data Studio: Connect Copper with Google Data Studio to analyze, illustrate, drag - drop data from many different sources, from here people can make the most accurate decisions, instead of based on subjective opinions. .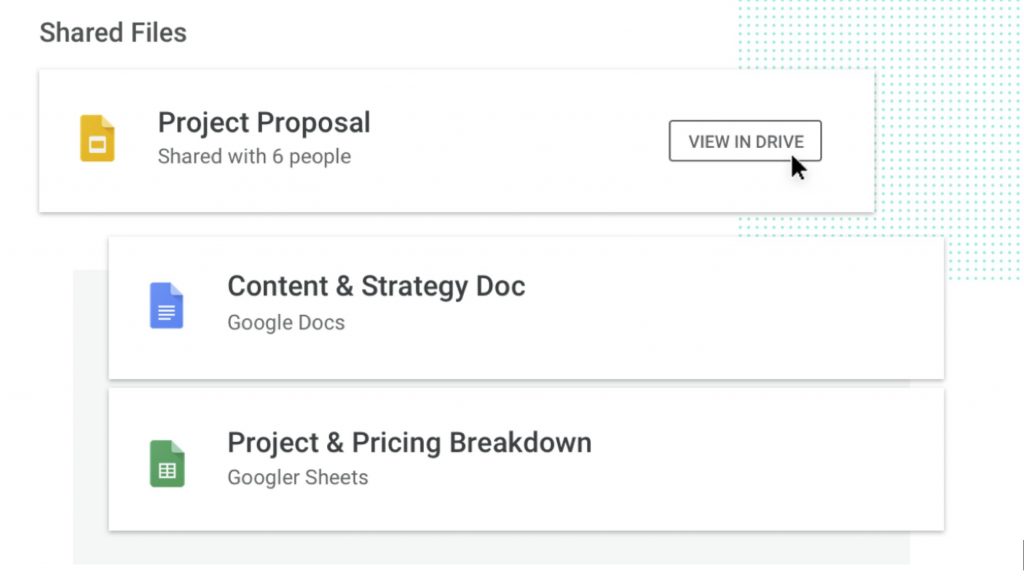 Success Story: UrbanVolt is an energy company based in Dublin, Ireland. With the "Light as a service" model - UrbanVolt will provide LED lighting systems for all businesses, factories, and corporations without requiring customers to pay initial investment costs (UrbanVolt will bear all costs). product and installation fees). Thanks to this extremely creative model, the company has been able to grow extremely quickly, but it also comes with opportunities and challenges when having to manage a huge number of inbound customers (companies that seek out UrbanVolt themselves). ).
Head of Marketing here - Edel Kennedy shared about her business's requirements: "Google needs a solution that can support and meet the current rapid development capabilities, while also helping to solve the work flow. the easiest and simplest way." And thanks to its intuitive design and perfect integration with G Suite - where employees spend all day working on it, Copper CRM has become the perfect choice.
Now, UrbanVolt employees not only save time moving back and forth between Spreadsheets files and CRM, but can also quickly view available opportunities at each different stage in the sales cycle, create tables statistics, reports and easily collaborate with each other.
2/ PipeDrive CRM and G Suite
Pipedrive is a Sales CRM platform that you can customize according to the requirements and characteristics of your own sales process. The highlight and highly appreciated by many customers of PipeDrive is… simplicity. 
If you've ever tried any CRM solution, chances are you've found them to be a bit like a data entry job - having to fill in a lot of customer information fields, each time you perform an operation, you have to do it again. You have to enter the information into the system and save it. That's why even though CRM was born to support sales people, not all sales staff respond. 
Understanding this, PipeDrive has helped make long, complicated sales processes simpler and cleaner.  
In particular, when integrated with Gmail, you will:
Get all the information about any customer quickly: Thanks to integration with Google applications, you will access and view any audience or customer without leaving the Gmail interface. Just click on an email, you will immediately see the sales history or information that the two sides have exchanged.

Sales right in Gmail: At the Gmail inbox interface, you can create a new contact information, create a new "deal", add the necessary notes related to a potential customer. Of course, there's still no need to leave the Gmail interface.

Create a daily to-do list: Every sales activity you

planned in advance

all will be okay

automatic

summarized in the most convenient way in the daily "to-do list". This way, you can start your day most effectively by visualizing the tasks that need to be completed today.
Referring to popular CRM solutions without Hubspot is indeed a shortcoming.
Hubspot is a software built for both marketing, sales and customer care activities, which in Vietnam has also been used by many businesses. This platform helps businesses build long-term relationships with partners through all three stages – before, during and after closing orders, thereby establishing a foundation for better and more sustainable development.
When you integrate G Suite with HubSpot CRM, you'll be able to:
Manage and track specific activities: Save a log of emails sent from Gmail to HubSpot with just one click. Your team will no longer waste time on trivial tasks and can focus on their most important goals.

Schedule appointments faster, more efficiently in less time: HubSpot integrates with Calendar allowing you to book more appointments with customers. Quickly share with potential customers links to online meetings. 
Conversely, customers can also book appointments themselves based on your available time on Calendar. Each appointment after being successfully set up will automatically appear in your personal calendar (in real time).
 Get a deeper understanding of your leads: Has it been a week since you contacted your customer? Have they opened the contract you sent out? Are they busy with new projects? Or are you checking-in at a certain beach? Each of these contexts helps you understand and have a more appropriate, "personalized" approach to your customers.
These CRM solutions can be found in the G Suite MarketPlace, or you can visit each app's website directly for more detailed information. For advice on G Suite service information from an authorized Google partner, please contact: 
Email: gsuite@gimasys.com
Tel: Hanoi: 0987 682 505,  City. Ho Chi Minh: 0974 417 099
Or Sign up for a free trial: Here
Update: Gimasys