[Guide] How to create a poll on Google Chat
You can Create a Poll on Google Chat easily with a support application called Polly. 
Benefits of creating a poll on Google chat
Google Chat is one of the tools available in the suite Workspace G Suite, it helps team members in organizations and businesses to connect and share work intelligently and securely through direct messages or group chats.

In the past, when you wanted to create polls to poll members of your team or in your company, you often had to go through a lot of steps with different applications such as creating surveys with Google Form, sending information via email. Gmail, then track the aggregated results on a Google Sheet. However, now with the deep integration of Google Workspace, adding third-party applications, such as Polly, is extremely easy without going through a complicated installation process. 
With Polly, you have the freedom to create and run polls directly within a Google Chat conversation. Polls like deciding on a meeting time, consulting with members on an issue or simply choosing where to have lunch – can produce quick, intuitive results right on Google. Chat, everyone will know the final result without having to go through another tool. 
In the team collaboration space, apps and integrations that work nicely are critical to keeping users engaged and productive on chat platforms. We saw an opportunity to build a Chat product that matched their ideals of being extremely easy to use without distractions, smart and ready for business data compliance and security.
Currently, functionality in Polly is limited to simple, non-anonymous Multiple Choice polls with up to one answer. As the platform matures, we hope to bring additional functionality to Polly for Chat that is equally powerful and intelligent.
How to create a poll on Google Chat
To create a poll on Google Chat with Polly you can follow these steps: 
Step 1: From the Google Chat interface, select View more app for Chat -> Search for Polly -> Add to Google Chat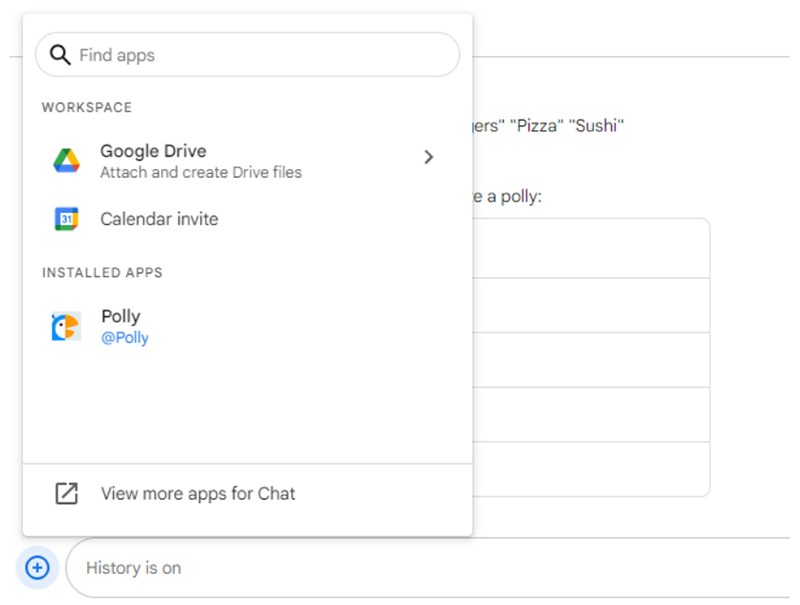 Step 2: After installing Polly into Google Chat, to use it, you will create a poll according to the following structure: @Polly "Name of issue to poll?" "Option1" "Option 2" "Option 3"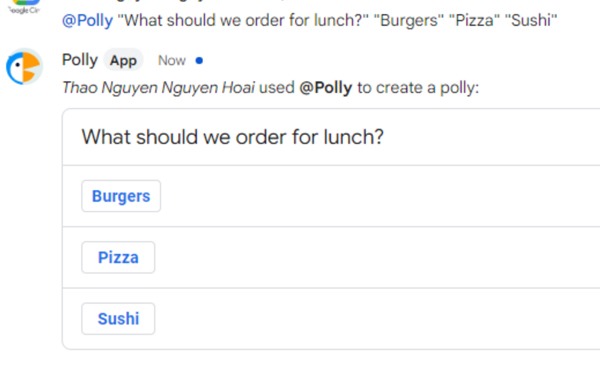 Step 3: Group members will vote to produce the poll results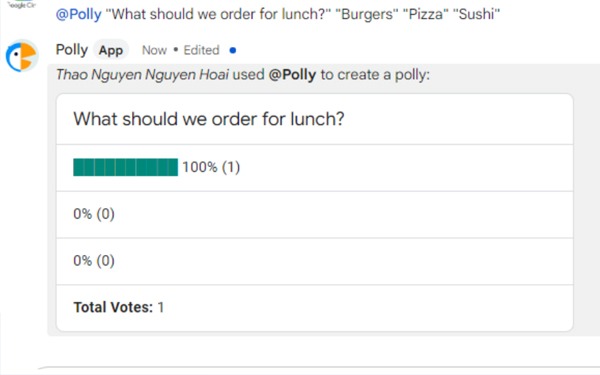 It's quick and easy to take a Google Chat poll with Polly. 
In group collaboration spaces, integrated applications Create a Poll on Google Chat will help members of the organization interact better, thereby improving business performance. Sign up for a free Google Workspace experience today to experience the full set of essential tools to support work in your business such as Gmail, Google Meet, Calendar, Google Sheets, Google Docs, Slides, Forms, Google Sites…
For more detailed information about Google Workspace customers or need technical support, you can contact Gimasys – Premier Partner of Google in Vietnam with the following information:
Hotline: 0974 417 099 (HCM) | 0987 682 505 (HN)
Email: gcp@gimasys.com
Source: Gimasys