New admin controls for access to discoverable spaces in Google Chat
What's changing 
Recently, we introduced the ability to create spaces in Google Chat that you can share with others in your organization to join via link. We're now adding the ability for Admins to set the default for newly created spaces and enable sharing scoped to specific audiences.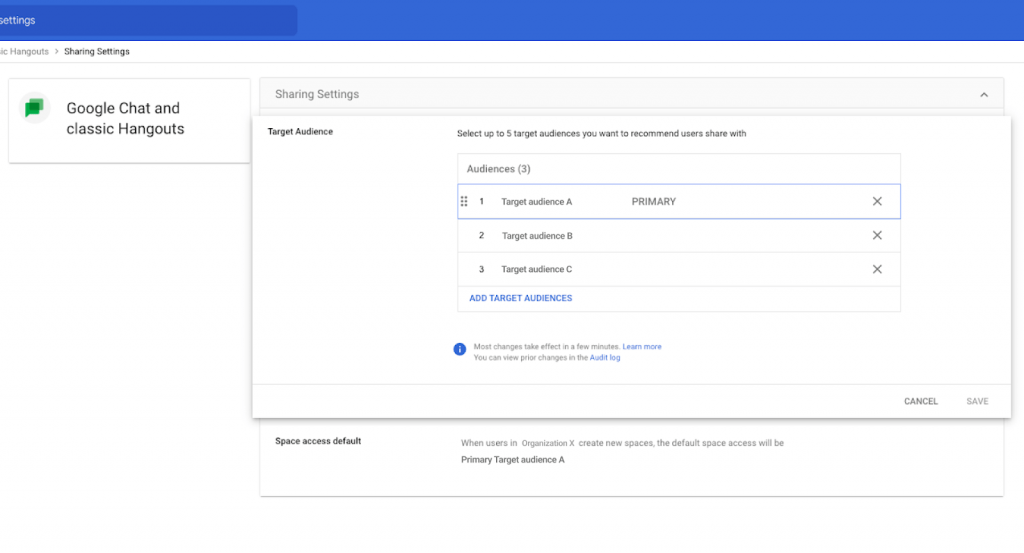 Admins can set the default for new spaces and define more granular target audiences for Discoverable Spaces
End-users can select admin-defined audiences from space access drop-down
Who's impacted
Admins and end users
Why it's important
Admins can now set the default access for new spaces and who can find them by defining the appropriate target audiences. While creating topic-based conversations that can be shared more broadly within an organization fosters collaboration and helps build community, there may still be instances where an organization may wish to target which group or audience can discover or join a space. With additional admin controls, admins can help users discover and join relevant conversations to encourage collaboration more effectively.
Getting started
Admins: The creation of "Discoverable" spaces will be OFF by default and can be enabled at the domain level. Visit the Help Center to learn more about Google Chat sharing settings. 

End users: Visit the Help Center to learn more about

creating shareable spaces.

. 
Rollout pace
Rapid and Scheduled Release domains: Extended rollout (potentially longer than 15 days for feature visibility) starting on June 6, 2022
Availability
Available to Google Workspace Business Plus, Enterprise Standard, Enterprise Plus, Education Plus và Education Standard

Not available to Google Workspace Essentials, Business Starter, Business Standard, Enterprise Essentials, Education Fundamentals, the Teaching and Learning Upgrade, Frontline, and Nonprofits, as well as legacy G Suite Basic customers

Not available to Google Workspace Individual users or users with personal Google Accounts
Source: Gimasys