Kích hoạt bản tích hợp mới của Google Drive/ Microsoft Outlook, tắt chế độ legacy plugin
What's changed?
We are updating Drive File Stream to replace the function of "Google Drive plug-in for Microsoft Office". As a result, the old plugin will be discontinued on June 26, 2019. This only affects users of Google Drive for Microsoft Office. They will notice 2 main changes:
New Drive/Outlook integration:

The update to Drive File Stream will include a plugin to manage Google Drive files from Microsoft Outlook. This will make it easier for users to use Google Drive without leaving the Outlook interface.

New way to save to or open from Drive:

 Drive File Stream users can save and open Drive files through the regular menu, instead of using the Google Drive plug-in for the Microsoft Office interface.
To save the file to Drive, select

File > Save

, then select a destination in Drive File Stream.

To open a file from Drive, click

File > Open

and select the file you want to open.
Nếu công ty của bạn sử dụng Google Drive plug-in cho Microsoft Office, bạn nên đảm bảo rằng các tài khoản của công ty bạn đang sử dụng phiên bản Drive File Stream mới nhất trước ngày 26 tháng 6 năm 2019 để đảm bảo có thể tiếp tục truy cập chức năng này. Tìm hiểu về bảng giá Google Drive và nhận tư vấn trực tiếp từ Gimasys.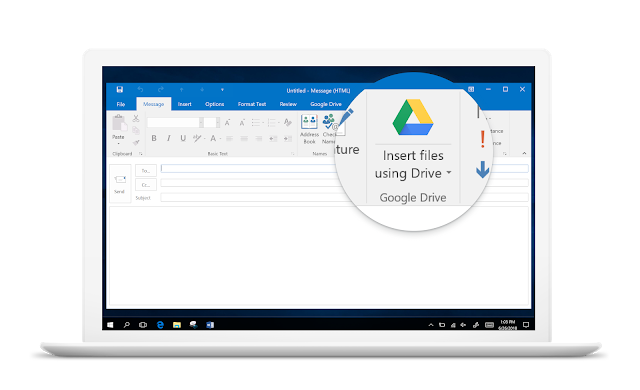 Who is affected?
Administrators and end users.
Why should you use it?
Drive File Stream provides an easy way to integrate Microsoft Office and Google Drive. The latest versions (30.1 and up) will include the new Outlook plugin, which makes it more convenient and easier for users.
Save attachments from Outlook to Drive

Attach a Drive file to an Outlook message

Make sure recipients always have access to Drive links sent in Outlook emails
Drive File Stream has made it easy to save to your local Drive File Stream folder through the usual "Save" menu.
By making sure users in your organization are using the new plugin by June 26, 2019, there will be little or no disruption to their work.
How to enable the feature?
Additional details
Drive for Office plugin users will see an in-product message, as shown in the image below, starting March 27, 2019. This will encourage them to update to the new plugin to continue using Drive from Outlook.

Source: Gimasys