How to delete "space" in Google Chat
What's changing 
Google is bringing the ability to delete named spaces in Google Chat to the Business Standard and Business Starter versions of Google Workspace. It is intended that this feature will extend this capability to more versions of Google Workspace next year.
With this ability, space creators can completely remove it from Chat, including all space owned content, room tasks, and files and attachments not saved elsewhere. . In addition, members will not be able to access the space, its files, or the member list once it has been deleted.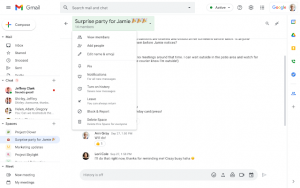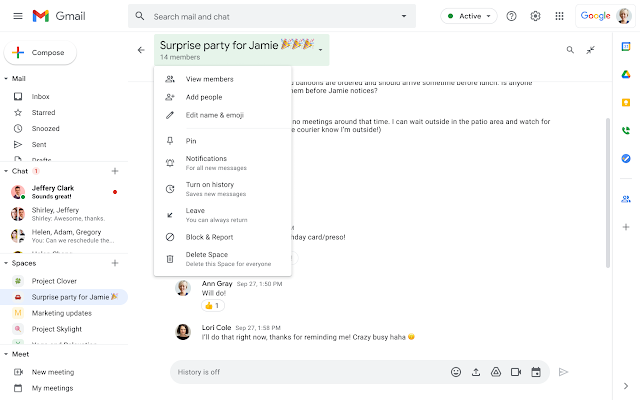 Who's impacted
End users
Why it's important
Through deletion, you can easily navigate and stay on top of your most relevant spaces and eliminate clutter in Google Chat. 
Additional details
Lưu ý quan trọng: Tính năng này không khả dụng cho các phiên bản Google Workspace có Google Vault. Nếu bạn nâng cấp từ Google Workspace Business Standard hoặc Business Starter lên phiên bản hỗ trợ Google Vault, bạn sẽ mất khả năng xóa các Spaces đã đặt tên.
We anticipate that this feature will be available to all versions of Google Workspace in 2022. We will provide an update on the Workspace Update Blog when it becomes available.
Getting started
Admin: There is no admin setting for this feature

End users: This feature will be available by default. To remove a space, from the drop-down menu, tap "Clear Space". Only the creator of the room has this ability and will clear the space for everyone.
Rollout pace
Rapid Release and Scheduled Release domains :: Gradual Release (up to 15 days for feature visibility starting November 16, 2021)
Availability
Available to Google Workspace Business Standard, G Suite Basic and Business Starter customers

Không khả dụng với Google Workspace, Google Workspace Essentials, Business Plus, Enterprise Essentials, Enterprise Standard, Enterprise Plus, Education Fundamentals, Education Plus, Frontline và Nonprofits cũng như khách hàng Doanh nghiệp
Source: Gimasys