Looker: An effective data analysis solution
Data science can be applied to business problems to improve practices and help increase customer satisfaction. Looker data analytics solutions will increase the value of your Google Cloud investments to help you understand the customer journey, unlock value from first-party data, and optimize your infrastructure existing cloud.   
Data is a powerful tool 
While people don't need to understand the ins and outs of data technology, most people are interested in the value data can create for them – how data can help them do their jobs. your own better. In the data space, we're seeing a constant trend of failing to make data available to "people" – the industry still hasn't figured out how to get data into people's hands when and where they need it. , the way they need. . 
What if everyone in your organization could analyze data at scale and make more informed, fact-based decisions? Data and insights gained from valuable data But only if your users see it. We think Looker help solve that. 
Solutions tell a bigger story of how all data fits together 
Across all industries, businesses benefit from knowing and understanding their customers better. Many business goals are to increase revenue by improving product recommendations and optimizing pricing, improving user experience through targeted marketing and personalization, and reducing customer churn. disruption while improving retention. To help achieve these goals, strategies should primarily focus on understanding the customer's needs, motives, likes and dislikes, and using all available data – in other words. , put yourself in the shoes of the customer.    
The goal of Looker solutions is to provide the right level of outside support that allows customers to quickly get value, while maintaining the flexibility they need. Google Cloud aspires to provide a library of data-driven solutions to accelerate data projects. Wide range of solutions including Looker Blocks – Looker Blocks (pre-made code snippets to speed up data discovery environments) and Actions – Actions (custom integrations) that help customers get up and running quickly, while also allowing you to build business-friendly access points for the functionality of Google Cloud Platform like BQML, App Engine and Cloud functions.  
Listen to your customers by looking at their data
Looker's solutions for Contact Center AI (CCAI), which helps businesses gain a deeper understanding and appreciation of the entire customer journey by unlocking insights from all of their company's first-party data. Call centers can speak organically to customers and deliver superior experiences by leveraging artificial intelligence. CCAI's newest product –CCAI Insights – assess the conversations support agents are having, find and annotate data with important information, and identify calls to review. We partnered with the product teams at CCAI to build Looker Blocks for CCAI Insights, gives you the path to advanced insights integration into first-party data in Looker, overlaying business data with customer experience.

Businesses can better understand the contact center experience and take immediate action when needed to ensure their most valuable customers receive the best service. 
Realize the full business value of first-party data
Looker for Google Marketing Platform (GMP) gives marketers the power to unlock the value of their company's first-party data for more targeted audiences. Looker Blocks and Actions for GMP provide interactive data discovery, data slices with built-in ML predictions, and trigger paths back to GMP. This strategic solution continues to evolve with Looker Actions for Google Ads (Customer Match), Looker Actions for Google Analytics (Data Import) and Looker Blocks for Google Analytics 4 (GA4).
The

Looker Actions for Matching Customers

allows marketers to submit segments and audiences based on first-party data directly into Google's billboards. Reach users across devices and across the web's most powerful channels like Display, Video, YouTube, and Gmail. The entire process is done in a single screen in Looker and can be completed in minutes by non-technical users. 

The

Looker Actions for Input

can be used to enhance user segmentation and remarketing audiences in Google Analytics by leveraging user information accessing Looker, such as in CRM systems or transactional data warehouses.

The

Looker Block for Google Analytics 4

(GA4) extends the solution's support with out-of-the-box charting and pre-baked BigQuery ML models to the latest versions of Google Analytics. Looker Blocks invites reporting with flexible configuration to unlock custom insights beyond standard GA reports. Customize audience segments, define custom goals to track, and share these reports with teams that don't have access to the GA dashboard.
From clinical notes to patient insights at scale
Looking at the Healthcare industry, Looker Healthcare NLP API Block serves as a critical bridge between existing care systems and Google Cloud-hosted applications, providing a managed solution for storing and accessing healthcare data in Google Cloud. The Healthcare NLP API uses natural language models to extract healthcare information from medical text, quickly unlock insights from unstructured medical text, and provide clinicians with healthcare providers with simple access to smart insights. Healthcare providers, payers, and pharmaceutical companies can quickly understand the context and relationships of medical concepts in the text, such as drugs, procedures, and conditions. , clinical history and began to link this source to other clinical data sources for downstream AI/ML.   
Specifically, the Natural Language Processing (NLP) Patient View (pictured below) allows you to review a selected patient of interest, displaying a history of their clinical notes over time. It informs clinical diagnosis with detailed family history information, which is not currently documented in requests, and captures additional process coding for revenue cycle purposes.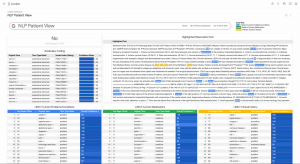 The panel below shows the NLP Terminology View that allows users to focus on selected medical terms across all patients in the dataset so they can start seeing trends and patterns across patient group.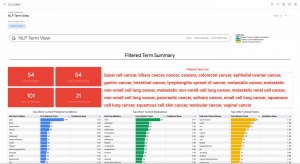 This information may be used to: 
Enhance patient suitability for clinical trials 

Identification of reusable drugs

Promoting cancer and rare diseases research

Identify the social determinants of health that impact access to care
Manage expenses across the cloud
Effective cost management in the cloud is important for reasons beyond cost control – it gives you the ability to reduce waste and reliably forecast both costs and resource needs . Looker's Solution for Cloud Expense Management Provides quick access to essential reporting and insight into cloud spending and usage. 
This solution brings together billing data from different cloud providers in a phased approach: get up and running quickly with Block is optimize for where your data is today (Google Cloud, AWS, or Azure) as you work toward more sophisticated analytics for cross-platform planning and even cloud spend optimization with mapping tags, labels, and cost centers in the cloud.
Viewer's cloud cost management solution provides operations teams struggling to monitor, understand, and manage their cloud-related costs and needs with a holistic view. about what, where and why they spend their money.
Make better decisions with data powered by Looker
Leading companies are exploring ways to get value from all that data beyond showing it in reports or dashboards. They want to enable people to make better decisions, but that will only happen if people can ask questions about the data and get reliable, accurate answers without using outdated data. or incomplete and no need to wait. People and systems need to deliver data in a way that makes the most sense to them at the time.  
It is clear that successful data-driven organizations will lead their respective segments not because they use data to generate reports but because they use it to deliver data experiences. suitable for every part of the business, including employees, customers, operational processes, products and services.   
As the way people experience data evolves, more than ever, dashboards alone are not enough. You can use data to fuel data-driven business processes and deliver digital experiences that improve customer engagement, conversions, and advocacy. 
Source: Gimasys