Beta version: Microsoft Active Directory (AD) Service Management
At the Google Cloud Next '19 event in April, Google Notification Managed Service for Microsoft Active Directory (AD) to help you manage AD-dependent jobs running in the cloud, automate AD maintenance and configure security, connect AD domains on-premises with cloud. Currently, Managed Service for Microsoft AD has been beta.
Simplify Active Directory Management
More and more applications and servers that depend on AD move to the cloud, so IT or security teams face tougher challenges to ensure seamless information, secure, control system maintenance. system, configure AD Domain Controllers protection. While you can deploy your own AD environment, Google believes there is an easier way to help you focus on your project.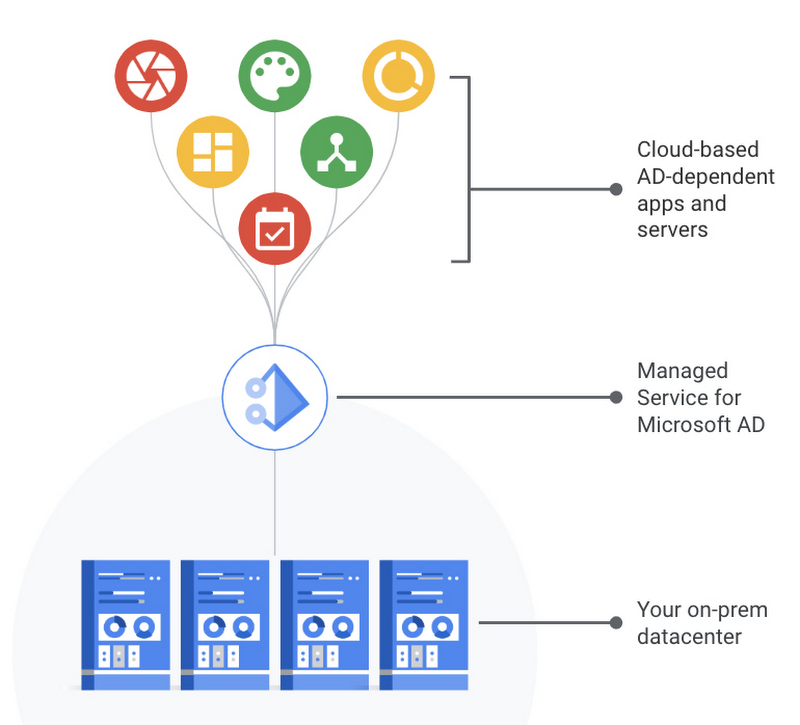 Managed Service for Microsoft AD high availability, platform-based Google Cloud to bring significant benefits such as:
Microsoft AD, the service uses real Microsoft AD Domain Controllers, so you don't have to worry about app compatibility. You can use basic Active Directory features like Group Policy, and Remote Server Administration Tools (RSAT), to manage domains. 

Virtually no maintenance required. The service is highly available, automatically patched, updated security configuration, and protected by network rule firewalls in the system.

Seamless multi-region deployment. You can deploy the service on a specific region to allow applications and VM servers in the same or different regions to access the domain through

Virtual Private Cloud (VPC)

. As infrastructure needs increase, you can easily expand the service to include additional regions while continuing to maintain the normal AD domain management service.
You can also connect AD domain under the hood with Google Cloud or deploy a standalone domain for cloud jobs.

Customers and partners have been using Managed Service for Microsoft AD for their AD-dependent VMs and applications. Use cases include automatically "domain joining" for new Windows servers by integrating the service with Cloud DNS, master virtual machines by applying Group Policy Objects (GPOs), and control Remote Desktop Protocol (RDP) through GPOs. 
Dunnhumby, a customer data science platform, has been evaluating the service over the course of the past few months. "We've been helping customers better understand who their customers are for over 30 years," said Andrew Baird, infrastructure engineer at dunnhumby. "With Managed Service for Microsoft AD, we can reduce some of the AD management and security tasks, so we can focus on our core business".
Citrix also evaluated this service to help reduce the cost of managing services running on the GCP platform. "Citrix Virtual Apps and Desktops service aggregates customer jobs that are running in a cluster of "VDA" servers on GCP. For Citrix products deployed with AD, they found that infrastructure deployment is extremely simple with services on Google Cloud, especially Managed Service for Microsoft Active Directory," said Harsh Gupta, Director Product Management, Citrix.
Getting started
Managed Service for Microsoft AD is now available in public beta. To get started, please see the page product page To register to use, see document, and view the latest webinars.
Source: Gimasys