Priority: Smarter way to suggest and organize documents in Drive Beta
What's new: Trong phần bảng điều hướng bên trái của Google Drive, Google đang thêm một trang  mới vào để giúp bạn tìm và xử lý các file lưu trên Drive một cách dễ dàng hơn. Trang ưu tiên (Priority Page) này sử dụng Machine learning để gợi ý các tài liệu mà có thể bạn đang cần truy cập và có phần "work space" – không gian làm việc để giúp bạn sắp xếp chúng. Trang ưu tiên Priority trong Google Drive trước mắt only available in trial version. You can refer to the information section below for more details.
See docs and comments that need attention
The Priority page is designed to organize all your important documents in one place. Using Machine Learning, Google will identify the documents that need to be prioritized for you to work on. When you open this page, you will see these document files, along with comments and suggested steps. You'll be able to reply to some comments directly on the Drive interface and open entire document files with just one click. This will save you time searching for documents and more time doing important work.
Use a work space to organize files without having to move them
Trang ưu tiên Priority cũng sẽ sắp xếp các tệp tài liệu vào trong không gian làm việc GG Workspace. Từ đó, bạn sẽ có một tập hợp các tài liệu cần xử lý và dễ dàng truy cập chúng. Thêm các tệp tài liệu vào workspace sẽ không ảnh hưởng đến vị trí lưu trữ hay quyền truy cập. Đơn giản, chúng chỉ được tập hợp lại một chỗ để bạn tìm chúng dễ dàng, nhanh chóng hơn. Nghiên cứu của Google đã chỉ ra rằng hầu hết người dùng chỉ làm việc với 10-20 file tài liệu trong một khoảng thời gian nhất định. Work space sẽ đảm bảo rằng bạn có thể truy cập vào những file tài liệu này một cách hiệu quả nhất. Để xây dựng không gian làm việc workspace của riêng mình, bạn có thể sử dụng tính năng gợi ý tài liệu thông minh của Drive hoặc tự tay sắp xếp chúng.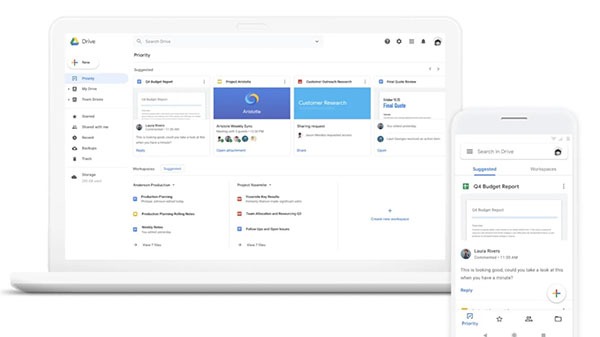 With the Priority page, Drive will save you time and focus on more important things by organizing and suggesting the right documents you need at the right time.
Option to try Priority feature in Drive Beta
Since the Priority page in Drive is initially only available in the trial version, the Admin can xem thông tin chi tiết, xem các yêu cầu cần thiết và đăng ký sử dụng tính năng này cho doanh nghiệp mình.
Update: Gimasys