Pull rich data from apps directly into Google Docs with third-party smart chips
What's changing
Last year, Google announced that the expansion of smart canvas would include third-party smart chips, a new feature that lets you add, view, and engage with critical information from third party apps directly in Google Docs. Today, Google is excited to share that third-party smart chips in Docs are now generally available for all users.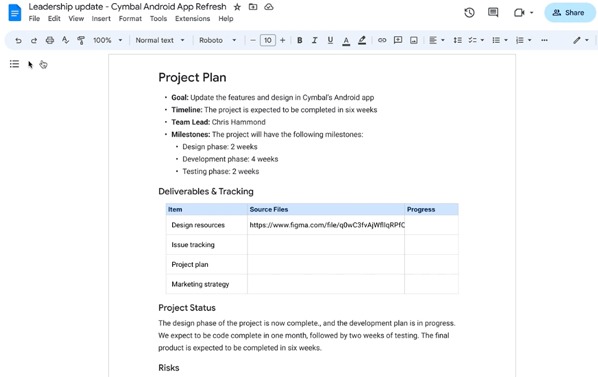 Since introducing third-party smart chips, developers have been able to build app integrations. Several partners, including Atlassian, Figma, Miro, and Whimsical, have already created smart chips so users can start embedding content from those apps directly into Docs.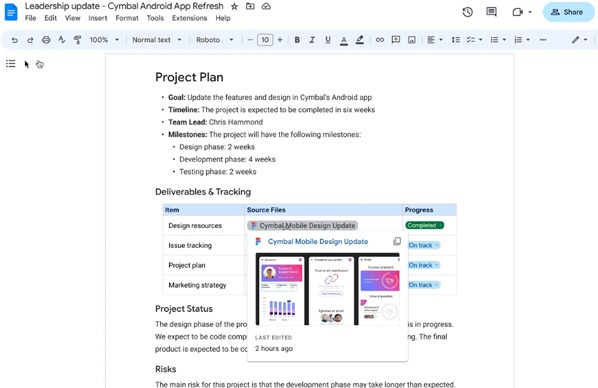 To access third-party smart chips,an admin or user must first install a partner's add-on from the Google Workspace Marketplace. After that, simply paste a link from the third-party source into your document and select "tab". You will then see a smart chip populate in your document that previews critical information from the app, right in the flow of your work.
Who's impacted
Admins and end users 
Why you'd use it
Third-party smart chips are the latest smart canvas innovation that bring people and data into a single workflow, keeping teams focused and collaborating in the documents where they're already working.
Getting started
Admins: You can only create and use a third-party smart chip if a developer has enabled it for that application. You will also need to install or allowlist the specific add-on for that application to ensure end users have access. Visit the Help Center to learn how to install Marketplace apps in your domain and managing Google Workspace Marketplace apps.

Developers: Visit the Help Center to learn more about how to make third-party smart chips. 

End users: Specific add-ons for third-party applications must be installed by your admin or allowlisted for you to use this feature. Visit the Help Center to learn more about inserting third-party smart chips from other applications.
Rollout pace
This feature is already available
Availability