Manage Google Cloud Healthcare Consent API Ready
Last fall, Google announced Public preview of the Google Cloud Healthcare Consent API management, providing healthcare application developers and clinical researchers with a simple way to manage patients' consent to data use health. Since then, early adopters have used APIs to do things like create personalized patient portals, securely integrate data into the consent-based clinical examination, and develop virtual clinical trials.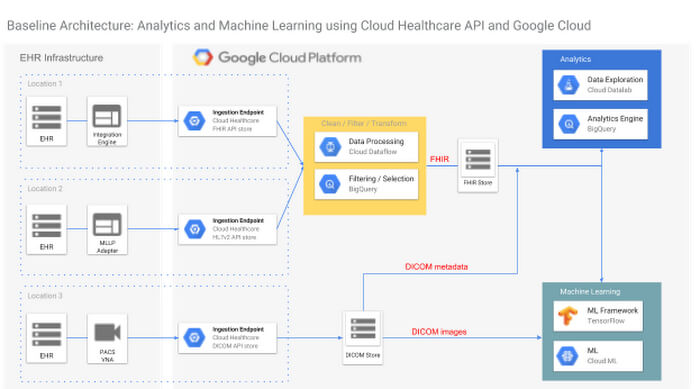 Google is pleased to announce that Healthcare Consent API management is now available, giving customers the ability to scale consent management to meet growing needs, especially in the new context of data management health data for new research and care purposes.
During the COVID-19 pandemic, healthcare organizations have rapidly embraced concepts such as virtual care and remote testing. As a result, healthcare app researchers and developers need easy and secure ways to manage patient consent. Furthermore, the explosion of rich data generated by devices such as blood glucose monitors, wearables, and other sources has underscored the importance of patient consent and privacy. , as patients and caregivers seek to securely incorporate data from more sources into their care plans.
Manage the Healthcare Consent API by making it easier for you to meet the requirements of future privacy and other provisions frameworks, and support the combination of health data transparency and accountability digital into research and patient care. Consent and Privacy Information Flow can include the following activities:
An administrator in a provider or research organization configures a single instance of the Healthcare Consent API with the privacy concepts and terminology used by their organization.
When a provider or researcher's app provides privacy options to a user, it creates or modifies the corresponding consent record in the Healthcare Consent API to display those user consents.
When a provider or researcher's applications save data to their datastore, those apps notify the Healthcare Consent API of the healthcare organization's consent for privacy points relevance of that data.
When a provider, researcher or their application needs to determine if data can be accessed for a certain purpose, their query is sent to the Healthcare Consent API, which is then expedited. quickly determine if there is a valid profile that allows access to that data.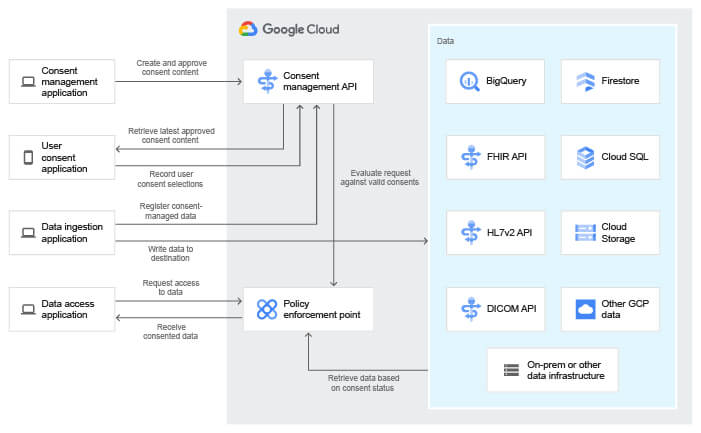 Healthcare Consent Management API adds to the capabilities of Cloud GCP nhằm mang lại các công nghệ tiên tiến cho ngành chăm sóc sức khỏe và khoa học đời sống — đặc biệt là về bảo mật dữ liệu, quyền riêng tư và khả năng tương tác. Ví dụ: Healthcare API (https://cloud.google.com/blog/topics/inside-google-cloud/how-google-cloud-is-supporting-healthcare-and-life-sciences-organizations) của Google tạo điều kiện thuận lợi cho việc xây dựng các ứng dụng gốc đám mây hoạt động với dữ liệu tiêu chuẩn ngành như HL7v2, FHIR và DICOM; Life Sciences API (https://cloud.google.com/life-sciences/docs/reference/rest) đang tăng tốc nghiên cứu bộ gen; Chương trình Sẵn sàng Tương tác Chăm sóc sức khỏe giúp các tổ chức đạt được khả năng tương tác an toàn giữa các nguồn dữ liệu chăm sóc sức khỏe; và Cloud Data Loss Prevention provides a fully managed service designed to help discover, classify, and protect sensitive data.
Google is excited to evolve the Healthcare Consent Management API into the Google Cloud portfolio of solutions and to support life science and healthcare professionals as healthcare data begins to span multiple devices. , different situations and locations. To learn more about the Consent Management API and get started with your own healthcare project, visit the concept paper and instructions on how to do it.