Respond to access requests for Google Workspace files more efficiently
What's changing
Google đang giới thiệu một trải nghiệm truy cập tệp mới để giúp những người phê duyệt tệp phản hồi các yêu cầu truy cập đang chờ xử lý trên Google Workspace customers easier.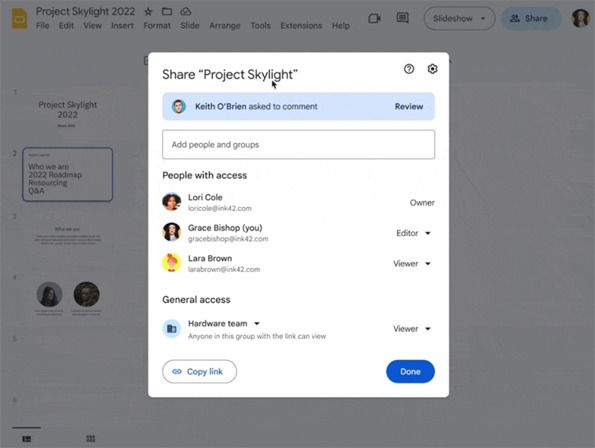 Currently, when a user requests access to a file, the approver receives an email with the option to share the file or decline the request. With this update, users can review and respond to requests from within the file. Approvers will see a notification dot on the "Share" button if they have a pending access request, and a new banner at the top of the share dialog.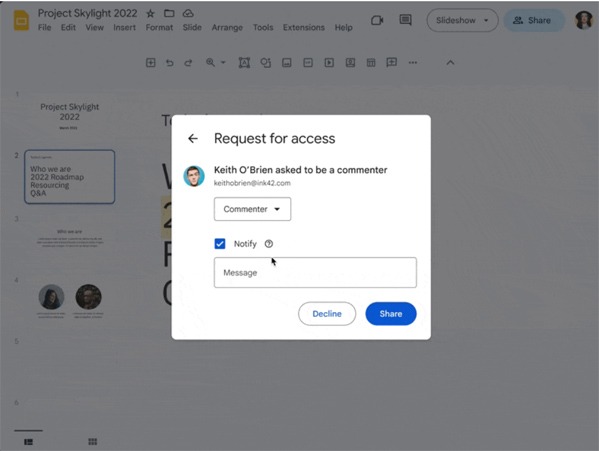 Approvals can continue to respond to access requests through existing emails sent when a user requests access to a file. If the "Notify" checkbox is selected when the approver responds to the request, the user who requested access will receive an email with the status of the request.
Getting started
Admins: There is no admin control for this feature.

End users: In a file (Docs, Sheets, Slides, PDFs, etc.), open the file and click the Share button > select the Review button in the new banner to view the access request(s) > reply to the request (S).
Rollout pace
Rapid Release and Scheduled Release domains: Gradual rollout (up to 15 days for feature exposure) starting June 20, 2023
Availability
Available to all Google Workspace customers and users with personal Google Accounts