[Kiến thức] So Sánh Hybrid Cloud và Multi-Cloud
Since the advent of cloud computing, there has been a constant debate about which cloud deployment model is best suited for businesses. As the cloud computing era prevailed, there was a consensus to consider Hybrid Cloud as the ultimate solution for most businesses.
But recently, a new type of Hybrid Cloud that leverages multiple types of cloud services has also arisen – "Multi-Cloud". The confusion between Hybrid Cloud and Multi-Cloud is made more by the fact that they are often used interchangeably. So when it comes to Multi-Cloud vs Hybrid Cloud, there are key similarities and differences to know to help you understand which one to choose.
Hybrid Cloud: Combination of private and public clouds
Hybrid Cloud is a cloud computing environment that combines on-premises infrastructure (usually private clouds) with third-party public clouds services, with orchestration between the two platforms.
A Hybrid Cloud is basically built on top of a virtualization layer, or a hypervisor that will host virtual machines (VMs) or containers. IT teams then connect the private cloud software layer on top of the hypervisor to deliver cloud-based capabilities such as automation and orchestration, self-service, resiliency, billing, and reimbursement for services. services are provided.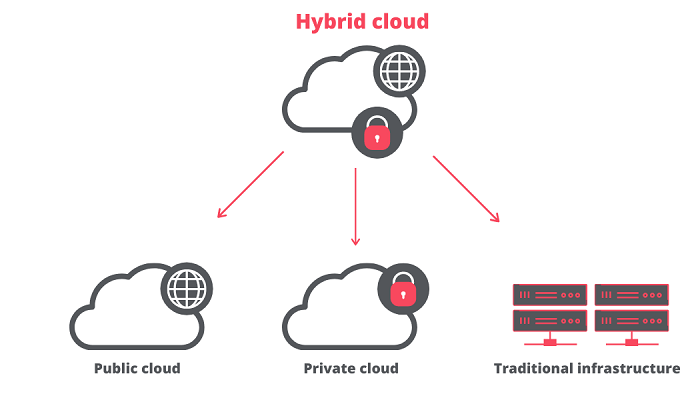 Hybrid Clouds are made up of an integrated network to securely extend the corporate network, creating a segmented but simple overall network infrastructure. They also have a centralized identity infrastructure that applies across multiple environments. They feature a durable and secure high-speed connection between the enterprise and the cloud environment. Hybrid Cloud provides the ability to connect co-located, managed, and dedicated services to cloud resources while having unified resource monitoring and management.
Learn more about multi-cloud strategy for business.
Multi-Cloud: A new approach to clouds
Multi-Cloud là một phương pháp tiếp cận cloud được tạo thành từ nhiều dịch vụ cloud từ nhiều nhà cung cấp cloud, bao gồm các nhà cung cấp dịch vụ public cloud (như Google Cloud Platform, Amazon Web Services và Microsoft Azure) và các nhà cung cấp dịch vụ private cloud (như VMware và Oracle). Multi-Cloud là một dạng của Hybrid Cloud, nhưng nó là một thuật ngữ cụ thể được sử dụng để chỉ việc chạy cùng lúc nhiều môi trường public cloud khác nhau.
Basically, Multi-Cloud refers to subscribing to multiple public cloud services, while Hybrid Cloud refers to multiple deployment modes (public, private, or legacy) for the same set of services. Multi-Cloud deployments are often part of a strategy to avoid entanglement with a single cloud service provider.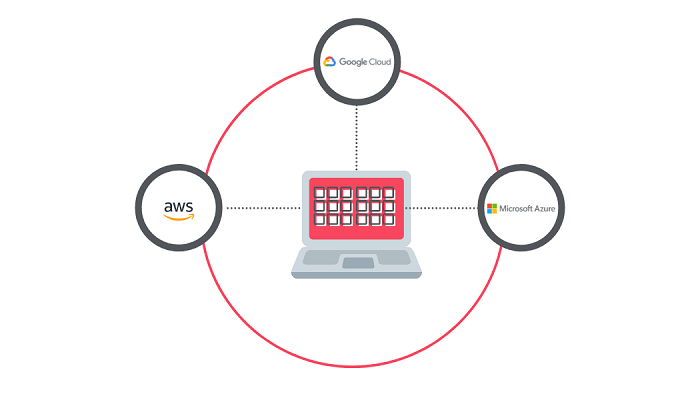 Multi-Clouds typically have multiple identity infrastructures applied across multiple environments and are capable of combining delivery mechanisms from SaaS, IaaS, and PaaS. Multi-Clouds also supports a variety of cloud storage services that are independent of the APIs and interfaces used to access those services. They also have a scalable business data flow engine that effectively supports full data lifecycle management.
Các doanh nghiệp có thể chọn chiến lược Multi-Cloud vì nhiều lý do. Ví dụ như trường hợp doanh nghiệp đang có nhu cầu ứng dụng có thể vượt quá khả năng của một nhà cung cấp duy nhất, trong khi nhu cầu địa lý đòi hỏi tài nguyên ở nhiều vùng. Các kế hoạch liên tục cũng có thể yêu cầu các công ty đặt các ứng dụng trên các cloud khác nhau để giúp duy trì khả năng phục hồi. Visit the Help Center to learn more about What is Multi-Cloud?
Similarities between hybrid cloud and Multi-Cloud
With cloud properties distributed to end users, hybrid and Multi-Cloud are very similar. In fact, every hybrid can be considered a Multi-Cloud, as it consists of more than one cloud. Both Hybrid Cloud and Multi-Cloud use a combination of clouds based on business requirements. They have the flexibility of being accessed from multiple clouds and can increase overall redundancy. In both Hybrid Cloud and Multi-Cloud, data can be shared between clouds, and the database can span different cloud platforms. And with either platform, organizations can tailor plans based on their budget requirements.
Another similarity between the two cloud environments is the need for multiple tools to manage. Since both environments involve several independent cloud environments, organizations will often require a different set of tools for operational needs, like security management and cost management, and ultimately will be required to invest in the right set of skills and tools.
Difference between hybrid cloud and Multi-Cloud
Multi-Cloud and Hybrid Cloud are closely related, but they are not the same thing. Multi-Cloud is a combination of multiple Cloud platforms together while Hybrid Cloud is a combination of existing On-premises infrastructure and a private Cloud platform.
Hybrid Cloud
A Hybrid Cloud always combines private and public clouds, such as OpenStack and AWS private clouds, whereas a Multi-Cloud always involves two or more public clouds, such as Azure, AWS, and Google. So there are possible scenarios when an enterprise is using a combination of Google Cloud and Amazon AWS cloud or any other public cloud (hence a Multi-Cloud environment). But since there is no private cloud or legacy infrastructure involved, this will not be counted as Hybrid Cloud infrastructure.
In a Hybrid Cloud, your business will need security tools and methods that can work on different public and private clouds simultaneously. In a Multi-Cloud, you will require security methods and tools that can work across multiple public clouds.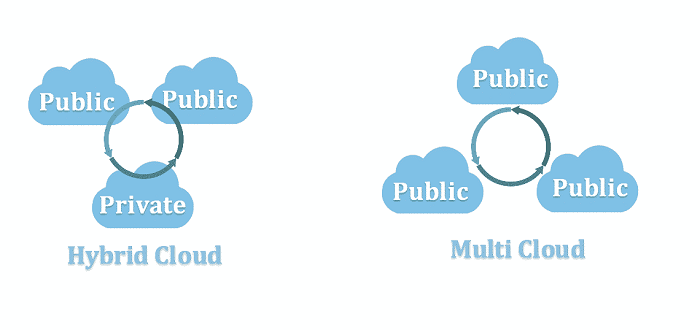 In a Hybrid Cloud, your administrators are required to focus on native tools for operational tasks. And each cloud service provider has its own set of native tools for key operational tasks like monitoring cloud usage, cost management, and performance analysis. So, Hybrid Clouds usually don't require any third-party operations management tools.
Multi-Cloud
In contrast, in Multi-Cloud, your admin is required to learn tools that can work on all public clouds and translate operational functions to basic public cloud native functions. Therefore, more emphasis should be placed on having a single tool that can work across several cloud providers. Overall, in a Multi-Cloud world, your administrators will spend more time managing service levels, monitoring connections across different sites, and navigating through different toolsets. each other is available.
Với Hybrid Cloud, bạn có thể tùy chọn để giữ dữ liệu quan trọng bên trong cơ sở hạ tầng do bạn kiểm soát, nhưng trong trường hợp Multi-Cloud, dữ liệu phải nằm trên các public clouds. Đối với bất kỳ tổ chức nào tham gia vào các giao dịch tài chính, hồ sơ y tế hoặc dữ liệu nhạy cảm khác mà có ràng buộc tuân theo một số chính sách (PCI DSS hoặc HIPAA), thì việc có một nhà cung cấp duy nhất sẽ được coi là một lợi thế bổ sung để giảm thiểu rủi ro liên quan đến sự tuân thủ.
Multi-Cloud and Hybrid Cloud: Choose the right direction for you
A well-defined cloud strategy is a must for every successful IT department. So, while planning cloud adoption for any workload or while migrating to a new cloud platform, you must consider the various pros and cons associated with traditional approaches. systems as well as new methods.
Hybrid Cloud and Multi-Cloud may have similar properties, but at the operational level, there are some differences. Hybrid Clouds require more focus on tools that work natively while Multi-Cloud requires focus and investment in third-party tools. In a Multi-Cloud environment, both your cloud provider and your business share responsibility for data security, while in a Hybrid Cloud you have more responsibility and control over your data and security. it.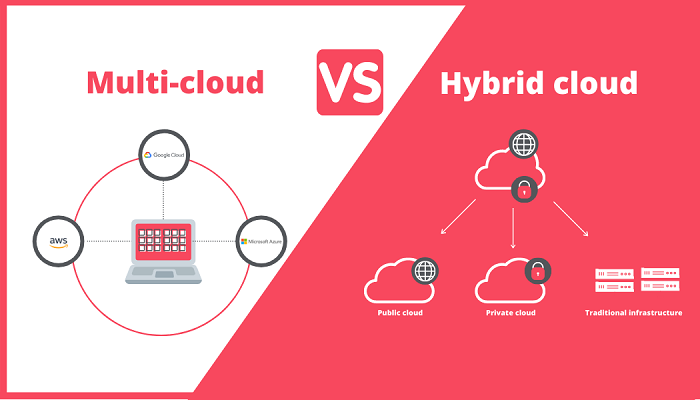 In addition, each cloud has its own benefits and drawbacks, along with varying prices. Performing a performance analysis of your existing workloads against the services offered by each public cloud can help you get an idea of the total cost of ownership (TCO) and return on investment (ROI), from which to choose. Make the right choice for your organization.
Through comparisons of similarities and differences between Hybrid Cloud and Multi-Cloud Regarding the environment, approach as well as operation, enterprises need to clearly define their development goals and usage needs. Every platform has its own advantages, if chosen properly, businesses will be able to use their investment costs to bring the best results.
Contact Gimasys for advice on a transformation strategy that is right for your business situation and to experience the free Google Cloud Platform service:
Hotline: Hanoi: 0987 682 505 – Ho Chi Minh: 0974 417 099
Email: gsuite@gimasys.com