Sự khác biệt giữa Google Drive và Google Drive File Stream
An enterprise environment is where data is constantly being exchanged. Support from cloud storage platforms like Google Drive was born to help solve the problem of optimizing data sharing. However, with non-Google files (such as Microsoft Office files) there are times when you find it frustrating having to download and upload these files every time you want to open or edit them. That's when Drive File Stream appeared, let's see the difference between Google Drive and File Stream for a reasonable choice for business.
About Google Drive
Google Drive is a service that stores data on the Cloud and like all cloud services, its main function is to help reduce the load on your hard drives. Cloud storage works by uploading your files to its own remote servers, or "cloud," which frees up space on your computer. From there, users have more space on their devices for more important things, like installing large applications and software.
Google Drive operates as a SaaS – Software as a Service, it is available for Windows, Mac, iOS and Android. With default storage for Gmail and Google Docs, backing up your documents on Google Drive keeps your documents safe and easily accessible anytime, anywhere.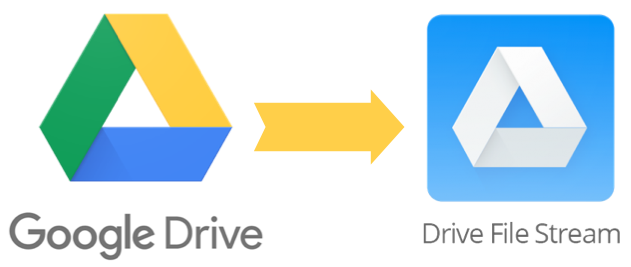 Google Drive File Stream 
Drive File Stream is an app that gives you access to your Google Drive files from the file browser on your Mac or PC. Unlike similar tools, Drive File Stream doesn't download all of your Google Drive files on your computer, but transfers files directly from the cloud to your device when you need it. This avoids filling up disk space on your device and avoids network bandwidth issues.
Drive File Stream can be used to access all files in both My Drive and Team Drives.
What is the difference between Google Drive and Google Drive File Stream? 
Overall, both tools have their own advantages. And over a long time Google Drive has always been an effective storage for Google users. 
From its inception, Google Drive was developed to not only help you store files. It acts as a central storage for all your Google activity. Drive works with Google's entire ecosystem of apps, including office apps Google Workspace customers. This means you can use it to create Google Docs files, Google Form surveys, Google Sheets spreadsheets, or Google Slides presentations. However, Google uses Drive to store Google Photos, as well as to store attachments in your Gmail and Google Workspace documents, and so can take up a lot of space.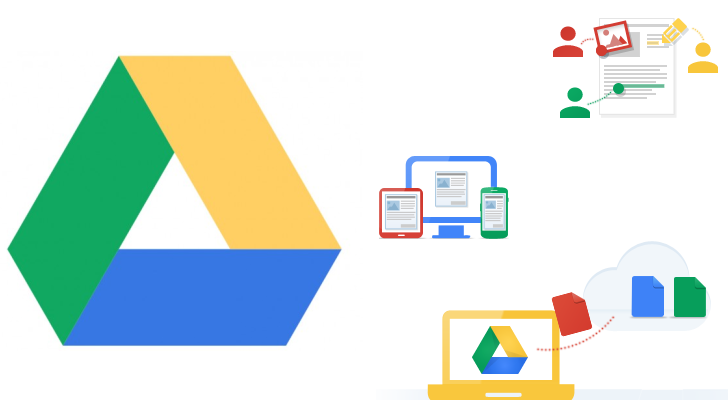 It is also one of the best cloud services for sharing, thanks to its highly customizable sharing options. When you share files on Google Drive, you can set permissions for each person you're sharing with. You can even allow other users to edit Google Docs files with you, allowing you to collaborate with up to 100 people on any Google Workspace document.
If you have a Google account, you already have Google Drive. Just sign up for an account and you get 15GB of free storage, which makes Drive's free plan ranked near the top of the best free cloud storage list. And to get more storage space, you need to renew and pay the storage expansion fee for your account.
Ưu điểm của Google Drive File Stream
If the business has been and will use the Google ecosystem platform: from the Workspace productivity toolkit to Google Cloud Platform then the difference from Drive File Stream is negligible. However, when businesses use multiple platforms, need to store a variety of file types for business (eg Microsoft Office files, PDFs, Photoshop files etc.), Drive File Stream proves to be superior. By using Drive File Stream, you can:
Easily open and work on non-Google files in their native apps:
For example, you can open a Word file in Microsoft Word and make changes. When you save the file, the changed version is automatically re-uploaded to Google Drive. This eliminates the need to download and upload non-Google files.
See when others edit Microsoft Office files stored in Google Drive:
Drive File Stream has real-time presence that can show you when others make changes to Microsoft Office files. This helps prevent version conflicts.
Offline access to non-Google files:
You can specify specific folders and files that become available via Drive File Stream when you're offline.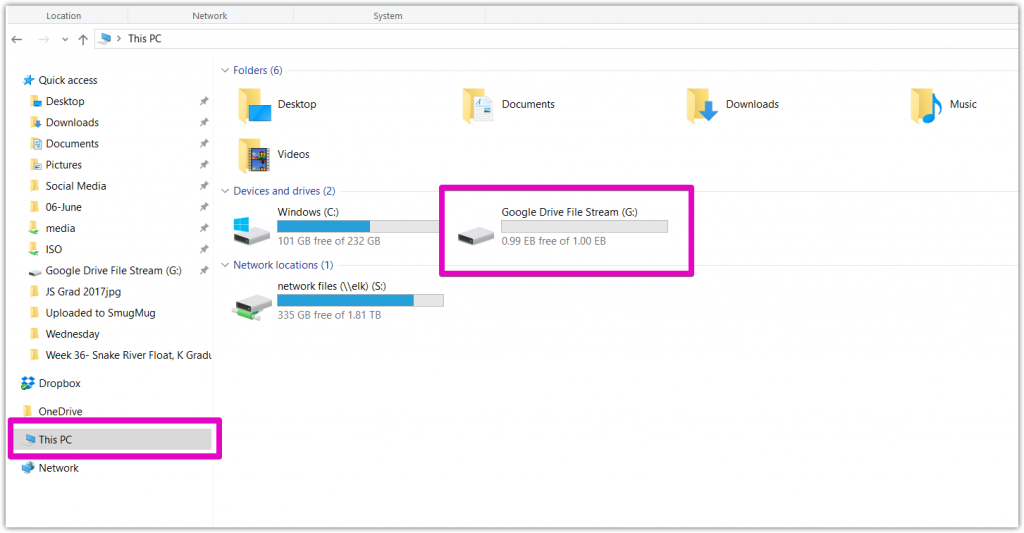 Have a drive that works both online and offline on your computer:
Turning Google Drive into a computer drive not only helps you expand storage space, but also saves you hard drive space, because the data after transferring to the default Google Drive drive will only be saved online. And if you have uninstall Drive File Stream, your Drive files will not be affected. They can still be accessed from Drive on the web.
Drive File Stream only available for Google Workspace accounts (for education and other organizations). If you want to easily work with non-Google files in a regular Google account, please contact the admin of the business where you work for assistance using Google Drive File Stream or using Google Drive Backup and Sync for individual Google accounts.
The basic differences between Google Drive and Google Drive File Stream are summarized in the following table: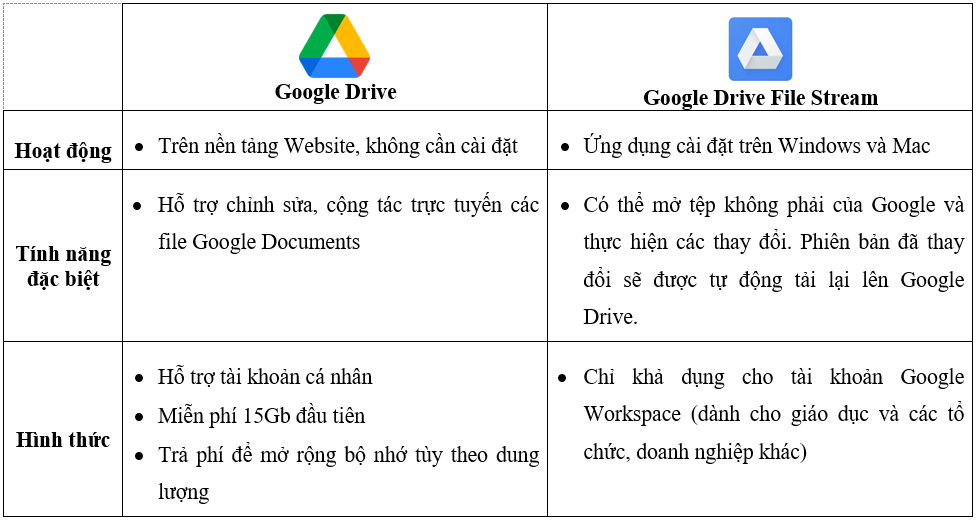 Through information about the above difference, individual users and businesses can both make a decision, choose for themselves an online storage or use alternately depending on the goals and orientation of each user. . Let Google Drive and Google Drive File Stream support for more convenient and easy storage.
Contact Gimasys for advice on a conversion strategy that suits your business's actual situation and to experience free Google Drive and Google Drive File Stream: 
Hotline: Hanoi: 0987 682 505 - Ho Chi Minh: 0974 417 099
Email: gsuite@gimasys.com
Sign up for a free consultation: Here.
Source: Gimasys