Why schools should use Chromebooks
Chromebooks Currently being applied in many schools. Because the features of Chromebooks help teachers change the way they approach and teach students. In addition, each student can also build their own personalized learning path.
Here are 6 benefits Chromebooks bring to your school.
1. Cost saving
Chromebooks are quite cheap compared to other computer brands on the market today. In fact, the price of a Chromebook is much cheaper than desktop computers, Ipads, Macbooks or Windows ... but still has all the features to meet the needs of users. Currently, on the market, there are many Chromebook lines from basic to advanced, depending on the needs of use, the school can make a decision to choose the most appropriate computer. Chromebooks that are used by many schools are priced from $249 – $400 such as: Acer C7 costs $249, Chromebook 11 costs $279, Chromebook HP $329.99 or Chromebook 3 costs $399, etc. Especially in Vietnam, Gimasys has deployed and supported many international schools (such as BIS or Concordia) using their Chromebooks. Edxis – a compact, shockproof and water resistant version of Chromebook – is especially suitable for elementary school students.
2. Chromebooks are easy to use
Chromebooks are very light, convenient for travel, booting up or shutting down in less than 5 seconds and battery life lasting from 6 to 8 hours. Just by signing in to your Google account, your apps and documents are instantly visible. Schools also don't need to worry when students don't know much about technology, because with Chromebooks only need to be installed on one machine, the remaining machines will be synchronized with that application. Make it easier to install and upgrade apps with your Chromebook. This is also a factor that makes Chromebooks quite suitable for educational environments.
3. Chromebooks are easy to manage
With Google's admin console, if the school signs up to use the free G Suite for education package (Google Workspace for Education), schools can manage access rights or block applications on computers when they do not want their students to use them. Chromebooks allow teachers to control running applications and monitor their students' progress. Besides, teachers can view usage reports and configurations for each student. Schools have the option to filter and monitor mail and internet content to manage student usage.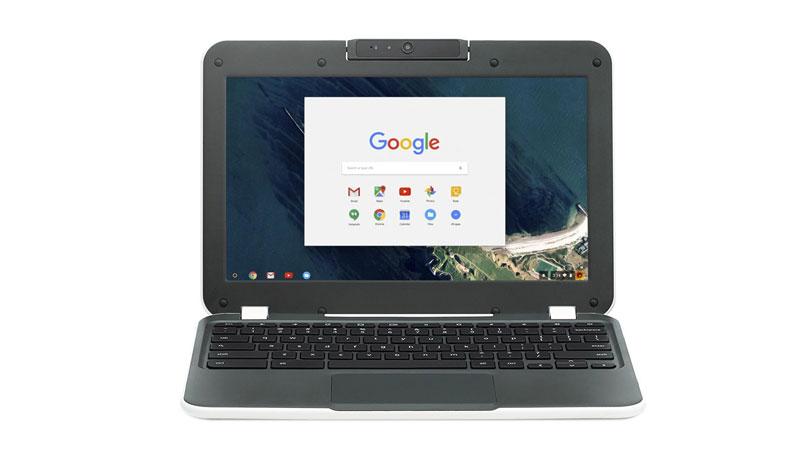 4. Chromebooks make collaboration easy
Chromebooks help increase communication and collaboration opportunities for students. With applications on Chromebooks such as: Gmail, Google Docs, Google Slides, Calendar and video conferencing... help you do homework together, discuss or complete group projects and reports. Collaborating with each other has never been so simple, people can collaborate with each other anytime, anywhere.
5. There are many educational Chromebook apps
Google Chromebook is compatible with many apps. Support users of Android apps and Google apps for education. In the Google Play store, you can find many useful apps that can be applied to the classroom, making the classroom more lively.
In addition, the school uses the Google Classroom software (via G Suite or a regular Gmail account). The teacher will put the exercise on the class page, students can log in to do the work and then upload it for the teacher to comment and grade. Help teachers and students save time, improve classrooms, and enhance communication
6. Chromebooks are safe and highly secure
Chromebooks use the principle of "Protection in Depth" to provide multiple layers of protection. Besides, Chromebooks are cloud-based and built to run exclusively by the browser. Because of its unique design, it makes the computer not susceptible to attack by malicious software and Viruses, reducing the risk of installing unwanted software.
With the above features, Chromebook is becoming the first choice in countries such as: US, Sweder, New Zealand... Because of its safety and ease of management, delicate design, thin and light, simple hardware, good price. Web-based, computers are not vulnerable to viruses and malware. Besides, when integrating with Google Classroom software, the management becomes simpler and more convenient. Chromebooks enrich learning in many ways. Teachers can choose from a variety of teaching methods that instantly respond to students' needs and keep pace with students' progress. Chromebooks are the perfect choice for the classroom.
To receive advice on the application of Chromebooks in teaching at school, you can contact Gimasys – Authorized Google Partner in Vietnam For best support:
Email: Gsuite@gimasys.com
Tel: Hanoi | 0987 682 505 or TP. Ho Chi Minh | 028 7305 0186
Updated: Gimasys