Create a beta version shortcut in Drive
What's changing
We offer a new beta that allows users to create shortcuts in Drive, making it easier to reference and organize data and folders. 
We will start allowing domains into this program next week
Who's impacted 
Admin and End User
Why do you use 
Shortcuts are shortcuts that point to files within folders or in another Drive - such as a shared Drive or another user's Drive - making it easy to display content without creating copies of your files. file
Eg: If Paul in Marketing shares a document from Shared Drive with the entire Sales team, Greta in the Sales team can create a shortcut to that document in her Shared Drive. Previously, because documents couldn't be owned by 2 Shared Drives, Greta would need to make a copy of the documents for her team's Shared Drive, after which they could quickly become obsolete.
Additionally, the current Add to Shared Drive option will be replaced with the Add to Drive shortcut. Note that files that currently exist in two locations in My Drive will at this point (for example, files that you added to My Drive i previously).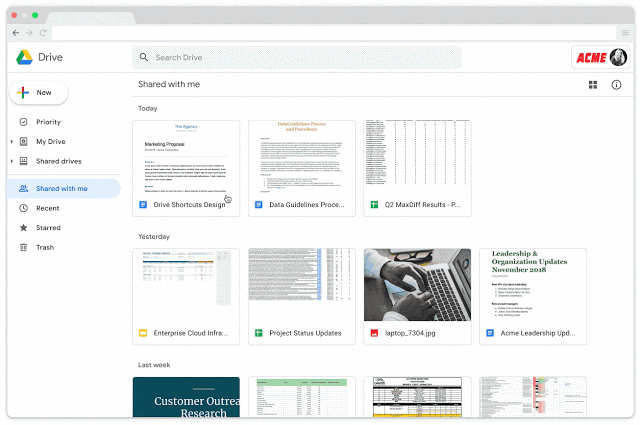 How to get started
Admins

: Admin can express interest in Google Drive beta shortcuts at

this

. We will begin accepting domains into the program in the next few weeks.

End users

: When this feature is enabled for your domain, to create a shortcut:

In Docs, Sheets, and Slides files, you'll see an Add a shortcut to this file in Drive button next to the Copy button at the top.

From there, you can choose where in Drive you want the shortcut to appear. From Google Drive, you can right-click a file and choose the Add a shortcut to Drive link, or drag and drop an item into a Folder in My Drive. 
Additional details
You can create a shortcut with the following contents:
JPGs, PDFs, and Microsoft Office files 

Folder
Shortcuts are visible to everyone who has access to the folder or drive that contains the shortcut. Note that creating shortcuts does not mean sharing access to files or folders.
Source: Gimasys