Dynamic email feature on Gmail officially starts on July 2, 2019
What's changing
Earlier this year, Google announced Dynamic email in Gmail in beta. On July 2, 2019, this feature will become ubiquitous and will launch by default for all domains. This means users can access the feature unless you choose to disable it through the Google Admin console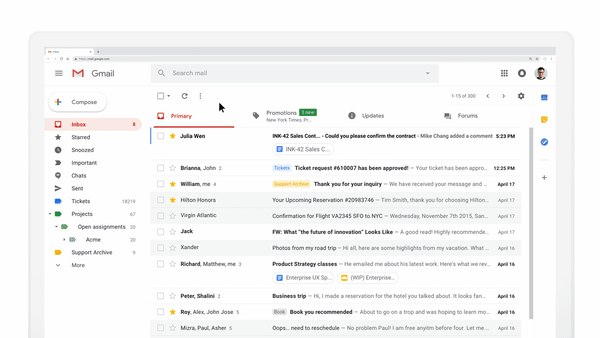 Who's impacted
Admins and end users
Why should you use
With dynamic email, you can easily take action directly from within the message. Like RSVP to an event, fill out a questionnaire, browse the catalog or respond to a comment.
Get a comment on Google Docs such as. Instead of receiving email notifications when someone mentions you, you'll now see an update thread in Gmail where you can easily reply to or resolve comments, dates from within the message.
How to get started
Admins

: Determine if your users can use dynamic email by navigating to Apps > G Suite > Settings for Gmail > User settings in the admin console and selecting the following options: 

Disable

: This option will prevent users in your domain from receiving interactive emails.

Enable now (beta):

This option will enable dynamic email (currently in beta). This feature will still be enabled when it goes on July 2, 2019

Enable when the feature is generally available:

This is the default option and will enable dynamic email when the feature goes into effect on July 2, 2019.

End users:

When dynamic email in Gmail launches, users will start seeing dynamic emails from senders who are sending dynamic emails, if you have it enabled. In addition, users can also

turn off dynamic email for my personal account

by following the steps in the Help Center. Note: The "external display display" setting must also be enabled to display dynamic emails.
Source: Gimasys