Present high-quality video and audio in Google Meet
What changes?
You can now share higher quality video with audio content during a video call. You can do this through a new feature of the Chrome tab. Now, when you use this feature with video content playing, everyone in the meeting will see and hear the shared video and audio. This means you can confidently use videos, gifs, animations, and other media in your meetings.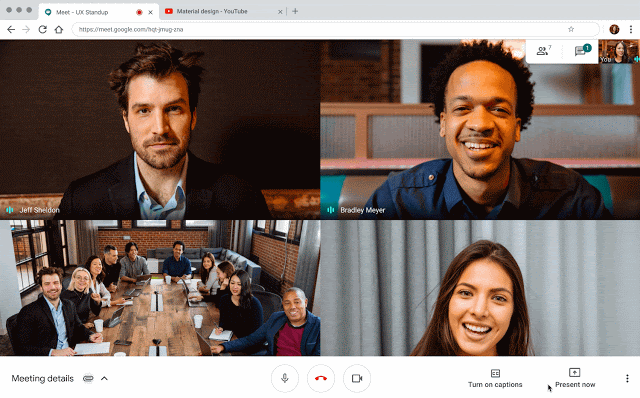 Who is affected? 
End user.
Why it's important
Video can be an important part of meetings and presentations. When Many meetings are happening online, it is important that presenters can share smooth video with audio to all attendees, no matter where they are located. Situations where you can benefit from high-quality video and audio in presentations include:
A business meeting to review promotional videos.

. 

A technical meeting to share pre-recorded products or feature demonstrations.

. 

Teachers share videos as part of lesson plans for students.

.

Present slides with embedded videos or GIFs, or with transitions between slides.
Plus, by adding the ability to present your tabs, not windows, or full screen, Google gives presenters more control to ensure they can minimize distractions while they present..
Additional details 
Present a tab and easily switch between tabs 
With this launch, you can now present an individual Chrome tab. When you present a tab, it will be highlighted so that you can clearly see which one you are presenting. If you change the view to a new tab, a pop-up will ask if you want to switch to the new tab presentation or continue the previous tab presentation, making it easy to move between tabs and control what information you have. share with the meeting.
Use "current tab" to share high quality video and audio
High-quality audio and video playback only works when you present an individual tab feature in Chrome (see above) on desktop devices. It doesn't work if you show a full window or your entire screen.
Upgrade previous Meet video presentation experience
Up until now, users have been able to play videos while presenting in Meet, but may notice stuttering and no sound playback. Some users have opted to use the Cast feature to present audio and video, but that also has some limitations. This launch means users can avoid workarounds and limitations and easily include high-quality video in their meetings.
Users were able to present high-quality audio and video to meetings using an HDMI cable with some Meet hardware kits. This will continue to work.
Getting started
Admins: This feature will be ON by default. Administrators do not have control over this feature. You may want evaluate your organization's Meet video settings.
End users: Go to the Help Center to learn more about video presentation in meetings.
Deployment speed
Apply
Có sẵn cho tất cả khách hàng của G Suite 
Source: Gimasys